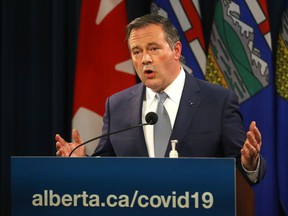 Article content
Additional public health measures against COVID-19 will be taken "if necessary," warned Prime Minister Jason Kenney, as hospitalizations and case counts continue to rise in Alberta, with peak numbers projected for mid-October.
Commercial
This ad has not been uploaded yet, but your article continues below.
Article content
On Tuesday, 1,246 new cases of COVID-19 were reported, while 1,100 people are hospitalized with the virus. Of them, 263 are in intensive care units. Kenney said during an update on COVID-19 on Tuesday that the government continues to monitor trends and numbers closely every day.
"If we need to take additional measures, we will, but they have to be effective," Kenney said.
"It is a complex situation, because if we introduce generalized restrictions, it is most likely that people who are vaccinated will comply, but it is likely that we will see a large-scale non-compliance among unvaccinated populations. That would not necessarily take us much further.
"We will take additional action if we deem it necessary, but that is one of the many complex challenges we face right now."
Commercial
This ad has not been uploaded yet, but your article continues below.
Article content
Over the weekend, Kenney rejected the idea of ​​a "firewall" lockdown, which would mean shutting down some businesses and strictly limiting capacity at others.
"The bottom line is that we have strong measures in place, a provincial-level mask mandate, capacity cap restrictions on various types of discretionary activities," Kenney said.
"The most important thing is the restriction waiver program, which has helped substantially to increase vaccination coverage in the province and we will continue to closely monitor the situation."
However, Kenney said that, according to the Alberta Health Services early warning system, the worst case scenario in which the health care system would reach its upper limit would occur around the third or fourth week of October.
Commercial
This ad has not been uploaded yet, but your article continues below.
Article content
"We would be approaching the maximum capacity of the ICU, which we define at this time as 380 beds available in the ICU," Kenney said.
"However, if the measures that were implemented last Monday throughout the province and the increase in vaccination rates begin to lessen the pressure of the cases, then we would see that the pressure of the ICU would begin to diminish at the end of October." .
As of Tuesday morning, there were 370 ICU beds in hospitals across the province, Kenney said, with a capacity of 86 percent.
Kenney said the province has been working with AHS and Alberta Health to review capacity planning and open more beds, as well as contingency scenarios such as moving patients out of the province.
"We have been in ongoing discussions with other provinces that may have some flexible capacity," Kenney said. "We have also contacted hospitals south of the border in the United States and identified at least one couple who, in an extreme scenario, could accept patients, so we are doing everything we can to avoid that type of scenario. ".
Commercial
This ad has not been uploaded yet, but your article continues below.
Article content
Alberta reported another 18 deaths from COVID-19 on Tuesday, bringing the provincial death toll to 2,663. 11,144 COVID-19 tests were completed in the past 24 hours, with a positivity rate of 11.5 percent.
Alberta's chief medical officer for health, Dr. Deena Hinshaw, said that of those who have died from COVID-19 in the past 120 days, about 75 percent were not fully vaccinated.
"Nearly four out of five of all those who were in the hospital for COVID-19 and 91 percent of those who were in the ICU in the past 120 days were also not fully vaccinated," he said. "These numbers speak for themselves. Vaccines are of vital importance. "
Hinshaw also announced that the province is implementing a requirement for staff to wear masks in child care facilities.
Commercial
This ad has not been uploaded yet, but your article continues below.
Article content
Hinshaw said the change is due to high levels of COVID-19 transmission in the community, as well as aligning the province's focus on schools, where all staff and teachers must wear masks.
"It is part of our layers of protection to protect those who are too young to access vaccines," Hinshaw said.
Meanwhile, Kenney announced that hospitals and other facilities that provide healthcare services will now be subject to the same protection that railroads, highways and pipelines receive under the Defense of Critical Infrastructure Act.
The move comes after protests across Canada against mandatory vaccinations outside hospitals, which in some cases saw ambulances blocked.
Both Kenney and Justice Minister Kaycee Madu stressed that protests are not prohibited, however, they should not hinder the operation of these facilities and a person's access to medical care.
"We are ensuring that these vital facilities receive the same kind of protection and those who impede anyone's ability to access health care facilities must be stopped," Madu said.
"This is another tool for law enforcement to ensure that our hard-working healthcare workers can do the work we are so thankful for."
Madu said the regulation designating hospitals and other health care facilities as critical infrastructure helps ensure that "the recklessness of a small minority does not endanger Albertans who work hard and abide by the law."


Reference-edmontonjournal.com