Ivan Reyes
BBC World Special. Del Rio (USA)
"Mom, I'm free now, I'm fine," says a young Haitian immigrant who has just been legally admitted to the United States by phone.
He hopes that they will give him access to the shelter of Del Río, the small town on the border with Mexico that in recent weeks has been overwhelmed by the arrival of Haitian migrants.
The young man holds the cell phone with which he talks to his mother with his left hand. With the right he inserts the laces of his shoes, seized by the police after his arrest and handed over now that he is free again.
It's 8:30 a.m. on Tuesday, September 21. Three vehicles stop in front of the entrance to the shelter. A Border Patrol official gets out of one of the units, opens the sliding door so that, one by one, migrants who were detained at the border come out and are now released.
Women, men and children alight from the vehicle that brings them from some of the detention centers located near the city.
"Welcome, please make a line on the right side," says one of the volunteers and everyone begins to line up at the door of the Val Verde Border Humanitarian Coalition Center shelter.
They feel lucky. Their asylum requests in the United States can begin to be processed and while they are allowed to stay in the country. They have been much luckier than the hundreds of compatriots who have been and will be deported.
Del Río is a city that until a few years ago was noted for the great La Amistad dam, also because it was set in the film No Country for Old Men (2007) by the Coen brothers, with which Javier Bardem won the Oscar for best supporting actor.
In June 2021 it was a boring town, according to some of its inhabitants. That month, the event of the century was the filming of an episode of the drag queens reality show We' re, from the HBO network.
Two and a half months later, in September, this place, which is also the headquarters of an Army air base, is the center of attention in the United States because what had already been happening slowly exploded: the entrance through the Rio Grande de thousands of migrants.
By the second week of September, according to estimates by the authorities, some 14,000 people were camped under the international bridge that connects with Mexico, most of them Haitians.
This represents almost 40% of the inhabitants of Del Río, which according to the 2020 Census has 34,673 residents, 85% of them are of Hispanic origin.
The Val Verde Border Humanitarian Coalition Center is a migrant shelter that opened its doors three times a week between January and March and served just over 100 people a month. Now he receives more than 300 per day.
It is already 9:30 in the morning, and at least three more vehicles have already arrived and even a bus with more than fifty migrants, mostly Haitians.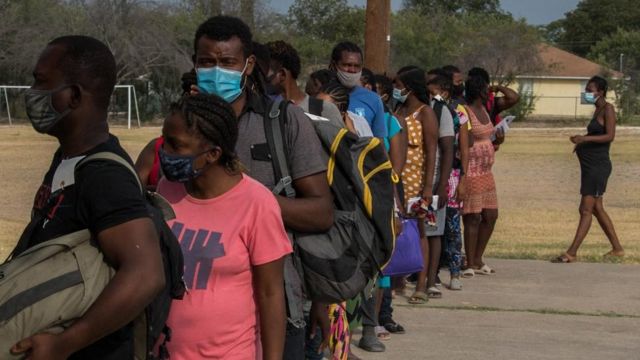 Upon arriving at this site, people can contact their relatives for the first time since they are on American soil and they can also bathe and eat.
One of the most important moments of the day is being able to tie your shoes for the first time in a long time.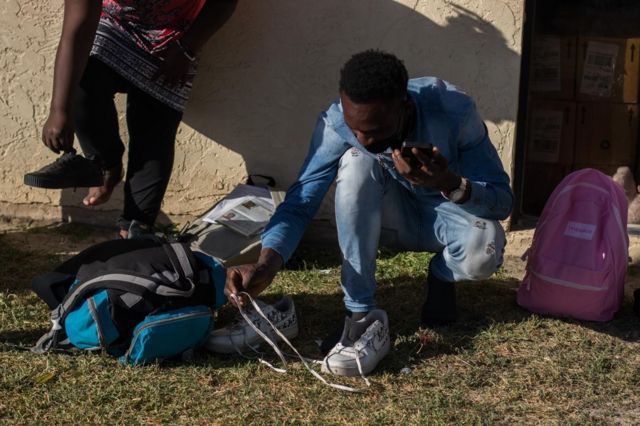 When migrants are detained by the Border Patrol, they receive three orders: remove clothing, remove shoelaces, and put cell phones away.
"You can only have your documentation and the address of your family member at hand," one of the officers shouts in Spanish to people who have just arrived in the United States.
After spending several days in detention and being interviewed by the authorities, the migrants can be released and admitted to US soil to start their asylum application procedures.
It is at this moment that they are sent to the Val Verde refuge and begin to take the first steps of their new life.
Their situation contrasts with that of those who have been immediately deported and that of those who have suffered the shocking scenes of arrest on horseback by the Border Patrol.
This Thursday, the special envoy to Haiti of Joe Biden's government resigned for what he considers "inhumane" treatment.
From Venezuelans to Haitians
In June 2021 about 1,600 people, the majority Venezuelans, passed through this refuge. But this changed between August and September. The number handled by the site's administration for the month of August is about 3,300 migrants and so far in September the figure has already exceeded 4,000 people.
This is due to the increase in the passage of Haitian migrants across the Del Río border, a situation that reached its climax between September 16 and 18 when more than 12,000 Haitians crossed from Mexico through this city. Only between September 14 and 22, volunteers from the Val Verde shelter received about 300 people a day, mainly Haitian migrants.
Upon arriving at the shelter, people should contact their relatives and ask them to buy one or more tickets so that they can reach their destination.
The usual route is as follows: the migrant takes a bus from Del Rio to San Antonio, still in Texas. Once there, he takes a plane to the place where he will meet his relatives. Most Haitians go to Florida. Few mention other destinations such as California, Houston and New Jersey.
The work of the volunteers in the shelter does not stop. They receive and assist migrants, who spend a few hours there because they are not allowed to stay overnight.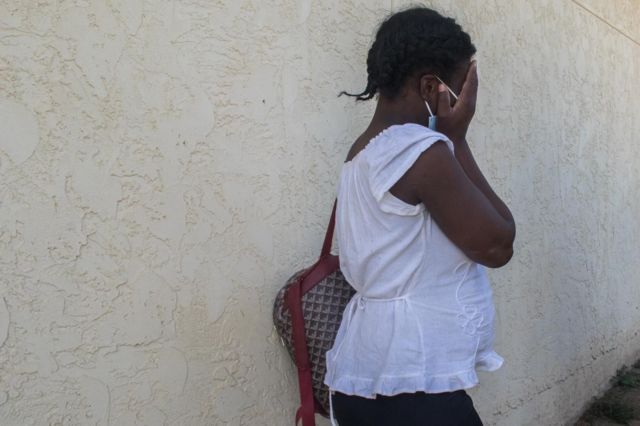 Waiting on the bridge
Fafane Bien Aime is 24-year-old Haitian. She is a tall, black-skinned woman with a white shirt and a prominent belly that shows how late her pregnancy is.
She covers her face when they take pictures of her because she says she doesn't like being seen to be disheveled. He puts his hands to his face and laughs. Fafane walked for almost two months on a route that took her from Chile to the US border.
When she arrived at the Rio Bravo (Mexico), far from being happy, she realized that there were thousands of people like her stuck between the river and the gate that marks the entrance to the United States.
Fafane reached the border on September 16 and remained under the Acuña-Del Río Texas International Bridge for five days. She was released on Tuesday, September 22, and transferred by the Border Patrol to the shelter.
"Under the bridge it was quite difficult and uncomfortable. With the belly it was super difficult ", remembers Fafane.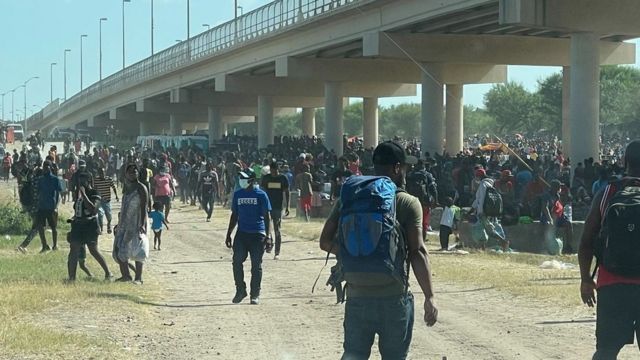 She, like most Haitians who come to the United States, has lived in more than one country. His first destination was Chile, in 2019. He decided to go to this country to reunite with his mother, but after two years of being in the south, he decided to embark on a new path to the north.
"I went to Chile because I had not seen her (her mother) for many years, but in reality when one leaves her country for another, one is looking for an improvement."
"But when you arrive in this country and you don't find what you expect, then you have to look further ahead. Until you really find what you're looking for, "Fafane reflects as she waits for the bus that will take her to San Antonio and then to California, where she will meet other family members.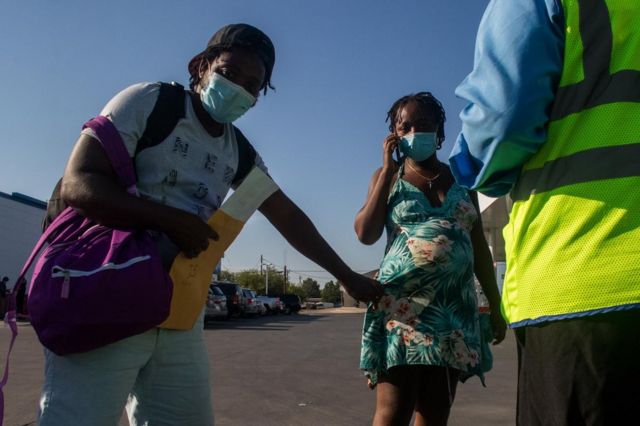 A tour of the entire continent
The route of Haitian migrants is extremely long. Most of the people began their journey in Chile and it took them up to three months to reach the United States. From Chile they pass through Peru, Ecuador and Colombia before reaching Central America through the feared and jungle region of the Darien.
"The most complicated thing is Panama", highlights Frantz Schiber Luberisse when asked about the route that took him almost a month and a half.
"In Panama the officers do not have hearts. The gangsters hurt us and the officials did nothing. I saw with my eyes how women, girls and men were raped. They even checked my anus to get money from me. There are very bad people there ", denounces Luberisse.
"I left Chile, I passed through Peru, Ecuador, Colombia and Panama … many countries," recalls the man born in Port-au-Prince 28 years ago.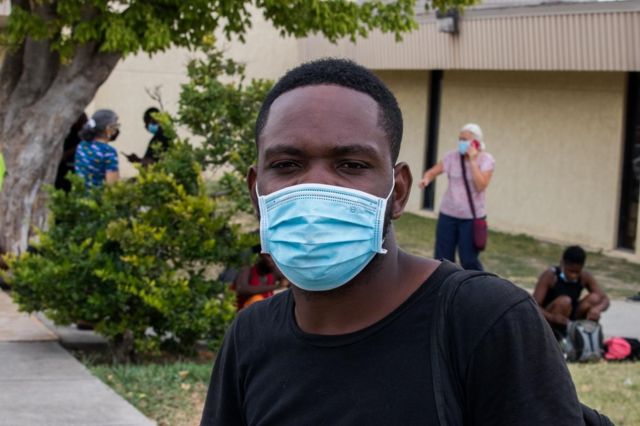 Luberisse recalls how complicated the three days he spent on the bridge were, which has become a symbol of the recent migration crisis.
He did not know if he was going to be admitted to the United States or if he was going to be deported. He only ate bread and shared it with his wife, who is now almost eight months pregnant.
"I have a pregnant woman and she had nothing to eat. I thought they were going to deport me. Nothing was right under the bridge. Everything was dirty, everything bad, but now I'm better. I'm much better, "he says between smiles and on his way to a new life in West Palm Beach, Florida, with his wife.
Wideline Saint Fleur is 35 years old and laughs when it comes to speaking Spanish, but manages to string together several words.
Wideline wears a cap from Mexico's Club América and a long shirt that hides her seven months of pregnancy a bit and also left Chile for the United States. His journey began two months ago and he remembers the days he spent under the border bridge.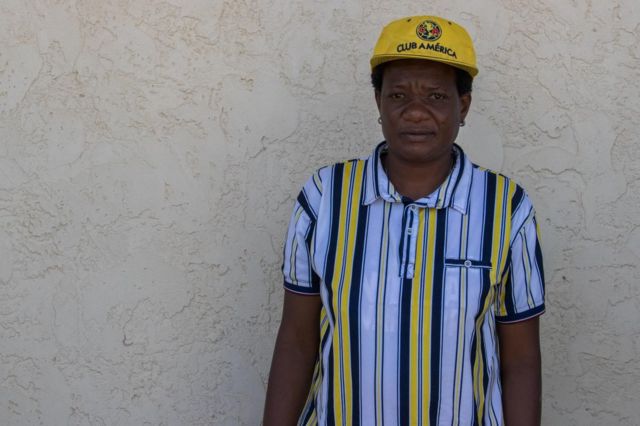 "One day I just had soup. One day I didn't eat anything. Another day I was just walking a lot. It was very complicated, "she says with her husband.
Wideline still does not know if she has a boy or a girl in her womb, but she hopes that she is in good health. "When I left Chile I was fine, now after the trip I don't know," he says.
Wideline traveled with her husband and two other relatives who were deported to Haiti. Only she and her partner were admitted.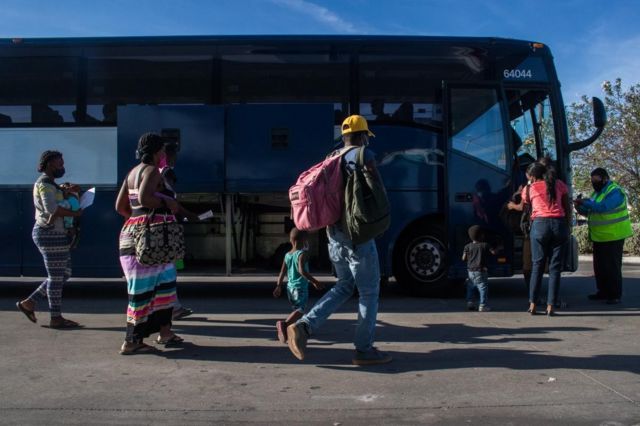 Now you can receive notifications from BBC News Mundo. Download our app and activate them so you don't miss out on our best content.


eltiempolatino.com