With the Canadian nationals and the US nationals going next week, and then the World Championships next month the name of the game was getting ready.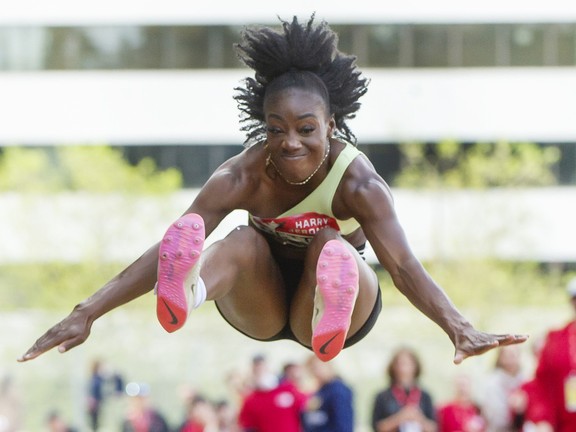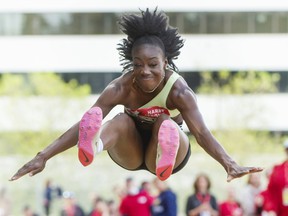 Article content
The name of the game at the 2022 Vancouver Sun Harry Jerome Track Classic was getting ready.
Article content
The Canadian nationals go next week in Langley, the US nationals next week in Eugene, Oregon, and then the World Championships next month, again in Eugene.
"I'm at a point right now in the season where it's a comeback from some injuries and we're just trying to get back into some way shape or form and so today was what it was. And I'm kind of just gonna just take that as the baseline," Richmond's Evan Dunfee said of his 40:38 time in the men's 10,000 meter walk.
It was a slow time for Dunfee, who was two minutes faster at last year's meet.
"Never fun to be lapped by your ghost," he quipped. His 2021 Harry Jerome time is his personal best of him at the distance.
Dunfee admitted that the 50-kilometre walk being cut from the Olympics has been a tough truth for him, even if he knew leading up to Tokyo it would be the last time. He won bronze in Tokyo, a great memory of course, but the loss of the event was still hard to take.
Article content
"I think more than anything, I didn't properly mourn the loss of the 50k. You know, I've known for years it was going to be the last one. And I had time to prepare myself for that. And I thought, OK, it's gonna be the last one and whatever, I'll just like pivot to the shorter distances and it won't be as fun and I won't like it as much, but, like, it is what it is," he said.
"And I don't think I ever took the time to be like, 'well, no, I'm allowed to be sad about this. I'm allowed to just stew in that for a little while.' I didn't do that."
But in working with his sports psychologist Kirsten Barnes, he feels he's pointed in the right direction again.
"She helped me to work through some of that stuff and get me back on the right track. So yeah, we've cleared quite a few physical and mental hurdles so far this year," he said.
Article content
That the worlds are so close to home is a big chance to perform in front of family and friends, especially since he didn't get to do that in Tokyo.
"My goal every time I step out on that start line, the world championships or Olympic Games, is just to leave every ounce of energy I have on the racecourse. So, you know, if my form isn't quite exactly what it was last summer, I can still achieve that goal and find success in that by just you know, laying it all out there."
For Surrey's Christabel Nettey, it was a similar story. She's still the national record holder in the long jump; she hit 6.99 meters twice in 2015.
Seven years later, she's still aiming for the seven-meter mark.
"It's just exciting to get back out there and really just being able to feel like this and still be able to put good jumps together," she said. "A 6.60 jump in the first three rounds will definitely make a final."
Article content
Nettey just turned 31 but isn't thinking about the future yet, she said. She's still focused on competing and also connecting with young fans.
She drew plenty of cheers from the crowd and made a point to snap more than one photo when the moment allowed.
She flew in from Europe on the weekend after competing in meets in Rome last Thursday and Chorzów, Poland the Sunday before that.
It was an awkward fit to make it back for the Harry Jerome, she admitted, but it was important for her.
"I always just make the effort to come because it is really nice to come home and be able to compete in front of the home crowd and see my family," she said.
Her training base is in Knoxville, Tenn., and she's jetting back this week to do further fine tuning with her new coach, Nick Newman, before returning next week for the nationals.
Article content
"It is really hard to come and I'm always really exhausted when I come here but it's always so much fun. So it's worth it."
Damian Warner, the gold medalist at the decathlon in Tokyo, won the men's 110 meter hurdles in 13.68. He also competed in the long jump, which he hadn't completed by press time.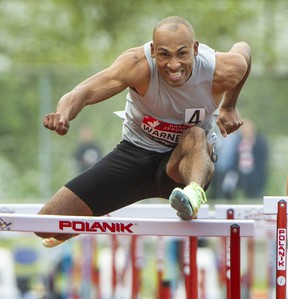 Madeleine Kelly, who is looking to qualify for the women's 800 meters in Eugene and has run under 2 minutes twice this year already, won the women's 800 meters in 2:02.22.
Harry Jerome Track Classic: Headliner Damian Warner keeps pushing sport's profile forward

Lucas Bruchet hopes to be head of his class in the 5,000 meters at Harry Jerome Classic