The rookie is still looking for his first goal after 12 games with Habs and after a six-game season with AHL's Laval Rocket.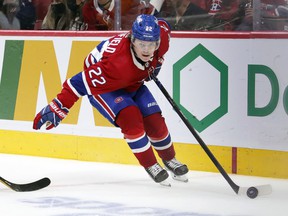 Article content
This is not how things were expected to be for the Canadiens' Cole Caufield.
Article content
Heading into this season, Caufield was considered one of the favorites to win the Calder Trophy as the best rookie in the NHL, and with good reason. The 20-year-old right-back had won the Hobey Baker award for best American college player last season with the University of Wisconsin, with a total of 30-22-52 in 31 games. He then went 3-1-4 totals in two games with AHL's Laval Rocket before making his NHL debut and posting 4-1-5 totals in 10 regular-season games with the Canadiens.
After being a healthy scratch for the first two games of the playoffs, Caufield earned a regular spot in the lineup and had totals of 4-8-12 in 20 games. There were plenty of Canadiens sweaters with the number 22 and Caufield's name on the back at the Bell Center when this season began.
Article content
But 10 games later, Caufield was sent back to Laval scoreless and with only one assist. He was 2-3-5 total in six games with the Rocket before being called up again. In his first two games with the Canadiens, Caufield has no points.
Going back to the last five games of the playoffs, Caufield has now played 17 straight games with the Canadiens without scoring. His longest drop in goal scoring last season with Wisconsin was four games, the first four games of the season. After that, he was never more than two games without a goal.
The jump from college straight to the NHL is big, and Caufield is catching on now.
"You want to play here," Caufield said after Monday's practice at Brossard. "You want to help the team win and be successful. But it was a good experience for me (going back to Laval). Something that I learned a lot. I have to focus on myself personally, it allowed me to slow down life a bit and become almost a new me. I learned a lot about myself and it gave me a lot of confidence to come back here when the time was right. "
Article content
Caufield has only had one shot on goal in each of his first two games with the Canadiens. He missed the net on a great scoring opportunity in Saturday's 6-3 win over the Nashville Predators.
"I think the possibilities were obviously there," he said. "For me, I think the biggest part is keeping my feet moving and staying around the puck. I think I create more opportunities when I am around the album and around the network. So I'll keep trying to do that and keep studying the movies after the game and learning from those situations. But for me personally I like where my game is right now. I will keep trying to improve.
"I feel like it was really good for me to go there and find myself as a player, relax and get out of the noise a little bit," added Caufield. "When I got the call, I was excited. It felt like the first time again. He had a lot of energy in the first two games. I just hope that continues. "
Stu Cowan: Canadians trying to build first winning streak of season

What the Puck: Return of Nordiques could light a fire under Canadiens


Reference-montrealgazette.com