The president of the local association of realtors says that even though current home listings and sales are higher than the 10-year average, inventory figures for the Hamilton area in November remained low.

Donna Bacher says that of the four regions covered by the Hamilton-Burlington Association of Realtors (RAHB), total sales decreased month-over-month by about 10 percent and three percent year-over-year.
She says it's not unusual for November, as sales tend to slow towards the end of the year, but listings across the region are down everywhere, signifying a continuing problem with supply.
Read more:
Canadian Home Prices Will Rise Again, First-Time Buyers Ignore Central Bank Warning
"Listings and sales appear to be … a little above these 10-year averages, but our inventory numbers are … in the basement," Bacher told CHML 900 Hamilton Today.
"So our housing stocks are extremely low."
The median home price in Hamilton has risen 28 percent year-over-year to just over $ 835,000, and eight percent month-over-month.
A single-family home was worth about 27 percent more at an average of $ 916,000 last November compared to the median price of $ 720,581 recorded in the same month last year.
Bacher says another example of supply problems is the number of more than one million dollar homes sold this November compared to last.
Trend stories
Travel Restrictions and Omicron: What's Changing in Canada, USA?

Omicron Variant Spread Leading to More COVID-19 Restrictions Worldwide
"Just a year ago, only one in 10 single-family home transactions in Hamilton sold for more than a million," Bacher said.
"Now, one in three single-family homes sold in Hamilton in November had a purchase price of more than a million."
Apartment-style residences also increased 35 percent year-over-year to $ 495,000, compared to last November's average of $ 366,000.
Read more:
MP, Black Leaders Say Charges Related to Hamilton Camp Demonstrations Should Drop
The prices of both styles of houses, single-family and apartments, were stable month after month in Hamilton.
Year-over-year sales activity in Hamilton fell three percent, while new listings were down five percent from last November.
Ancaster continues to have the highest median price in the area, logging in at $ 1,219,930, an increase of 34 percent year-over-year.
The lowest is downtown Hamilton, where the median home sales price was $ 625,038 at the end of November, up 22 percent year-over-year.
The median price in Burlington increased 28 percent to $ 1,175,264 compared to November 2020.
The year-over-year Niagara North median price increased 25 percent to $ 913,967. Haldimand County was up about 50 percent to $ 869,898 in 2021 from $ 580,908 in October 2020.
For the entire RAHB market area, the median sales price for a freestanding property in November was $ 911,673, up 27 percent from last year.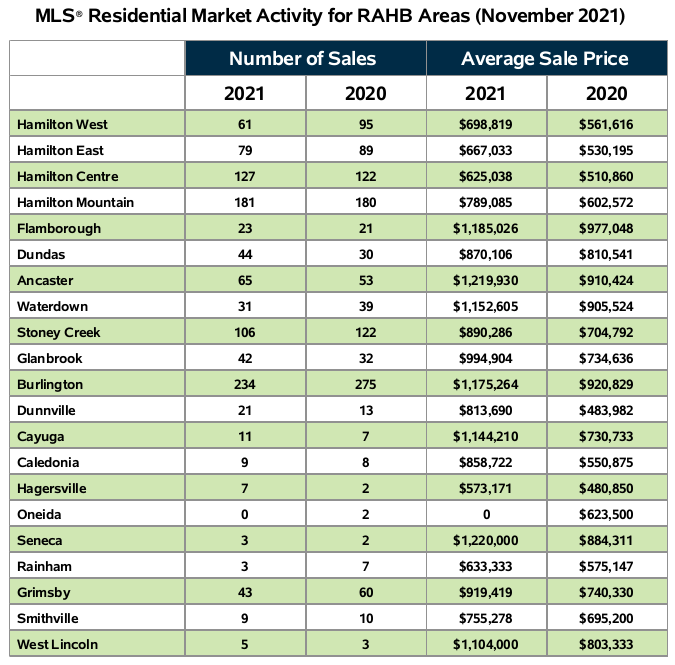 © 2021 Global News, a division of Corus Entertainment Inc.


Reference-globalnews.ca