The forecasts They serve to lift chest when they are favorable, but iron is taken away when they go against it. It is something similar to what happens today. The take off of the inflation and certain supply problems growth is slowing down, as detected by the National Institute of Statistics in the third quarter. In relation to the Spanish economy, after the historical debacle of 10.8% last year, the estimates of the different public and private research organizations and services move between the levels of 5% and 7% this year and between the 5.2% and more than 8 next year. The question is, who will get it right? Although the trend, as the weeks go by, is more towards 5% than above this level and a certain improvement in 2022. That would make a part of the growth that was forecast this year will move on to the next.
The European Commission has been the most drastic, cutting the forecast for this year to 4.6%, which it moves away from recovering the pre-pandemic level at least until 2023. In Catalonia, for example, the Government, which maintains a forecast of 6.4% for this year and next, expects that it will return to the levels prior to the pandemic crisis next year, although that has already been questioned Also reports such as the most recent from the Barcelona Chamber of Commerce as a result of inflation and the shortage of supplies in certain sectors.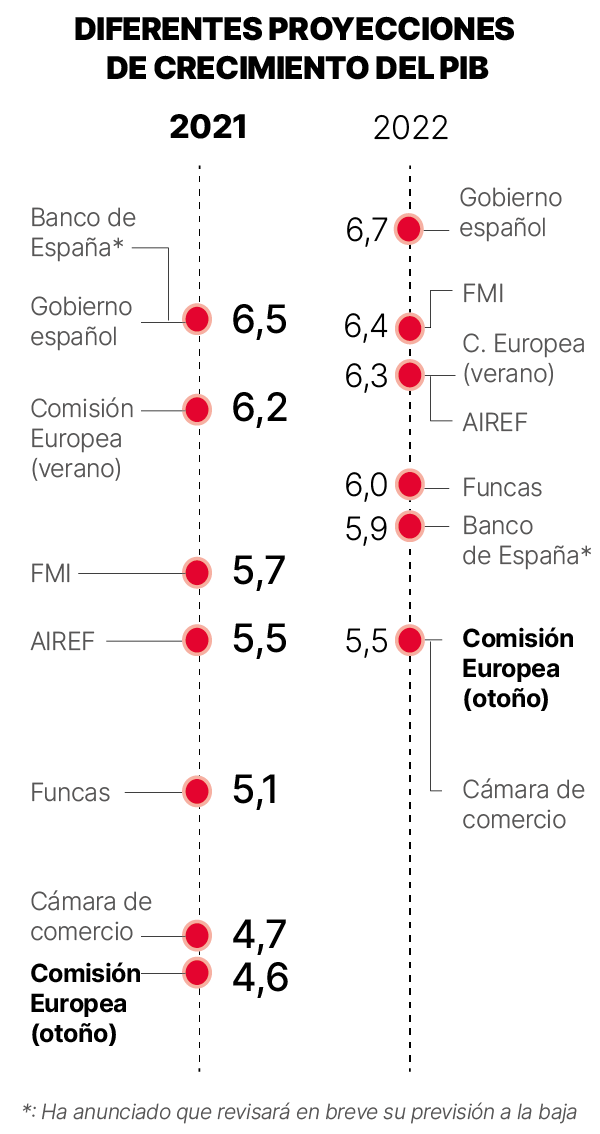 Jug of cold water
The International Monetary Fund (IMF) has already issued a first warning in its fall analysis, forecasting 5.7% this year and 6.4% next year. Although the largest jug of cold water was the one launched by the governor of the Bank of Spain who, in the Congress of Deputies, announced that he would reduce growth forecasts "significantly". The Independent Authority for Fiscal Responsibility (Airef) has also lowered its estimates to 5.5% in 2021 and 6.3% in 2022.
Related news
The truth is that the data from the INE for the third quarter, despite the fact that they meant a certain take-off compared to the second, they were not with enough verve so that the rhythm foreseen by the Government can be reached. And that has been closely linked to consumption, the largest component of gross domestic product (GDP) on the demand side, which did not pull as strongly as expected in the summer.
Now all hopes are placed on the final quarter of the year, with the campaign of the Black Friday and of Christmas, with which it is expected that the more than 50,000 million euros that it is calculated that were impounded during the period of confinement and restrictions as a result of the coronavirus pandemic will be unblocked.
Reference-www.elperiodico.com