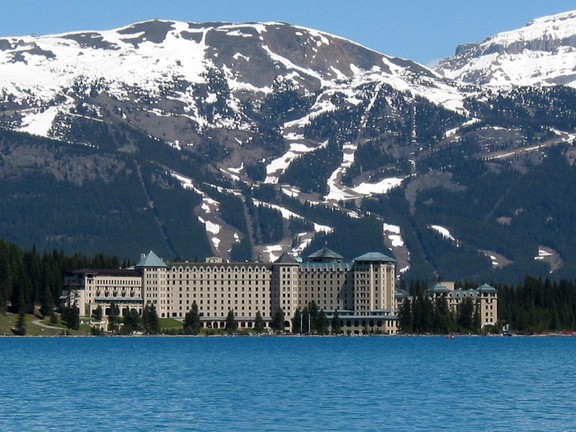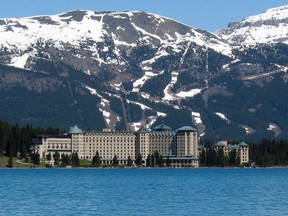 .
Dozens of foreign workers at the Fairmont Chateau Lake Louise and other Rocky Mountain hotels have been detained and deported by federal border officials who are investigating how they arrived at the iconic resorts illegally.
.
Last Tuesday, staff from the Canada Border Services Agency rounded up more than 30 employees at the iconic Lake Louise hotel, who one of his co-workers says are from Mexico, working with potentially inappropriate immigration paperwork.
"We can confirm that CBSA officers were in Lake Louise on July 12 as part of an ongoing investigation into the Immigration and Refugee Protection Act and the Criminal Code of Canada," Border Services spokeswoman Rebecca Purdy said. in an email.
"If a person is found to be working in Canada without a valid work permit, the CBSA will consider appropriate enforcement action, which may include the issuance of a removal order. The Agency has a legal obligation to remove all foreign nationals found to be inadmissible to Canada under the IRPA."
.
One of his co-workers at Chateau Lake Louise said the CBSA operation came as a shock to both the detained staff members and their colleagues.
"The workers were given a knock on the door notice, lined up and prepared to be deported," said the employee, who wished to remain anonymous.
"It's obviously quite traumatic for them."
It comes at a time when the Bow Valley hospitality industry and those who help recruit staff have said there is an especially acute labor shortage to handle this year's busy summer season.
A Fairmont Hotels and Resorts spokesman said his hiring was made as a result of those pressures and could affect a total of 105 of its employees in Lake Louise, as well as the Fairmont Banff Springs Hotel and Jasper Park Lodge.
.
"Hotels use third-party staffing agencies to help with challenges related to labor shortages," said Anastasia Martin-Stilwell.
In this case, the third-party staffing provider had facilitated the arrival and payment of workers at the three hotels, he said, adding that the resort chain had severed its partnership with the company.
"(The third-party company) was retained to be responsible for ensuring all proper documentation for individuals, complying with all applicable laws, and representing that all workers provided to hotels would be properly employed and have the ability to legally work in Canada. ". she said in an email.
"We are very disappointed with (their) operations and their negligence in their hiring practices. Decisions made by (the contractor) have real and consequential effects on their contract workers."
.
All 31 contract employees who worked in Lake Louise's administration, kitchen, housekeeping and residence divisions were deported, it added.
Fairmont Hotel and Resorts has offered free room and board for up to 10 days and transportation to Calgary and Edmonton for other affected contract workers and is also looking for ways to employ those whose documentation is in order, Martin-Stilwell said.
"We are working diligently to identify opportunities to support affected contract workers to the best of our ability," he said, adding that assistance has its limits.
"Based on guidance provided by the CBSA, RCMP and our in-house counsel, we have learned that we are not legally authorized to provide financial compensation to (these) contract workers."
.
The foreign employee's co-worker said the loss of so many staff members at the Chateau Lake Louise has had a negative impact on a variety of services there.
"The hotel already had staffing issues, so it had an immediate impact on the hotel and its ability to attract tourists," the worker said.
For example, hotel restaurants can only accommodate diners with advance reservations and not walk-ins, the employee said.
Hotel chain spokesman Martin-Stilwell said they are "working diligently to minimize any impact to the guest experience and will continue to provide high-quality hospitality offerings to our guests and maintain regular operations."
The issue facing Fairmont Hotels and Resorts is a "unique situation" in a hospitality industry that is serious about adhering to ethical hiring practices, said Wanda Bogdane, executive director of the Banff & Lake Louise Hospitality Association.
.
"While it is incredibly rare to find a circumstance like the one that has recently developed, organizations that hire services in good faith can also be victims of negligent process," he said in an email.
"Employers remain vigilant to meet and exceed labor standards identified by the provincial and federal government."
Late last month, a recruitment agency operating out of Banff-Canmore said the area, which relies heavily on foreign workers, was short of 1,000 to 2,000 employees due to pandemic travel uncertainties and other options. of employment.
Bogdane said the hospitality sector in the region is "well staffed and will provide the same great experience that Banff National Park is known for. They will continue to manage customer intake against their staffing levels to ensure standards remain high."
Twitter: @BillKaufmannjrn