Boudreau and assistant Trent Cull were fired, and Rick Tocchet is head coach. Adam Foote and Sergei Gonchar join the Canucks as assistants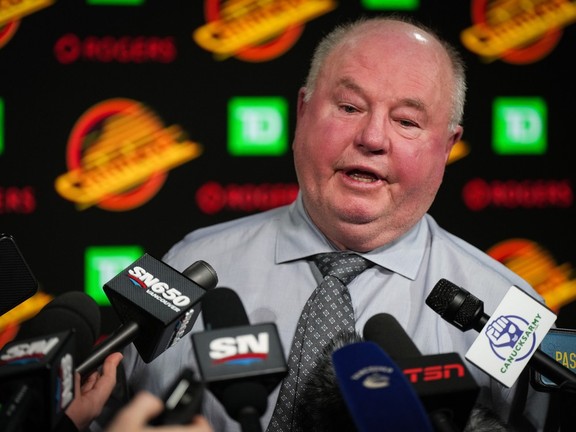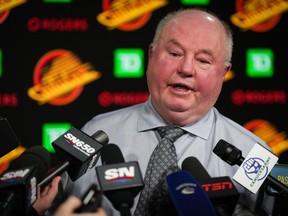 Article content
Bruce Boudreau is out as Canucks head coach, and long-suffering Vancouver fans are angry.
Article content
Canucks GM Patrik Allvin made the announcement Sunday morning, while naming Rick Tocchet as the new head coach.
Article content
Along with Tocchet, who becomes the 21st bench boss in franchise history, Adam Foote joins the Canucks as an assistant coach and Sergei Gonchar has been hired as a defensive development coach.
Also ousted Sunday was assistant coach Trent Cull.
"We would like to extend our sincere thanks to Bruce and Trent for their contributions to this organization," said Allvin in a release. "We appreciate their dedication and wish them nothing but the best moving forward. This was not an easy decision to make, but one that we felt was necessary for this franchise.
---
Read more from Ben Kuzma about new head coach Rick Tocchet
Article content
---
"Rick Tocchet brings a wealth of knowledge to this team from both a coach and player perspective. He has had more than two decades of coaching experience, guiding teams of various styles. As a player, he displayed a high level of character, grit and intensity, while recording impressive offensive numbers," said Allvin.
"Tocchet, Foote and Gonchar all bring a championship pedigree to the organization and we look forward to welcoming them to Vancouver."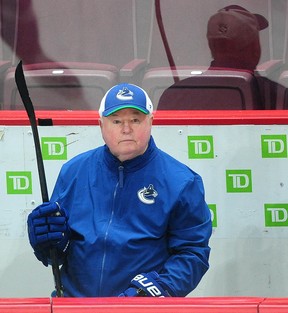 Tocchet, 58, most recently served four seasons as head coach of the Arizona Coyotes from 2017-18 to 2020-21. During his tenure in Arizona, Tocchet led the Coyotes to their first trip to the Stanley Cup playoffs in eight years; the team defeated the Nashville Predators in four games to advance from the qualifying round.
Article content
Tocchet spent three seasons as an assistant coach with the Pittsburgh Penguins, winning back-to-back Stanley Cup championships in 2016 and 2017. He began his coaching career in 2002 when he was hired as an assistant coach by the Colorado Avalanche. He has also been an assistant and head coach with the Tampa Bay Lightning.
Foote, 51, was head coach of the Kelowna Rockets in the WHL from 2018 to 2020.
Gonchar, 48, has spent the last two seasons as an assistant coach for Russia's national team, including at the 2022 Winter Olympics.
The changes come after the Edmonton Oilers handed Vancouver a 4-2 defeat Saturday, marking the Canucks' third loss in a row and their ninth in the last 10 games.
Vancouver (18-25-3) has given up multi-goal leads in eight losses this season and sits sixth in the Pacific Division, 14 points out of a playoff spot.
Article content
Boudreau was hired on Dec. 6, 2021, replacing former head coach Travis Green. Under Boudreau's guidance, Vancouver went 32-15-10 to close out the campaign and missed the post-season by five points.
The 68-year-old Boudreau holds a 617-342-128 coaching record over 15 seasons.
Talk has long swirled that the Canucks were planning to make a coaching change, and the coach took some time after Saturday's loss to stand on the bench and applaud the crowd as they chanted "Bruce, there it is!" to the tune of Tag Team's "Whoomp! (There it is)".
"I just wanted to savour looking at the stands because who knows if I'm ever going to get this chance again," he said. "And just keep that in my mind and the memory, let it burn there forever."
Article content
Canucks defenceman Luke Schenn said players continued to compete for Boudreau despite an abundance of outside noise and a disappointing string of results.
"Obviously, we feel like we let him down in the room. He deserves better. I think that's on us as players," he said. "I've played obviously a long time and I've gone through, I don't know, a handful of coaching changes. And a lot of time you do need a shake up and sometimes coaches do lose the room and I don't think this was the case here.
"Guys enjoy playing for Bruce and in this room, we feel like we let him down. We wanted to continue to try to do better for him and unfortunately, just too many losses pile up."
After last season's success, expectations for the Canucks were high heading into the 2022-23 campaign.
"Not making the playoffs would be a disaster for us," Boudreau said ahead of training camp.
"But to make the playoffs we have to do better and be more consistent over 82 games, not just 56 games or whatever the number was. … I would call it a failure if we didn't succeed in our goals this year."
Here is some of the reaction after the announcement:
Article content
Canucks: Bruce Boudreau's final message to Elias Pettersson?

Oilers 4, Canucks 2: Team couldn't pull off a win for Bruce Boudreau, so fans stepped up

Bruce, there it is: What people are saying about the (outgoing?) Canucks head coach

reference: theprovince.com