Vancouver Mayor Kennedy Stewart has received both criticism and support for his recent comments about a meeting with CSIS.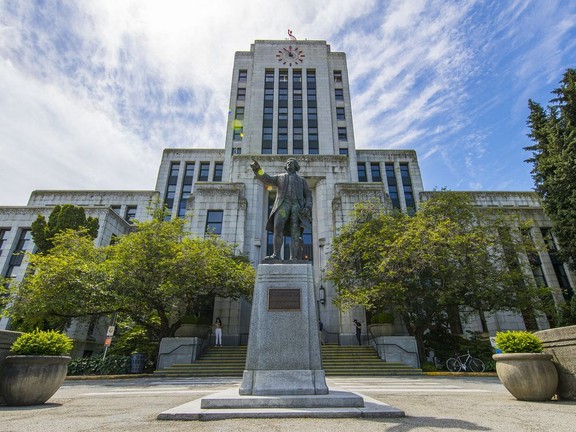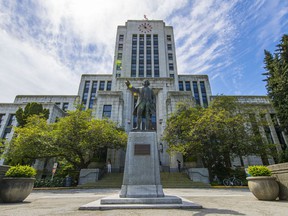 Article content
Canadian intelligence officials seem to be taking a more active approach in raising awareness about risks of foreign interference in domestic institutions, a former Canadian diplomat says.
Article content
But while it's good to promote transparency and awareness of risks related to hostile foreign entities, it's important to address such issues with care, said Gordon Houlden, director emeritus of the University of Alberta's China Institute and a former Canadian diplomat in China.
Postmedia News reported last week that officials from the Canadian Security Intelligence Service (CSIS) met last month with Vancouver Mayor Kennedy Stewart to brief him on foreign interference in local politics. Since then, the mayor has been both criticized and applauded for his public statements, including mentioning a CSIS expert on China attended the meeting.
Houlden said: "Canadians, particularly in positions of authority, need to be aware of some of the risks of the potential of Chinese interference." However, he said, it's important to emphasize that concerns about China's national government aren't the same as concerns about the almost two million Canadians of Chinese descent.
Article content
"I think it has to be said, but I think it has to be said carefully," Houlden said. "It's important it's not a weapon turned against all Canadians of Chinese origin who are just going about their daily business."
Stewart's calendar, which is public, shows he met with CSIS officials in late May. When Postmedia asked him about it last week, he said they briefed him about risks of foreign interference but didn't discuss any specifics in connection with Vancouver or this year's municipal election. Stewart said he clarified with the CSIS officials in the meeting about what he could or could not say publicly about it, if asked.
CSIS left a document with Stewart's office, which outlines common techniques of foreign interference, including blackmail, social-media manipulation, illicit financing, and disinformation.
Article content
The document, which is available to the public and marked "unclassified," doesn't mention any specific incidents, people or countries. But it states that foreign interference "threatens the fundamental values ​​of our country and our national security."
"Disinformation can be used by foreign actors to influence public opinions, perceptions, decisions and behaviours. A growing number of states have built and deployed programs dedicated to undertaking online influence as part of their daily business," part of the document says. "Adversaries use online influence campaigns to attempt to change civil discourse, policymakers' choices, government relationships, and the reputation of politicians and countries both nationally and globally."
Article content
A source in Port Coquitlam said officials there had similar meetings with CSIS. A representative of Richmond confirmed CSIS recently met with the mayor, but didn't publicly disclose the nature of the meeting.
Stewart has been criticized for discussing his meeting publicly. Kerry Jang, a former three-term Vancouver councillor, said Stewart shouldn't have spoken to a reporter about the meeting or specifically mentioned a CSIS expert on China was present.
Jang said the news of Stewart's meeting reminded him of comments made in 2010 by the then-director of CSIS, Richard Fadden, who told CBCNews the agency suspected provincial and municipal politicians in Canada were under the sway of foreign governments. Jang was angry, he said, that he felt Fadden's statements made "people believe any politician of Chinese decent was under the influence of China just because we were Chinese."
Article content
"It was very sad how such statements have a greater effect," Jang said, recalling that he and other Chinese-Canadian politicians received hate mail after Fadden's comments.
Noting the recent surge in anti-Asian racism in Vancouver, Jang said he worried Stewart's comments could inflame those sentiments, and was concerned Stewart could be trying to win votes in this year's election by "China-bashing" or to suppress votes for rival candidate Ken Sim, a Canadian of Chinese descent. Jang said he endorsed Stewart for election in 2018, but hadn't decided yet which mayoral candidate to support in 2022.
Asked for a response to Jang's comments, Stewart sent an emailed statement saying: "I take CSIS's concerns about foreign interference and their request to meet with me very seriously and will do all within my power to ensure the democratic integrity of our system."
Article content
Sim's campaign manager Kareem Allam said: "You don't bring issues of national security up with the media. So if it's not an issue of national security, then one must question his further motives for it. It must be an issue of politics."
Jenny Kwan, the NDP MP for Vancouver-East, doesn't believe Stewart, whom she has known for years, would try such a thing.
"Do I think Kennedy Stewart is trying to use this issue to create a sense of distrust for Chinese elected officials? … I do not think that it would be the intention of Kennedy at all, I would find that shocking," Kwan said.
Kwan recalls Fadden's 2010 comments, and was publicly critical of them at the time.
"If he were going to make such an allegation, I think it's really important that he name names, and have evidence to back it up. Because otherwise, the brush is tarring other Chinese-Canadian elected officials as well, so I was concerned," she said.
Article content
CSIS's recent briefings and Stewart's public comments are a "very different thing" from what Fadden said in 2010, Kwan said.
Kwan said she had also received similar informational briefings from CSIS on potential foreign interference.
Last year, Stewart said he would suspend all contact with Chinese national government representatives, in response to China announcing sanctions against several Canadians, including Conservative MP Michael Chong. Stewart and Chong worked together when they were both MPs, and the two co-authored a book.
Reached Monday, Chong called any accusations Stewart is trying to inflame racism as "unfair criticism" and untrue.
"Frankly, it's important that we criticize the Communist leadership in Beijing for the threats they are presenting to this country," said Chong, who is the Conservatives' foreign affairs critic. "I commend Mayor Stewart for being open and transparent."
Article content
Racism is a problem in Canada said Chong, noting he has been the target of anti-Asian discrimination himself.
"But we need to do both," he said. "We need to both call out the threats coming from the Communist heritage leadership in Beijing and the targeting of our fellow citizens of Asian."
Chong said different entities have produced credible information suggesting Beijing tried to interfere in Canada's federal election last year by spreading misinformation, which he said could also happen with other countries and other levels of Canadian government.