The diorama duo features dozens of tiny items cut out of old magazines or crafted by an artist.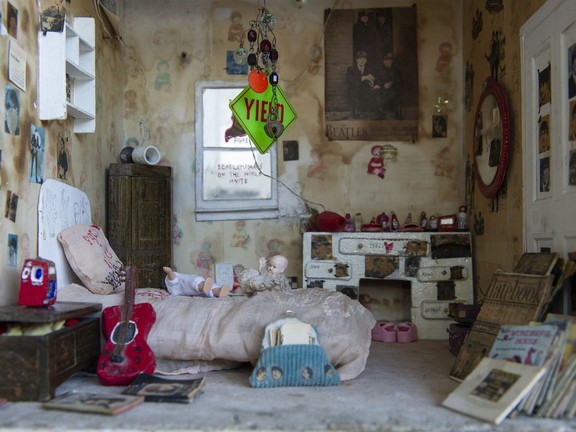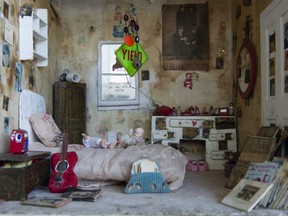 .
There were countless pieces of art inspired by the Beatles and psychedelia in the 1960s and 1970s.
.
But few are as mind-blowing as a pair of miniature dioramas Reid Shier, director of The Polygon Gallery, recently found at an antique store in Nanaimo.
A diorama is a model of a real-life scene, executed with three-dimensional objects. In this case, the pieces are generally about a foot tall and wide, and packed with items the size of a fingernail, the little finger.
One is a girl's bedroom during Beatlemania in the mid-60s. The second appears to be a "crash pad" circa 1970, after the psychedelic hit.
For a Beatles fan, or anyone who lived through the era, the little pieces provide a keepsake.
"The things you don't even remember that you remember," Shier notes with a laugh.
But, given the current popularity of the Beatles and the current vogue for dioramas, the two dioramas also have cross-generational appeal. They are quite amazing and surprisingly charming.
.
You can guess the time they were created from the tiny images inside. The girl's room is littered with tiny photos of the early Beatles in suits on the walls and door, including a miniature poster of their appearance at the London Palladium in 1963. But some things are from 1966.
There appear to be 35 photos and posters, but there may be more hidden behind the furniture, including a miniature bed with a hand-stitched "Beatles 4 Ever" miniature blanket and a "Paul I Luv U Ya! Ya! Already!" Pillow Both pillow and blanket also feature a hand-stitched red heart, for love.
One assumption is that all the photos were cut from Beatles magazines. But they are so small that they must have come from the table of contents page, where they would have been scaled down to entice readers to venture into the real story (and larger photos) inside. Cutting them out would have required a lot of care and time.
.
But the photos are just the beginning.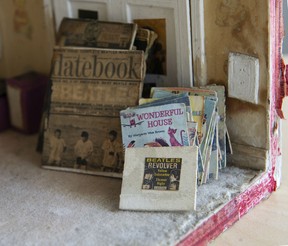 There are also a bunch of little cutouts leaning against the wall depicting the girl's record and magazine collection, with the Beatles' 1966 Revolver album in front. It's not the actual album cover, but an advertisement for a single from the album, Yellow Submarine and Eleanor Rigby.
This means the image was probably cropped from one of those old record club ads, where you get a bunch of records cheaply to entice you to order LPs at regular price for a year. The magazine covers (there appear to be 16) are probably from subscription ads. One is a Datebook cover from summer 1964, which was a Beatles magazine.
The fan has written "Beatlemaniacs of the world unite" and "Paul Forever" on her window, and has a toy Beatles guitar next to her bed, next to her transistor radio. Across the room is a portable record player with two speakers. It seems that they are all made by hand, perhaps with plasticine.
.
Her miniature dresser (drawers labeled Paul, John, Ringo, and George) also have handmade cosmetics, one is labeled "skin cream." There are also pink slippers and pink shoes, perhaps from a doll. But not the little doll on the bed, she's too small.
The show-stopper is cozy stuffed with the world's smallest letters, which feature the world's smallest writing.
"One is addressed to Paul McCartney, London, England, Great Britain, Europe, The World, The Universe," Shier marvels.
The psychedelic room can represent a male Beatles fan: there's a miniature Playboy Reader magazine. There's still a bit of a Beatles theme, including a miniature version of a famous Richard Avedon photo of the Beatles on one wall, but the rest of the room is a period piece about late '60s counterculture and early 70's.
.
This ranges from a 1967 psychedelic poster of San Francisco's Avalon Ballroom featuring Big Brother and the Holding Company to a bluish-purple stained glass window with a pink peace symbol painted on top and macramé hanging on the sides.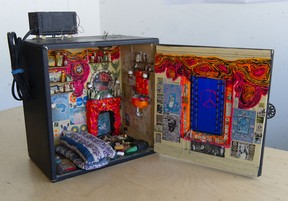 The upper part of the room is painted in waves of Day-Glo pink and orange, separated by rings of black. The message "Make Love Not War" is written on the wall, along with replica buttons bearing '60s slogans like "Flower Power," "Sock It To Me," and "Sex Is a Commie Plot."
There are marijuana buttons ("God Grows His Own"), drug buttons ("Drop Acid Not Bombs"), and pop culture buttons that have a sly drug reference ("Snoopy Sniffs Airplane Glue"). Being a crash pad, there is no bed, just a couple of giant offerings of puffy pillows and blankets.
.
It's so intricate, it's dazzling. It comes with a small sink that has plumbing, a fireplace mantle decorated with a psychedelic floral motif, and small replicas of Heinz ketchup, Kellogg's Corn Flakes, and Tide detergent on a shelf.
When you first look at the dioramas, you assume they were made by a teenage Beatles fan. But, when you look closer, you realize that it must have been done by an artist, because they are too complex and nuanced.
Unfortunately, Shier has no idea who made them.
"The legend is that someone knew someone who did these things in Victoria," he said. "So someone in Victoria knows the story."
The dioramas were purchased from Old City Panache in Nanaimo.
"The only thing we have on them is that they come from an estate just above the legislature building in Victoria," said Mary-Lynn Kellogg of Old City Panache.
"The woman who owned the estate had a very extensive art collection, very eccentric and eclectic art."
As the director of the Polygon Gallery in North Vancouver, Shier thinks the pair would be great in an exhibition of dioramas, which have become very popular lately. The dioramas are not currently on display.
She would love to know the name of the artist in case she does a show, and find out what other gems they created.