The COVID-19 outbreak connected to a church in Kitchener continues to spread, according to Waterloo Public Health.
The agency says there have now been 28 cases related to the outbreak at the Nazarene Christian Congregation, which according to the region's chief physician was the result of services held there on Aug. 1.
Read more:
Waterloo Region Now Provides Third Dose of COVID-19 Vaccine to Some Vulnerable Residents
"Anyone who attended the Nazarene Christian Congregation on August 1 is cautioned that they are considered a high-risk contact," Dr. Hsiu-Li Wang, Health Medical Officer, told reporters on Friday.
At the time, he expected more cases to be connected to the outbreak, which later involved 25 cases.
The outbreak is one of four active COVID-19 outbreaks in the area, with the others involving the Conestoga Lodge Retirement Residence in Kitchener, as well as others in the retail sector and at a food processing plant.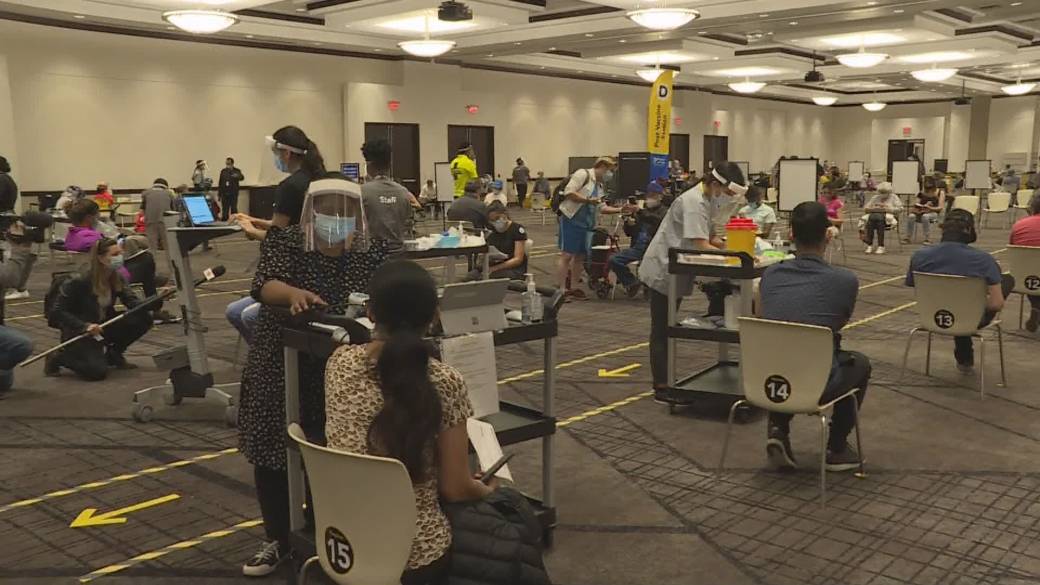 Doug Ford Says PC Caucus Members Should Get Vaccinated or Expelled
The Waterloo Department of Public Health rarely mentions COVID-19 outbreaks publicly, but the one in Kitchener's church met all the criteria for the agency to name it, according to Wang.
The criteria for a disclosure include 15 or more instances with a proportion of employees or sponsors who are positive exceeding 15 percent with 20 or more employees and sponsors at the facility. Alternatively, it can also be 50 or more cases and sustained transmission, without both options offering significant privacy concerns.
Waterloo Public Health also reported a new COVID-19-related death for the second day in a row, bringing the death toll in the area to 288, including six victims this month.
"The individual was a man in his 90s," Wang said Wednesday. "I wish to express my condolences to the person's family and loved ones."
Trend stories
Trudeau doubles mandatory COVID-19 vaccinations for domestic travel

Canada has reached an agreement for 2 military aircraft to resume 'flying regularly' to Kabul
Waterloo Public Health also reported 13 new positive tests for the coronavirus on Wednesday, bringing the total number of cases in the area to 18,699.
This slightly raises the seven-day moving average of new cases to 18.3.
Another 15 people were also eliminated from the virus, bringing the total number of resolved cases to 18,272.
Read more:
Ontario Government Requires COVID-19 Vaccine Policies for High-Risk Settings
The area now has 133 active COVID-19 cases, including 16 people who are in area hospitals as a result of the virus, and 10 of those patients are in need of intensive care.
The region's COVID-19 vaccine distribution working group says there have now been 387,305 vaccines in the area, 1,623 more than it reported Tuesday.
It also says 387,305 area residents are now fully vaccinated, 1,208 more than the agency announced 24 hours earlier.
This means that 65.77 percent of the population has already been fully vaccinated, or 76.38 percent when only eligible residents ages 12 and older are included.
A total of 72.72 percent of all area residents have received at least one vaccine injection, and that number rises to 84.43 percent after discounting those who cannot get vaccinated.
Read more:
Ontario Reports Nearly 500 New COVID-19 Cases, 3 More Deaths
Elsewhere, Ontario reported 485 new COVID-19 cases on Wednesday, a jump from the previous day of 348. The total provincial cases now stands at 556,920.

Of the 485 new cases registered, 309 were unvaccinated, 41 partially vaccinated, 98 fully vaccinated, and 37 unknown.
According to Wednesday report, 108 cases were registered in Toronto, 75 in Windsor-Essex, 59 in the Peel region, 36 in Hamilton and 27 in Middlesex-London.
All other local public health units reported fewer than 25 new cases in the provincial report.
The death toll in the province has risen to 9,431, as three deaths were recorded.
* With files from Gabby Rodrigues of Global News
See link »
© 2021 Global News, a division of Corus Entertainment Inc.


Reference-globalnews.ca
The Canadian News
Canada's largets news curation site with over 20+ agency partners