The Ministry of Health reported 77 new deaths due to Covid-19 on Monday, so the number of deaths since the pandemic began in the country increased to 289,811.
In the daily technical report on the progress of the epidemic, the health authorities registered 810 new confirmed cases, to reach a cumulative number of 3 million 827,596 infections of the disease caused by the SARS-CoV-2 coronavirus.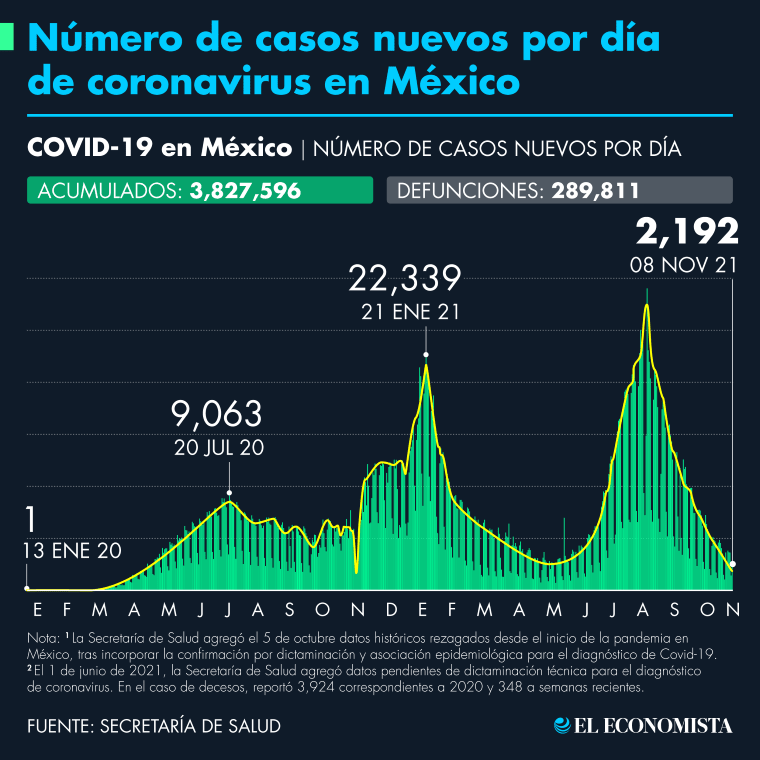 The federal agency estimates 19,493 active cases, that is, people who have presented symptoms of Covid-19 in the last 14 days. While it reported that 3 million 193,068 people have recovered after suffering from this disease.
Regarding the hospital capacity for the care of patients with Covid-19, the secretariat detailed that the occupation of general beds is located at 18%, while that of beds with a fan is 15%, without changes compared to what was reported yesterday .
It should be remembered that this Monday, November 8, given the reduction in epidemiological indicators of the pandemic and the advance of vaccination in the country, the United States reopened its borders after 20 months of closure.
The United States, which had allowed only essential crossings, reopened its borders early this Monday to people vaccinated against Covid-19 who are not making essential trips.
Progress in vaccination against Covid-19
At the cut of Sunday, November 7, the Ministry of Health applied 115,337 vaccines against Covid-19, to add a total of 128 million 356,362 doses supplied nationwide as part of the vaccination campaign to control the pandemic, which began on the 24th. December 2020.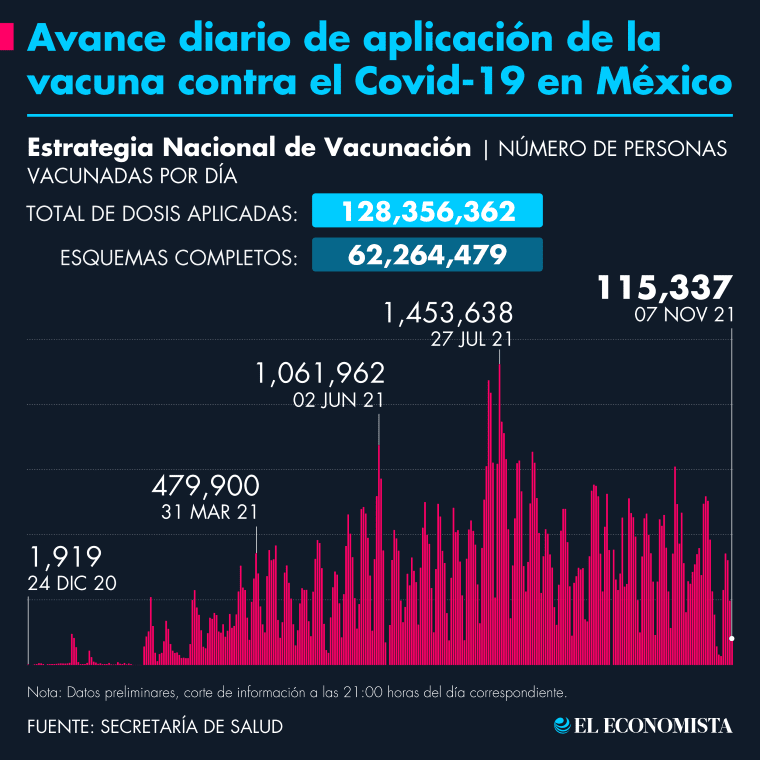 The federal government reported that 62 million 264,479 people already have a complete vaccination scheme with one or two doses, depending on the type of biological applied; while 12 million 688,834 people have half a scheme. In total, 74 million 953,313 have been inoculated, which according to the agency is equivalent to 84% of the Mexican population over 18 years of age.
kg


Reference-www.eleconomista.com.mx