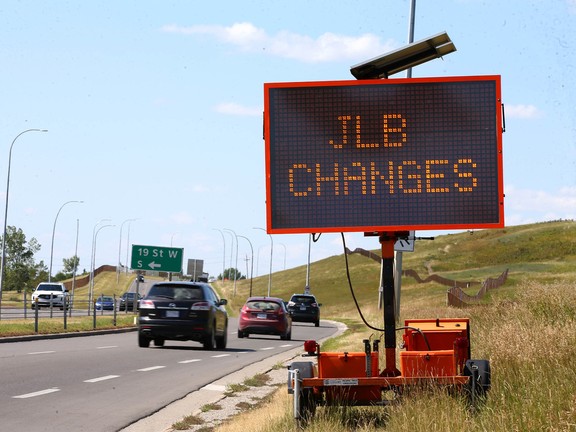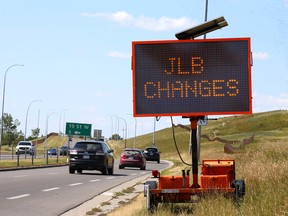 .
City officials hope changes in traffic flow on John Laurie Boulevard could slow down collisions on Calgary's busy Northwest highway.
.
The city is starting work on three highway intersections that have had a higher-than-average number of collisions, including those resulting in injuries, over the past decade or so.
They are installing traffic signals at the intersection with Charleswood Drive NW and prohibiting left turns onto John Laurie Boulevard from Brisebois Drive NW and 19 Street NW during weekday morning and evening rush hours.
Part of the impetus for the changes was a high rate of crashes ending in injuries, particularly on Charleswood Drive NW, where 21 percent of crashes ended in injuries compared to an average of 10 percent elsewhere in the city. There have been 90 collisions at that intersection since 2015, including 19 that resulted in injuries.
.
"There have been collision issues, including several serious injury collisions, so steps need to be taken to address this," said Pat Grisak, the city's mobility management coordinator.
Work has begun to prepare for the installation of the traffic signal at the intersection of Charleswood Drive NW, with the project expected to be completed by the end of October.
Restricted left turns on John Laurie Boulevard NW will be handled by signage, but Grisak said the city would consider adding a physical barrier for rush hours depending on compliance.
"These are very difficult turns to make and cause problems," he said.
In a blog post, Triwood Community Association President Mark Whiteman said he received some negative feedback from community members about the planned changes, but said he believes the changes are best for community safety. community.
.
"The security statistics indicate that something needs to be done and the recommendations made are strong in addressing security concerns," Whiteman wrote.
Grisak said the city has received some input on the changes through 311 calls, including from residents concerned about congestion on Charleswood Drive NW.
"There will be a longer delay on John Laurie Boulevard for people riding John Laurie. Right now, I'll call it free flow, there are no stops, but when there is a signal, of course there will be some stops," he said. "We don't see it as significant."
The city is hosting two information sessions about the change next week for residents. They will be held on Monday, August 22 at the Brentwood Community Association and Tuesday, August 23 at the Triwood Community Association. Both work from 7 pm to 8:30 pm
Twitter: @jasonfherring