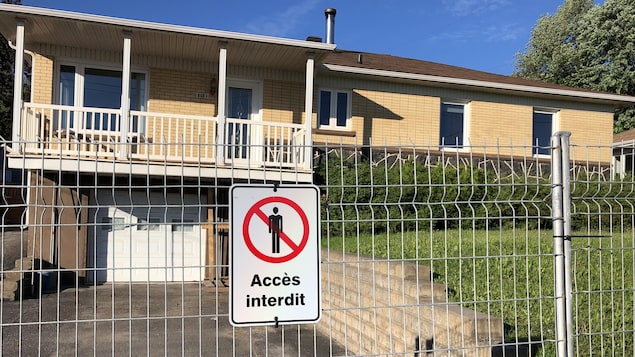 Evacuated residents cannot imagine returning to their homes.
I can't see myself going through an emergency evacuation again, as I experienced on June 13th. Me, I don't want to live that with my children anymore. shares a woman, who had to leave her home after a nearby residence was swept away by a landslide.
Families who live in 67 properties in the evacuated perimeter learned on Wednesday that they will be able to return to their homes after major excavation work is carried out to soften the slope and thus prevent further landslides, according to the Ministry of Transport ( MTQ). This work should last two to four months.
Other affected residents wonder if they will be able to sell their homes afterwards, due to fears of a new landslide from potential buyers, despite the stabilization works.
Can I resell afterwards? It will become impossible. I wouldn't want anyone to buy that house either.drops an evacuated resident.
Many also fear that their property will lose value.
Difficult to relocate
Real estate agent Eva Gagnon maintains that the market, which is currently favorable to sellers, could mitigate a possible drop in price. But relocating remains a problem for the future, she says.
To move, we are in a market that is not necessarily easy to find properties either. We know that with the pandemic, we are in a market that is not easy. Construction costs, too, are not very affordable. There is no land for sale she explains.
She thinks that in this situation, the affected residents will be few to put their residence on sale.
" I have the impression that it will be a small part of the people who will want to sell their property. »
New worried neighboring owners
The situation also worries new owners, who have just bought a residence near the established perimeter.
The situation is also anxiety-provoking for sellers and brokers who often represent both parties, underlines Eva Gagnon. The real estate agent speaks of an exceptional and complex situation.
Of course, it's not an easy situation, but for us, it's to try to settle it, amicably if possible.she mentions.
Other resources must then be involved. There are laws, there are ways to proceed, there are ways to do things, and that's what you have to look at. We are not authorized to know all that, so we are accompanied by lawyers, notaries she says.
All households must be relocated on Friday
The last families who are at the hotel will all have a home on Friday, as Saguenay hoped, said the spokesperson for the City, Dominic Arseneau.
There are still 13 households that will have to spend one last night at the hotel. However, accommodation has been found for all of these households. So, tomorrow at the end of the afternoon, people who are still at the hotel will all be able to have access to accommodation which will be furnished or semi-furnished.he says.
The renewed local state of emergency
The City of Saguenay renewed Thursday the local state of emergency declaration adopted Monday during a special meeting held by videoconference in the morning at 10:30 a.m. The renewal was the only item on the agenda.
Another videoconference session is also on the agenda for Tuesday, at 1 p.m., in order to adopt a new renewal. The local state of emergency declaration requested from the Ministry of Public Security must be renewed every five days.
Extension of the municipal garage
Moreover, the Mayor of Saguenay maintains that the work to expand the La Baie municipal garage and its backyard on rue Joseph-Gagné Sud in La Baie, which is to the west of the place where the landslide occurred, did not contribute to weakening the embankment.
Several residents of the sector have put forward this hypothesis in the last few days.
The City applied for its own permits and asked to be accompanied by the company Englobe to be able to [procéder] at workassured the mayor, during the technical information session of the MTQ presented to the media on Wednesday.
Denis Demers, engineer specializing in ground motion at the MTQexplained that work can be carried out on slopes.
We can intervene on the slopes. […] The place you are talking about, there was a study that was done, which followed the rules of the trade, which made recommendations. And then well, people, some, it can worry them, because they may not know that it was dimensioned according to the rules of the arthe replied.
With information from Catherine Paradis, Catherine Gignac, Michel Gaudreau and Mélyssa Gagnon


Reference-ici.radio-canada.ca