Multi-million dollar renovation polishes the golden shine of the grand dame of Georgia Street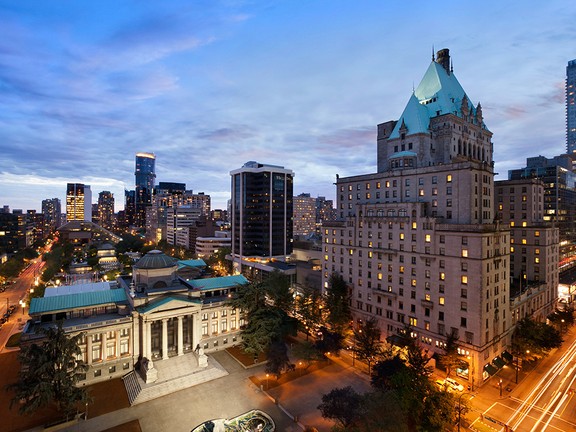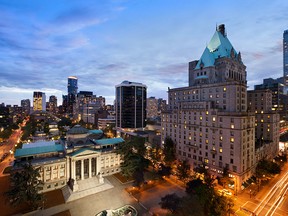 Reviews and recommendations are unbiased and products are independently selected. Postmedia may earn an affiliate commission for purchases made through links on this page.
.
In what was supposed to be the summer of the road trip, global forces have caused many British Columbians to reconsider those weekend getaways. Call it a pain pause at the pump.
.
Instead, they stay close to home and discover, perhaps rediscover, why so many global tourists have a summer vacation in Vancouver on their bucket lists. That's why so many downtown hotels are rolling out the red carpet for locals with staycation deals and partnerships with nearby attractions and exhibits.
All of which is perfect timing for the iconic Hotel Vancouver, which has tied the bow on a massive and somewhat lengthy $75 million renovation that has seen the Grand Dame of Georgia Street returned to its former glory. In particular, the 50 rooms and private guest lounge on the 9th floor Gold Level have received significant upgrades in keeping with the hotel's lavish history and lavish architecture.
.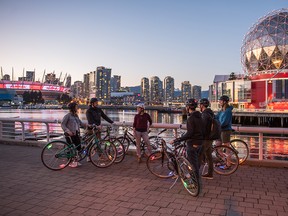 polish the gold
I stayed here a few years ago, before the renovation, and came away with the same impression I had of many of these classic Fairmont hotels, like Victoria's Empress, Toronto's Royal York, and Seattle's Olympic. All have incredible architecture steeped in history and an undeniable sense of majestic permanence, however the rooms themselves were quite ordinary and in some cases dated in terms of bathroom fixtures and amenities, audio/video technologies and even a small, but increasingly vital thing, like USB outlets. Fairmont executives seem to have felt the same way, as all of the aforementioned properties have seen major multimillion-dollar renovations in recent years that have brought their rooms into the 21st century. That's certainly what I discovered on a recent one night stay on the Gold Level at Hotel Vancouver.
.
Gold Rooms, including three-bedroom suites for up to 10 guests, now feature a warm, nostalgic palette of deep navy blues, heather grays, gold metals and marbles, and custom Axminster wool rugs with large-scale patterns that are they spread everywhere. . A significant part of the renovation involved the craftsmen who restored and, where necessary, repaired or replicated all of the original plaster crown molding, millwork, decorative built-in fireplaces and shelving. Likewise, the lounge has been completely renovated, as has the elevator lobby and the Gold Level check-in station. Fairmont hotels pride themselves on service, and this 9th-floor Gold level enhances it with a dedicated concierge service that provides itinerary planning, dinner and theater reservations, morning coffee delivery to your room, and shoe shine and pressing. of free clothes. Kind of old-school service, which seems about right considering Hotel Van's rich and romantic history.
With the lounge offering a complimentary daytime service beginning with a full buffet breakfast, mid-afternoon scones and pastries, hors d'oeuvres from 5 pm to 7 pm and finally sweets from 7 pm to 9 pm. in the comfortable confines of the Gold Level throughout my stay. I say almost, as another free gift for Gold level guests is a two-hour bike rental at nearby Cycle City that promised me and my companion not only a good workout, but rekindled my deep appreciation for the city. that took me away from home for three decades. behind.
.
good on two wheels
We checked in early and left our bags with the concierge staff and then headed for the block walk to Cycle City on Hornby Street where we had the pleasure of being kitted out by the founder and, according to his business card, chief rider Josh Bloomfield. The shop's rental fleet is very diverse, but as we discovered, if you want one of their popular electric bikes, you need to make a reservation. Instead they set us up with a couple of very nice city style bikes with locks, helmets, maps and travel route suggestions. We were outside, and almost immediately I came to appreciate all those downtown bike lanes that sometimes make me swear when I'm behind the wheel. To paraphrase that time-honored saying, go a mile in your clip-on shoes.
.
Fortunately, Josh had kindly extended our travel time from two hours to three, and we covered some ground during that time, a testament to the established cycling network in the city center and beyond. It went first to Coal Harbor and around Stanley Park, then along False Creek to Olympic Village, then to Granville Island, where we left the bikes with the free valet for a ride around the island. It was my first time there since before the pandemic, and it was heartening to see the buzz of the market, the restaurants buzzing with the sound of people, and the streets buzzing with the sound of children.
On the drive back to the hotel, in addition to thinking about dinner at Hotel Van's Notch8 restaurant, which has a new chef and respective menu, I found myself looking at places I passed almost daily: Science World, False Creek , the city center. the horizon, the mountains of the North Shore, and see them with new eyes. It could have been the oxygen I had been taking on the ride or the unique perspective, at least for me, that riding a bike through familiar places gives me. Whatever it was, it was a bit of an eye opener and underscored what a special and unexpected experience a stay can be.
offers
Opt for the Gold Package (May 15-December 30): Best Rate at Fairmont Gold, Self Parking for one vehicle, Access to Fairmont Gold Lounge, Concierge Team, Pillow Concierge, Turndown Service. More details here.
Residents of British Columbia, Washington state and Alberta get 20 percent off luxury accommodations with free parking included. Visit here.
Make it a night to remember with bubbly chocolate dipped strawberries, breakfast in bed, late checkout, and complimentary parking included. check it our here.