A week after things looked like they were turning a corner defensively, the picture in their own end remains poor for the 9-12-3 Vancouver Canucks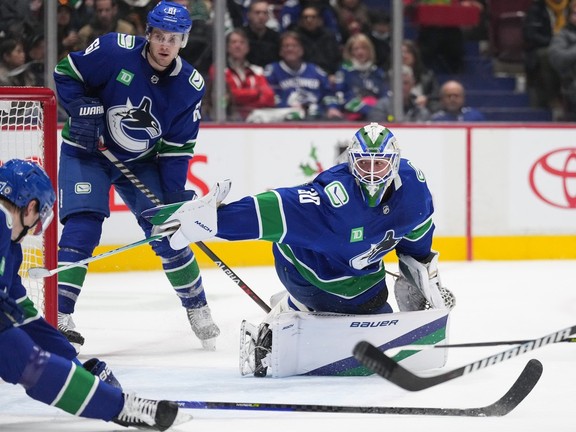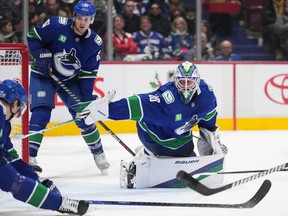 Article content
Two weeks, two very different experiences in Vancouver Canucks hockey.
Article content
On Monday, spirits were high for the Canucks and their fans. They had returned home from a three-game road trip in which they had won all three games, and in two of those games beat two of the league's best teams in the Colorado Avalanche and Vegas Golden Knights in impressive fashion.
Article content
They tacked on a battling win Sunday in San Jose, setting up a narrative that they had finally turned the corner, were on the cusp of hitting the .500 mark, were playing better defence and were ready to fight for a playoff position.
Five days later, that enthusiasm has been parked — yet again.
The Canucks lost twice — badly — at home to the Washington Capitals on Tuesday and the Florida Panthers Thursday, both by 5-1 scores, dropping their win-loss-overtime loss record to 9-12-3.
Article content
On Saturday they host the woeful 7-11-3 Arizona Coyotes, an opponent who at least should serve as a welcomed bounce-back opportunity.
---
NEXT GAME
Saturday
Arizona Coyotes vs. Vancouver Canucks
7 p.m., Rogers Arena. TV: CBC, Sportsnet. Radio: AM 650.
---
"We have to play with more energy," Canucks head coach Bruce Boudreau said Friday. "I was surprised yesterday by that. Usually I can read the team pretty well. I thought that they were going to come out flying and you know, we weren't flying."
Energy will no doubt help. But defending against cross-ice passes and keeping the slot clear of attackers will help, too.
On the road trip, the Canucks were doing that. In the two home games this week, not so much.
With that in mind, here are some numbers to consider about the club's current state of affairs.
Article content
16
Thursday night, the Canucks gave up 16 high-danger chances to the Panthers, according to Natural Stat Trick.
Last week in Denver, they gave up just four high-danger chances to the Colorado Avalanche.
High-danger chances are shots taken from right in front of the net. Goalies have little reaction time to make a save on a shot from that distance. It's as much about the goalie's positioning, the power of the shot and a little bit of luck as anything that will determine whether the puck goes in the net or not.
In other words, it's best to avoid yielding them at all.
On the season, the Canucks have given up 12.8 per game of these kinds of chances, sixth most in the league.
There has been improvement in their defensive game, but the truth is it's still far too weak for the team to have a true chance of sustaining a playoff push.
Article content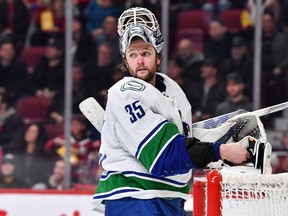 90.9
For all the chatter about the Canucks being poor defensively, same as in the early going last year, as well as their ability to score goals in bunches, improved upon from a year ago at this time, one crucial item stands out: Thatcher Demko's poor start to the season.
Time and again in the 2021-22 campaign, he stood on his head, giving his club a chance to win.
This year has been a struggle to start, as he posted just a 90.9 save percentage at even strength, well below the 93.2 per cent he managed last season.
And now he's out sidelined by injury for an undetermined amount of time.
If Demko is out long term, the Canucks will turn to Spencer Martin, who has been solid but, intriguingly, has only post a 91.0 even-strength save percentage this season, just a hair higher than that of the "struggling" Demko.
Article content
1.28
Natural Stat Trick's data shows the Canucks have given up 1.28 rush chances per 60 minutes of even-strength time when Spencer Martin is in net, about half the rate they've yielded with Thatcher Demko between the pipes.
Given Demko made the bulk of his starts at the beginning of the season while Martin has started more often of late, that tracks with what we've seen, which is the Canucks have done a better job defending in the neutral zone and against the rush.
They've been better at preventing cross-ice passes, a good thing since chances generated off cross-ice passes are harder for goalies to save.
1/4
On the season, the Canucks have scored 81 goals, of which 19, or roughly one quarter, have come off tipped pucks.
Last week, on their highly successful road trip, they scored four of their 13 goals via tips.
Against Washington and Florida, they scored just twice and neither goal was off a tip.
The Canucks have built a lot of offensive success this season off commanding the slot; if they're not finding success there, they're likely not winning.
Article content
.637
That's the points pace the Canucks will have to sustain over the remaining 58 games this season in order to make the playoffs. They have 21 points as of Friday. They will likely need 74 more points, which would get them to 95 on the season.
That's a better pace than last season's Canucks played at after Bruce Boudreau was hired Dec. 5, 2021.
Last season, the final wild-card spot in the Western Conference was claimed by the Nashville Predators with 97 points.
At present, HockeyViz.com projects the second wild-card team in the west will need just 93 points to make it in.
Canucks: Thatcher Demko on the shelf with injury as Collin Delia called up

Panthers 5, Canucks 1: Costly setback as Thatcher Demko suffers first-period leg injury

Canucks hear Boudreau 'loud and clear' on call for more fire in the belly after getting 'bullied' by Capitals
---
More news, fewer ads: Our in-depth journalism is possible thanks to the support of our subscribers. For just $3.50 per week, you can get unlimited, ad-lite access to The Vancouver Sun, The Province, National Post and 13 other Canadian news sites. Support us by subscribing today: The Vancouver Sun | The Province.

reference: theprovince.com