Playing with scratches and cuts to the face is part of who the forward fighter is as a player. But he is healthy heading into training camp.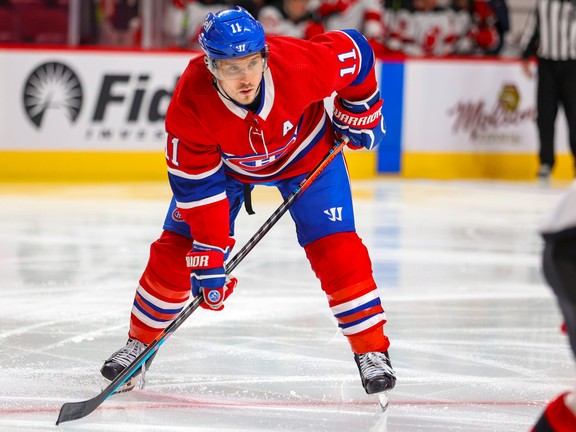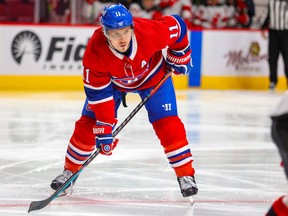 .
It took Brendan Gallagher a day in training camp to get the first scratch on his nose.
.
It didn't even happen on the ice.
.
"(Chris) Wideman," Gallagher said when asked what happened to his face after the Canadiens players hit the ice for the first time in training camp Thursday at Brossard. "He caught me with a glove. We were playing yesterday (when players reported to camp for physicals and medicals). He came to give me a hug and he punched me in the face."
Playing with scratches and cuts to the face is part of who the Gallagher fighter is as a player. Last season, he had to deal with a more serious lower-body injury that forced him to miss 26 games. In the 56 games Gallagher played, he struggled, posting totals of 7-17-24.
Gallagher is now fully healthy and heading to training camp after a long summer break.
.
Asked how he feels now compared to this time last year, after a brief summer following the Canadiens' trip to the Stanley Cup Final, Gallagher said, "It's not even close. Last season was a routine from the beginning. Let's hopefully put that behind us and move on. It was a good summer for me. I was able to get back to the usual routine that I was used to here. The body feels good. He feels ready to be there for 82 games and be that guy his teammates can trust. So I'm looking forward to it getting underway."
Gallagher played all 82 games in 2017-18 and again in 2018-19, scoring 31 and 33 goals during those two seasons.
Wideman noticed something different about Gallagher when he arrived at training camp this year.
.
"I saw him for the first time, he wasn't limping," Wideman said. "She is walking normally. He gave me a big hug. I think we are allowed to have some wrestling matches this year. Last year he was on IR with that. He is good. He looks good. He is skating really well today."
Gallagher said he was able to spend more time in the gym this summer than the past two summers combined and hopes to play a full season for head coach Martin St. Louis. He wants to go back to being a reliable, consistent player with a healthy body, someone his coaches and teammates know they can count on.
"I heard a quote from Joe Sakic the other day," Gallagher said. "Joe Sakic, as good as he was, said that he spent the first half of his career trying to prove people wrong and then he spent the second half of his career trying to prove people wrong. And that was a guy who was arguably the best player in the game at one point. There are always people who will doubt you and there are always reasons to doubt yourself. But it is not worth having that doubt in the back of your mind. I have always been the same player, I have always been the same person. I will continue to do that and I feel confident that I will be able to help my teammates.
.
"Every player has an identity and if I'm not true to my identity as a player, I'll be out of this league pretty quickly," Gallagher added. "I still have to do what brought me here and what I have successfully done. But with that said, there are ways you can add to your game. You can never have too much knowledge, too much information. When you talk about listening to Marty, it's not so much about him trying to change the kind of player I am. It's him giving me little tips and little advice along the way that will add to who I am as a player and that's what has gotten me excited. I will always be a guy that is going to go to the net, I will always be a guy that is going to compete and be that type of player. There are few skills and I guess little assets that you can add to your repertoire that will help you. You might notice it 3 or 4 games a year, but if it's going to make a difference, you'll work at it every day and it'll be worth it."
Canadiens' Nick Suzuki sidelined for two weeks with lower body injury

Stu Cowan: Survival of the fittest as Canadians take to the ice