In Quebec, the test will take place on television, radio and compatible wireless devices at 1:55 pm on November 17.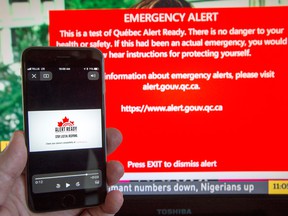 Article content
Ready alert Canada's national emergency alert system announced Monday that it will conduct a coast-to-coast test of that system on Wednesday, November 17, and the test is scheduled to take place in Quebec at 1:55 p.m.
All compatible televisions, radios and wireless devices in the province must sound an alert while the National Public Alert System test is being performed.
System tests are conducted twice a year: during Emergency Preparedness Week in May and the third week in November.
Canadians do not have the option to opt out of testing or alerts distributed through Alert Ready. Those who wish to verify the compatibility of their devices before Wednesday's test can do so by contacting their wireless service provider or visiting alertready.ca .
Reference-montrealgazette.com