The Mexican stock exchange (BMW) trades at a loss in its first trades this Tuesday. The local share market loses moderately, after knowing that inflation in Mexico accelerated to its highest level since December 2017 and waiting for the United States to release its data tomorrow.
The benchmark index S&P/BMV IPC, made up of the shares of the 35 issuers with the highest value by capitalization and liquidity in Mexico, fell -0.31% to a level of 52,091.27 points. Meanwhile, the index FTSE BIVA, the main of the Institutional Stock Exchange (Biva), shows a loss of -0.28% to 1,073.94 units.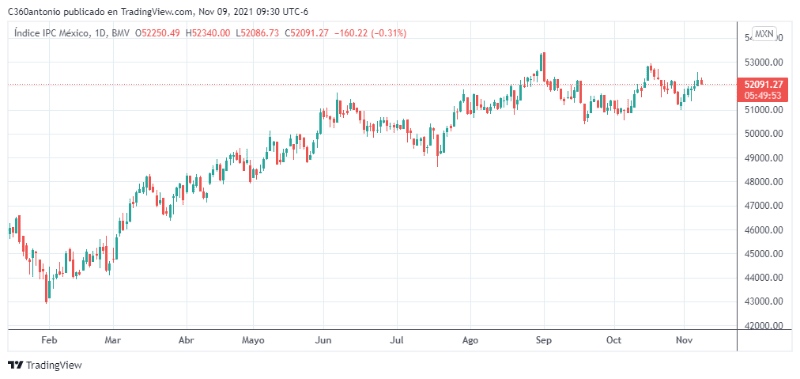 Within the benchmark index, there is a balance between profit and loss, with 18 components in green, 14 in red and three unchanged. The worst performances are the shares of Cemex, with -2.31%, and Banregio, with -1.17%, while the advances are led by Bimbo, with 1.70%, and Asur, with 1.28 percent.
The National Consumer Price Index (INPC) of Mexico advanced 6.24% in October, its highest level since December 2017. This data is expected to reinforce the bets of a next increase in Banxico's interest rates. Tomorrow the pressure data on US consumer prices will be released.


Reference-www.eleconomista.com.mx