Prosecutors from 24 states announced that they will file a lawsuit against President Joe Biden if he insists on forcing companies to vaccinate their employees
"This oppressive takeover is unprecedented and illegal," prosecutors said in a letter.
Among the 24 states, mostly with Republican governments, are Florida and Texas
Attorneys general from 24 states, including Florida and Texas, which have a high incidence of covid-19 in recent weeks, announced this Thursday that they will file a lawsuit against US President Joe Biden if he insists on forcing private companies to vaccinate their employees.
Related
"The federal government cannot impose sweeping vaccine mandates, and this oppressive takeover is unprecedented and illegal," Florida Attorney General Ashley Moody said in a statement announcing the legal initiative.
Biden threatened with lawsuit over anticovid measures
He pointed out that the 24 prosecutors, mostly with Republican governments, urged in a letter sent this Thursday to President Biden to eliminate the vaccine order if he does not want to risk "legal action," the Efe agency reported.
Prosecutors recall in the letter that on September 9, the President Democrat announced a new emergency rule that will affect all companies with 100 or more employees, employing at least 80 million people.
Prosecutors say Biden is overstepping his duties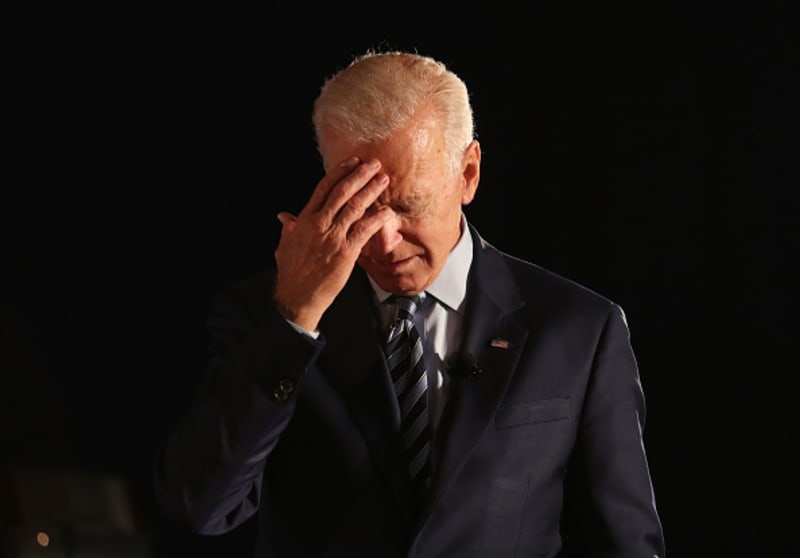 These companies must ensure that their workers are fully vaccinated or, otherwise, they must show a negative test result at least once a week. According to prosecutors, the president is exceeding his functions, pointing out that it is the states that by law must ensure and protect the safety and health of their citizens.
They stressed that "states are prepared to file a lawsuit after the implementation of the planned mandate on private sector employees to receive a covid-19 injection, undergo weekly tests or be fired."
"His plan is disastrous and counterproductive"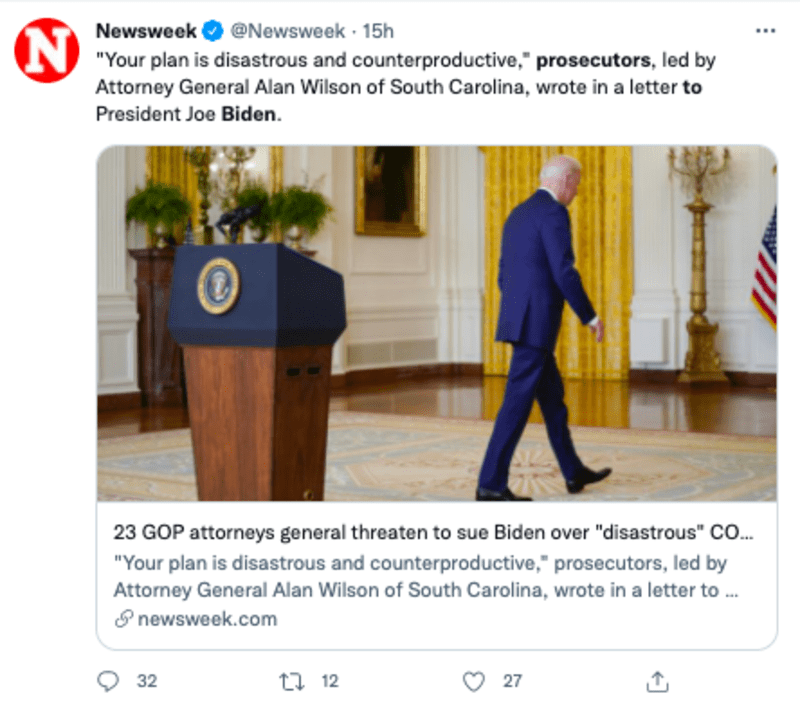 According to prosecutors, "the risks of spreading covid-19 also vary widely depending on the nature of the business in question, many of which can cause your employees, for example, to work remotely." Biden also signed a decree in early September that establishes a vaccination mandate for the 2.1 million employees of the US federal government.
The letter is also signed by the attorneys general of Alabama, Alaska, Arizona, Arkansas, Georgia, Indiana, Kansas, Kentucky, Louisiana, Mississippi, Missouri, Montana, Nebraska, New Hampshire, North Dakota, Ohio, Oklahoma, Carolina del South, South Dakota, Utah, West Virginia, and Wyoming.
Judge prohibits the Biden government from expelling migrant families without letting them request asylum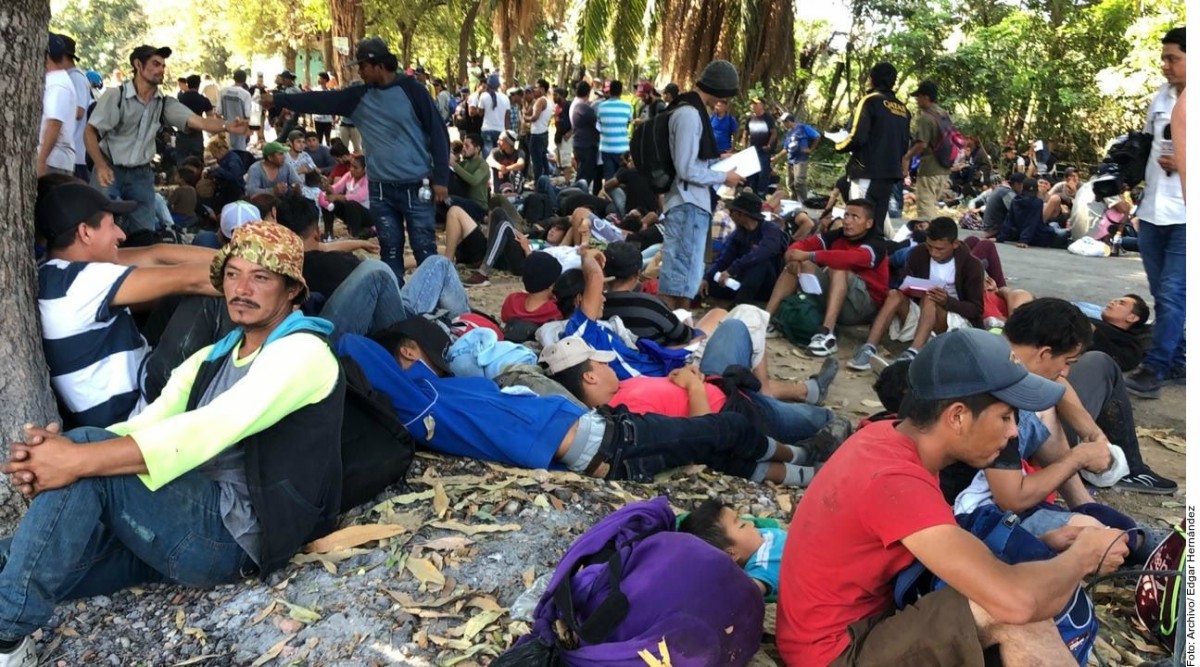 On the other hand, a federal judge in the District of Columbia ruled this Thursday that it is illegal to deny migrant families with children the right to asylum, applying to them a regulation of the Trump administration aimed at protecting public health, according to the news agency. Eph.
Federal Judge Emmet Sullivan's order, contained in a 58-page ruling, will take effect in 14 days. The government of former President Donald Trump last year began the application of this regulation, called Title 42, which allows expelling migrants who arrive at the border, considering them a threat to public health in the midst of the COVID-19 pandemic. .
More than a million immigrants have been detained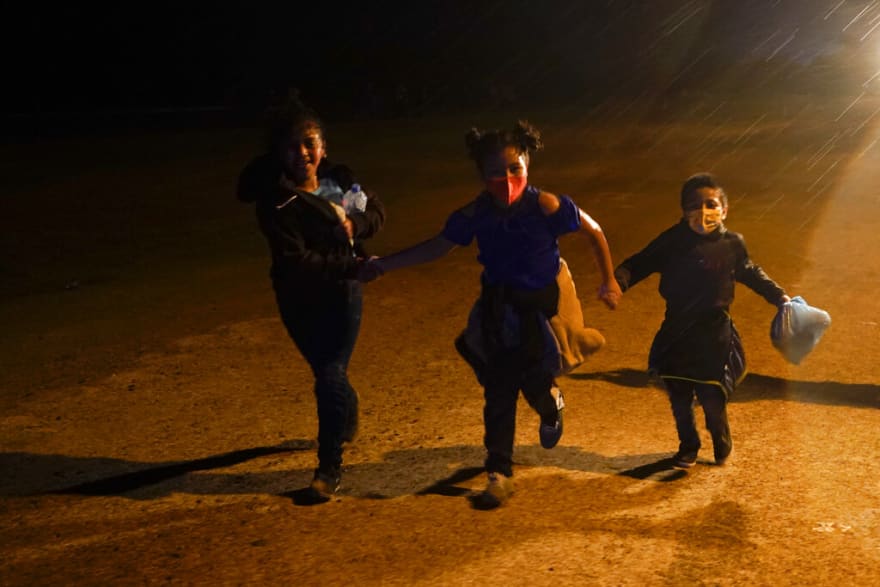 So far in fiscal year 2021, which began in October 2020 and ends on September 30, 2021, Customs and Border Protection (CBP) has made 1,541,651 migrant arrests. on the southern border, of which 937 thousand 628 were expelled under Title 42.
The application of this regulation popularly known as Title 42, highly criticized by activist groups and the defense of civil rights, is one of the few of the Government of former President Donald Trump that is still in force with current President Joe Biden, in the House White.
There is no pretext for the measure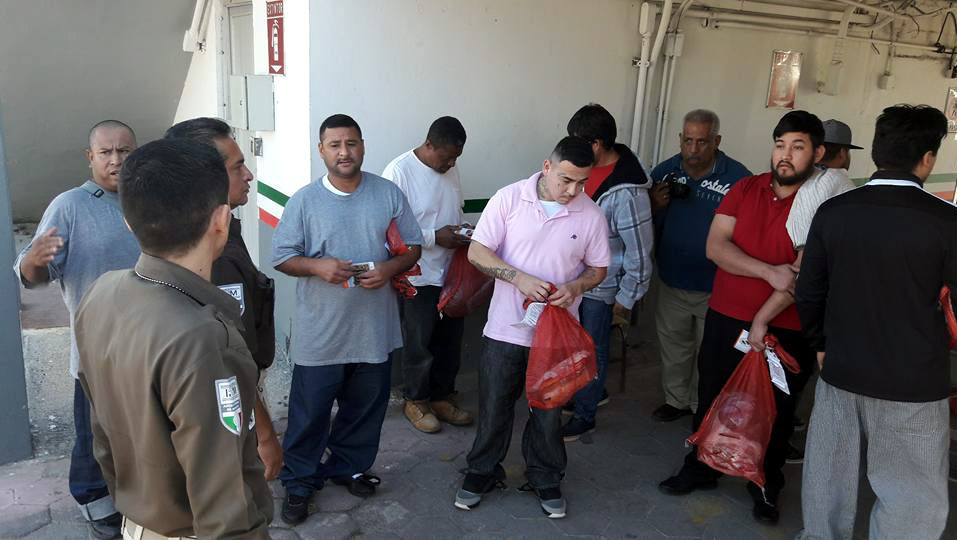 Federal Judge Emmet Sullivan wrote that, taking into account "the wide availability of tests, vaccines and other measures to minimize (the pandemic), this court does not believe that the spread of COVID-19, during the border processing, cannot be significantly mitigated ".
The government asked the court to suspend the order for 14 days in order to have enough time to "explore its appeal options," added the ruling, which notes that the "plaintiffs do not oppose that request." The document described the plaintiffs as "a group of asylum-seeking families who have fled to the United States."
USA is a place of refuge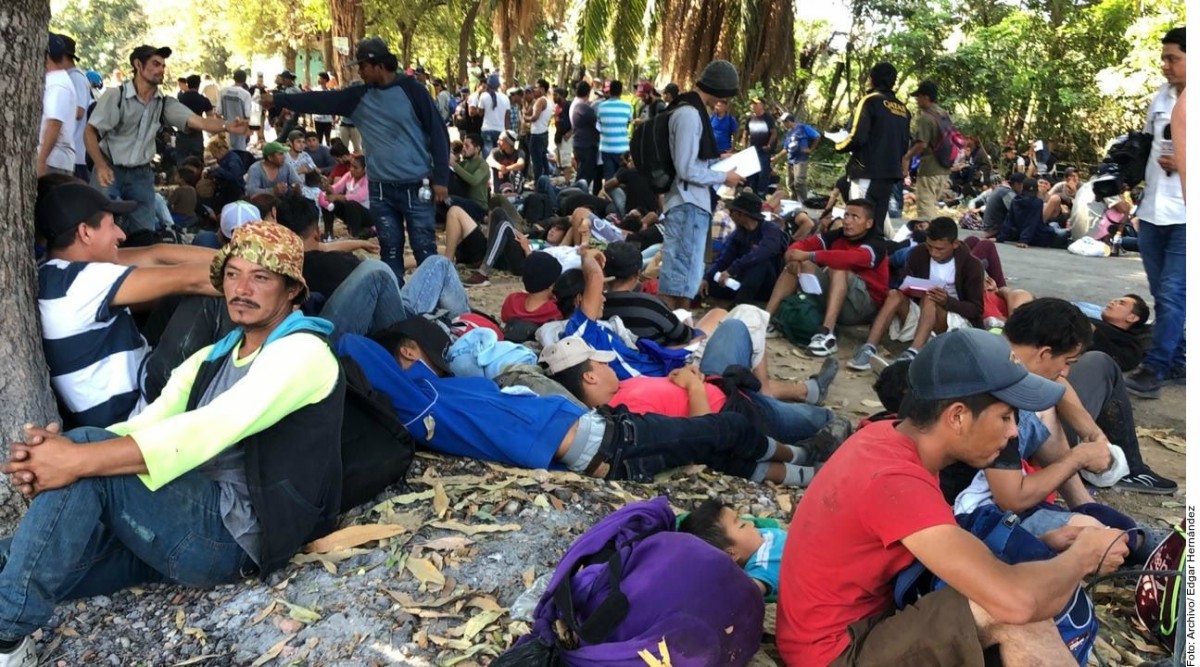 "For nearly a century, Congress has recognized that citizens of foreign countries are sometimes forced to flee persecution in their home countries," the ruling stated. "And it has been the policy of the United States government that this country should serve as a place of refuge for people in such tribulations."
Just last August, the administration of President Joe Biden proposed a measure that will benefit undocumented immigrants seeking asylum. With this action they intend to alleviate the number of backlogged applications, just as more and more applicants arrive at the southern border of the country.
Biden government proposes measure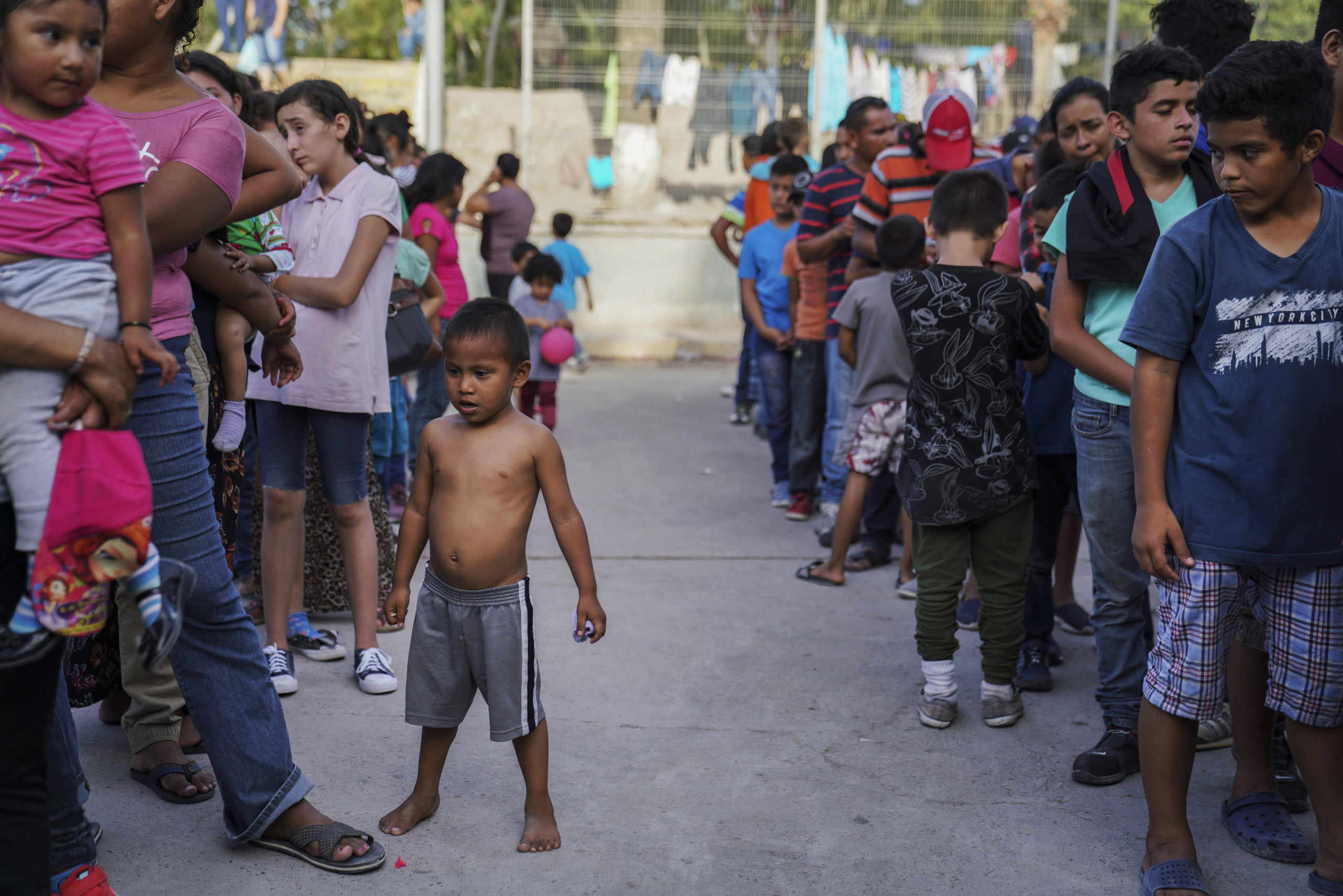 On Wednesday, August 18, there was a change in the process to request asylum in the United States. If the proposal is approved, then decisions on asylum cases at the border handled by immigration courts will go to officials trained to evaluate and decide on these types of petitions.
Andrew Selee, president of the Immigration Policy Institute (MPI), explained that "while this seems simply like a technical change in the process, the plan will help preserve asylum as a fundamental element in the US immigration system." With this proposal, asylum seekers whose petition is approved "will have the right to that asylum, suspension of deportation"; while those who are denied will have the opportunity to file an appeal with an immigration judge. Filed Under: Sues Biden.
USCIS will be in charge of asylum applications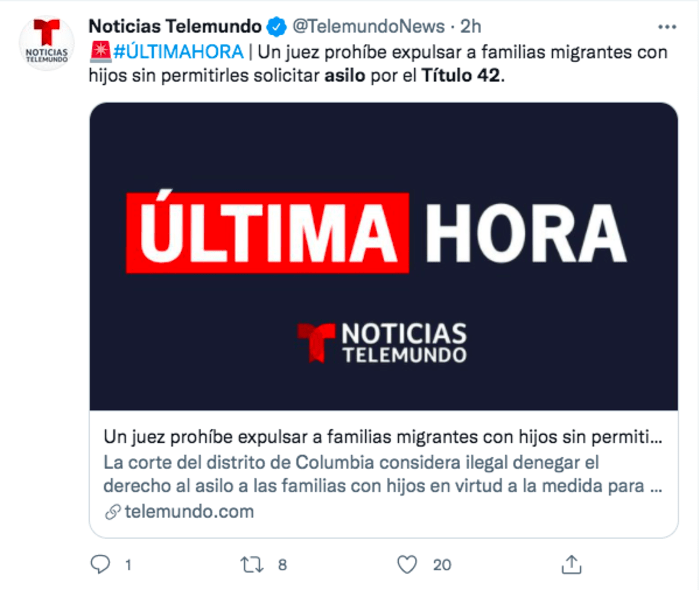 This initiative, presented by the Department of Homeland Security (DHS, for its acronym in English) and the Department of Justice (DOJ, for its acronym in English), proposes that the decision on these asylum cases be handled by officials of the Service of Immigration and Citizenship (USCIS, for its acronym in English).
"These changes are intended to improve the ability to consider asylum requests made by individuals found on or near the border, in a way that is more effective in ensuring fundamental justice," the joint statement from both departments indicates. Filed Under: Sues Biden.
Change the process to cover more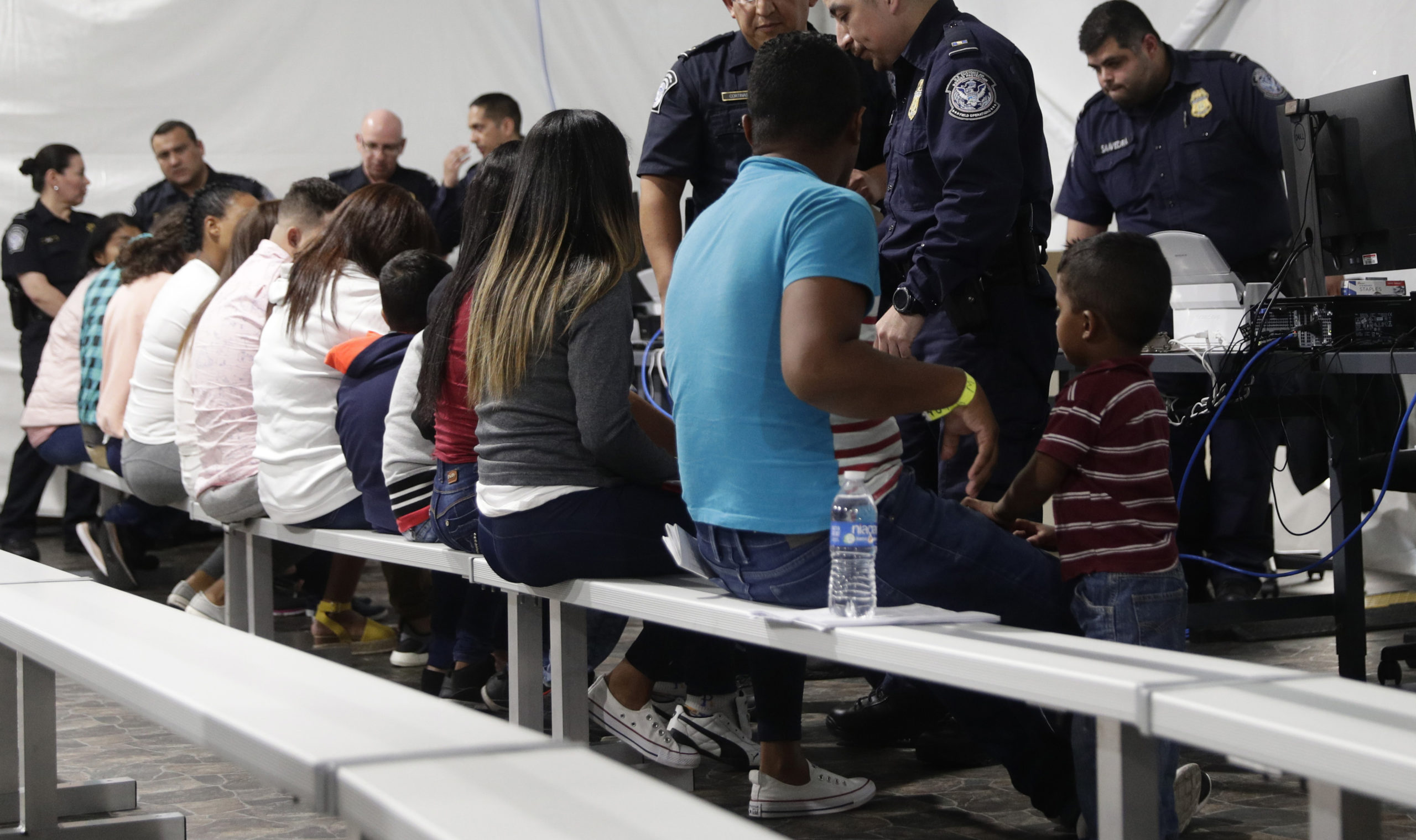 The proposal in favor of immigrants basically presents the idea of ​​changing the process in the asylum procedures to be able to cover more applications. "It's both straightforward and potentially a game changer," said Doris Meissner, former director of the Immigration and Naturalization Service.
Meissner says this "promises a fundamental shift in ensuring meaningful humanitarian protection for those who qualify for asylum, and border control that enables safe, legal and orderly migration at the border with Mexico," Meissner added. Filed Under: Sues Biden.
mundohispanico.com
The Canadian News
Canada's largets news curation site with over 20+ agency partners