The BC Lions host the Toronto Argonauts Saturday at BC Place, as the Leos look to restart the momentum from their Week 1 win and party at the Dome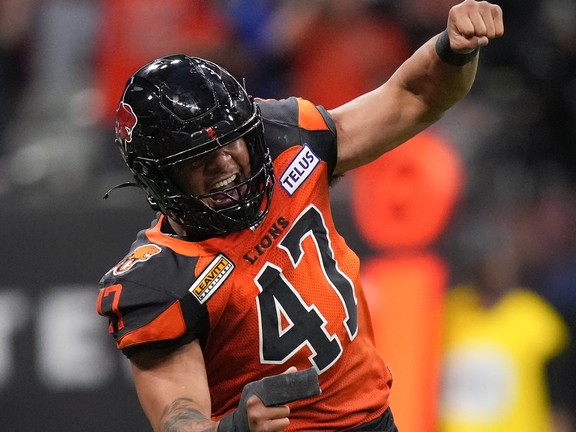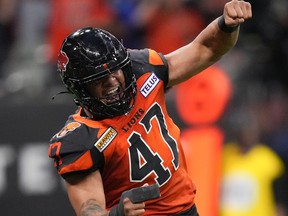 Article content
Remember this name: Sione Teuhema.
Article content
But don't try to pronounce it, though. You'll mangle it just like everyone else does.
"It happens a lot," laughed the BC Lions defensive lineman.
"I got used to it. I just let people call me whatever. I got tired of trying to tell them the right name.
"My name in English means John. So I tried to tell everybody, 'call me John,' but once everybody found out my name was Sione, they were like 'Man, forget John. We're gonna call you Sione. That's way cooler.'"
Article content
The Texas-born football player to Tongan parents may have a tongue twister for a name, but his CFL debut had it on everyone's mind. Three sacks in his first CFL game is a feat only equaled by one other player in history: former Lions defensive end Cam Wake.
You know, the guy whose career started as a walk-on at a US free-agent Lions camp, and ended with the second-most sacks in Miami Dolphins history and two Pro Bowls. The guy who's on the cusp of getting an invitation to the Pro Football Hall of Fame.
Cameron Wake? Never heard of him," said Teuhema.
But what's in a name, right?
"It was fun," he said of his debut game.
"I didn't go in thinking 'Oh, let's get a sack. Get a sack. Get a sack.' As soon as you think like that, it's not going to happen. You've just got to do your job. Coach RP called the right plays, and I was there at the right time."
Article content
Teuhema was working as a forklift operator loading cargo at a Texas airport last year when defensive coordinator Ryan Phillips reached out to him. But a bout with COVID scuttled plans for joining BC in 2021, and he played with the Frisco Fighters in the Indoor Football League.
The 6-foot-4, 255-pounder played previously with current Lions D-lineman Obum Gwachum in Arizona, so he had some idea of ​​what he was in for when he came to BC this season.
He'd been to London and New Zealand, but apart from that, the former LSU Tiger had never been out of the US until he came to Vancouver.
"I was excited. I'd never been to Canada," he said. "Kamloops was nice; it was kind of boring, but the mountains were nice."
---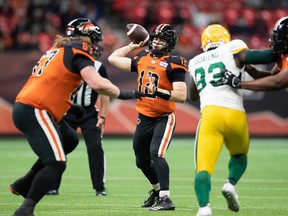 SHORT, SWEET, AND ALL ABOUT THE YAC
Article content
Don't buy into the idea that Nathan Rourke isn't going to throw the deep ball.
The Lions quarterback may not have thrown a pass over 20 yards against the Elks in Week 1, and his average pass distance (5.1 yards) is the lowest of any starter in the league, but that was just an adaptation to the game.
"I think this was one of those games where we got up early and just the way they were playing defensively," said receiver Bryan Burnham. "A lot of off coverage where those deep routes take way longer to develop, and those routes underneath are open. So I think that was just that was just the way that game went.
"You know me… I love the deep ball. It'll eat."
Rourke's first pass of the day against Edmonton was a shovel pass to Lucky Whitehead, who took it nine yards — and nearly more. The dynamic wideout led the league in YAC (Yards After the Catch) with 447 in 2021, which made up more than half of his total receiving yardage (932).
Article content
"I trust myself to make plays, but the things Lucky does are special," said Burnham. "You get lucky the ball anywhere… you can give him the a zero yard pass and he could take it the distance."
The Lions still put up 59 points in that game, despite neither Burnham nor Whitehead getting in the end zone, but they aren't expecting another scoring explosion this week.
"I'd be lying if I said we expect to score that much. We're obviously not going to every game," said Burnham. "We know we're going to be in battles; the CFL, every game is going to be tough. But the expectation is that we handle our business."
Article content
---
THE RIGHT MAN FOR THE JOB
Duane Vienneau watched last week's Lions home opener from Edmonton, and was struck by the energy, attendance and atmosphere.
"I couldn't make it; it was killing me," he said. "I wanted to be here desperately. But how I saw it on television and what I was following online, is it felt very Gray Cup-y to me. It felt like a Gray Cup game event. That block party was tremendous and then having a caliber of artists in the in the building with One Republic, that street festival, and then the game itself … everything you saw felt very much like a Gray Cup game."
I would know. He's been the CFL's Chief Gray Cup and Events Officer for the past three years. On Wednesday, the Lions announced he'll take over as team president in August when Rick LeLacheur retires.
Article content
His event planning experience dovetails perfectly with the vision Amar Doman has for the Lions: to make every game an event.
"He's got great ideas. He's very energetic, enthusiastic, and it's what dragged me here, really," said Vienneau. "I can tell you that the league has noticed what Mr. Doman is doing.
I want to be able to help him create that vision and make it successful."
In addition to his role as Gray Cup CEO, he's also part of the CFL's executive team. And running a league isn't much different from running a team.
"My specialty is events," he said. "Running a great event is different than running a great team, obviously. But when you bring some of the event magic into running a team, and making every game an event, that's the kinds of things that will start to build momentum and attracting new audiences.
"And with running a team (as opposed to a league,), you get to cheer," he laughed.
---
More news, fewer ads: Our in-depth journalism is possible thanks to the support of our subscribers. For just $3.50 per week, you can get unlimited, ad-lite access to The Vancouver Sun, The Province, National Post and 13 other Canadian news sites. Support us by subscribing today: Vancouver Sun | The Province.