I am a 16-year-old high school student in Burnaby, BC In 2019, I joined the youth strikes for climate that brought one million Canadians to the streets shortly before the last federal election.
Now, voters are heading to the polls again, as many parts of the country are still reeling from a summer filled with wildfires, droughts and deadly heat waves. Disasters like these are going to shape my future, so my generation and I are looking for leaders who have the courage to do whatever it takes to tackle the climate emergency.
Last month, the world's leading climate scientists declared a "code red" for humanity, and were very clear about what we must do to curb climate change: stop extracting and burning fossil fuels.
Instead of more denial or delay, it's time to start listening and acting on the basis of science. In Canada, that begins with the cancellation of the Trans Mountain oil and pipeline project.
Right now, Trans Mountain has less than a third built. If completed, not only destroy Canada's chances of ever meeting its emission reduction targets, but recent studies have shown that very few permanent jobs will be createdand every minute that the project stays alive, makes less economic sense. To make matters worse, the project does not have the consent of all indigenous communities whose lands, territories and other resources are affected.
If you support bold climate action in Canada, you are unequivocally opposed to Trans Mountain. Period.
What people are reading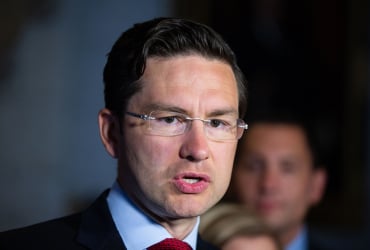 Justin Trudeau's liberals have come forward as climate leaders with policies like the carbon tax and setting a net zero goal by 2050. But they have presided over more than six years of rising greenhouse gas emissions and are building a new pipeline of bitumen that is designed to allow expansion of Alberta's oil sands, with $ 16 billion of public money.
In the election campaign, Jagmeet Singh has promised to end fossil fuel subsidies and has said that he opposes Trans Mountain, but has rejected undertake to cancel it if elected. Meanwhile, most of the NDP candidates in BC have distinguished themselves from their leader, joining the more than 190 potential MPs across the country who have signed a promise fight to eliminate TMX.
Where does that leave the NDP in the eyes of young Canadian voters seeking a climate leader for our generation?
Singh and the NDP have the power to lead Canada's fight for climate action. The NDP has deep ties to unions and workers, who will have a key role to play in the transition to renewable energy.
Singh has the platform and popularity to influence young voters, who polls show are key to the NDP's progress in this election. It can attract voters disillusioned by the gulf between the liberals' climate rhetoric and their actions, but only if it makes clear how an NDP government would be different.
Opinion: The question for many young people is whether NDP leader Jagmeet Singh will take on Big Oil in a way that liberals never would, writes @TupperVijay. # Elxn44 #EndFossilFuel #cdnpoli
The question for many young people is whether Singh will take on Big Oil in a way that liberals never would, and will shake the perception that the climate crisis is not a priority for him. Making a clear commitment to cancel Trans Mountain and redirect those billions to a just transition for workers would show that Singh and his party will take the climate emergency seriously. And that is what my generation is looking for.
Reference-www.nationalobserver.com