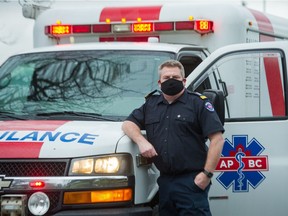 .
An Ashcroft man in his 80s died while waiting for an ambulance for nearly half an hour30, the second time in a month that has happened in the small community west of Kamloops.
.
The man was walking his dog Sunday morning when he went into cardiac arrest, Ashcroft Mayor Barbara Roden said. Bystanders called 911 at 8:41 a.m. and they told me it would be 35 minutes.
They called the Ashcroft Volunteer Fire Department. While its firefighters are not trained as medical responders, Fire Chief Josh White and three other firefighters arrived as private citizens, Roden said. White, who has level 1 first aid training, took the automated external defibrillator from the fire room and provided emergency care until paramedics arrived at 9:09 a.m., 28 minutes after the call.
"One of the people doing CPR at the scene said it was frustrating because as they looked up between compressions, they could see the ambulance station less than 200 meters away," Roden said.
.
BC Emergency Health Services said in a statement that the nearest available ambulance was 50 kilometers away in Clinton, which was dispatched immediately. Ashcroft's ambulance was 80 miles away at 100 Mile House providing cross coverage. Ashcroft's second ambulance, manned primarily by on-call paramedics, was unstaffed Sunday because no one was available for the shift.
"We know it is stressful waiting for an ambulance and we will review this call given the increased response time for these types of calls," the ambulance authority said.
In On July 17, an Ashcroft woman who lived on the same block as the hospital and ambulance station died after going into cardiac arrest and waiting 27 minutes for an ambulance to arrive. In that case, the fire marshal also provided emergency first aid. Ashcroft's ER was closed at the time.
.
Ashcroft residents, Roden said, are "worried, sad, frustrated and fearful. People want to know or be assured that these health care services, whether it's an emergency room, a doctor or an ambulance, will be there in a timely manner."
Troy Clifford, provincial president of the Ambulance Paramedics & Emergency Dispatchers of BC, the union representing 4,500 paramedics, said the two deaths at Ashcroft were "tragic" and highlight a "crisis level" staffing shortage in Health Services. BC Emergency.
"I would like to say that the Ashcroft scenarios, the last two, are isolated but they really highlight how bad it is," he said. "And these are just two that we know of."
.
While it's not clear whether the man who died Sunday would have survived if the ambulance had arrived sooner, Clifford said the evidence is clear that if CPR and defibrillation are not started within minutes in someone in cardiac arrest, their chances of survival decrease significantly.
"So that patient never had the best chance of survival," he said.
Over the weekend, he said, BCEHS was struggling with shortages across the province, with a particularly dire situation in the Cariboo between Kamloops and Quesnel.
BCEHS acknowledged that it is experiencing "staffing challenges," a problem that was especially acute during last summer's heat dome that killed 619 people. The agency said that since 2021 it has added more than 500 full-time and part-time permanent paramedic positions in rural and remote areas, and at least 125 in urban areas.
.
"Approximately 76 percent of all permanent positions at BCHES are filled and we have a robust national recruitment campaign underway to fill vacant positions," it said in a statement.
With 1,000 openings out of 4,500 full-time and part-time union paramedics, it's clear those recruiting strategies haven't been enough, Clifford said.
Persistent emergency room closures in small BC communities make it difficult for paramedics to respond quickly, Clifford said. When the Ashcroft emergency room is closed, for example, paramedics must drive 60 miles to Kamloops, leaving that community with one less ambulance for hours.
With a million people without a family doctor, more people rely on emergency medical care, Clifford said.
"In a lot of these communities like Ashcroft or smaller ones, we're the only health care in town when the hospital is closed or when they don't have a hospital. So without properly staffed ambulance service, the whole system fails."