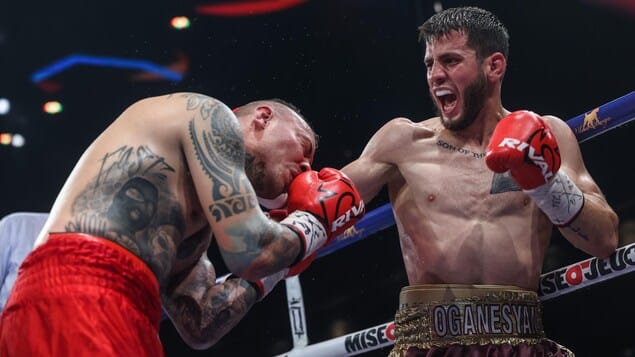 Like his previous fight in March, Oganesyan had a false start and visited the mat in the first round. He slowly regained control to control the confrontation. It must be said that he did not seem to follow his coach Marc Ramsay's game plan to the letter.
The latter did not hesitate to call him to order severely between rounds. If the admonitions paid off to allow Oganesyan to win six of the next seven rounds, he still put himself at risk by often trading blow for blow with his rival.
This one, much more experienced, had a ratio of 73.4% of victories acquired before the limit, enough to command the greatest respect.
After 10 rounds of a battle he made unnecessarily arduous, Oganesyan won the favor of the judges who handed cards 98-91, 95-94 and 97-92.
Lively evening
Super featherweight boxer Leila Beaudoin (6-0), from Témiscouata, remained undefeated after a six-round fight against Mexican Amel Anouar (2-3-1). She won a 60-54 unanimous decision from the judges.
I was able to apply everything we had practiced in the gym. I think it allowed me to advance my technique. I didn't throw a lot of punches for nothing. I think I was precise in my attacks and hit the target oftensaid the one who had just delivered a third fight in the space of four months.
She promised to remain very active at the start of the school year.
As a curtain raiser, Montreal welterweight boxer Hamza Khabbaz (4-0, 1 K.-O.) won a unanimous decision from the judges (40-35, 40-35 and 39-36) against Mexican Marco Chino House (3-7).
Other results:
Welterweight, 6 rounds
Luis Santana (6-0, 2 KOs), Montrealdefeated Sergio Hernandez Cruz, Mexico, (8-1-1, 6 KOs), unanimous decision 60-54, 60-54, 60-54
---
Super featherweight, 6 rounds
Avery Martin-Duval (7-0-1, 4 KOs), Montreal defeats Luis Reyes Carmona (9-2-1, 2 KOs), unanimous decision, 58-56, 58-56, 58-56
Makhmudov and Mbilli at the start of the school year
Promoter Camille Estephan is already placing his pieces on the checkerboard with a view to a pugilistic comeback that he wants to be attractive and spectacular.
Already, Eye of the Tiger Management announces the holding of two evenings, September 9 and 16, at the Casino de Montréal. The first will feature a final involving NABA and NABF heavyweight champion Arslanbk Makhmudov (14-0, 14 KOs).
The next one will feature Christian Mbilli (21-0, 19 KOs), who will defend his WBC Continental Americas super middleweight belt. We have apparently already found an opponent from the United States.
Lemieux in reflection
Asked about the future of super-middleweight David Lemieux (43-5, 36 KOs), Camille Estephan indicated that his 33-year-old protege was still thinking about his future as a professional boxer.
Five weeks after his hard defeat at the hands of David Benavidez (26-0, 23 K.-O.), suffered in Glendale, Arizona, Lemieux gives himself time before deciding on this question as sensitive as it is difficult.
If he expects an answer soon, Estephan told Radio-Canada Sports that he does not want to put unnecessary pressure.
" When he makes the decision, I want it to be the right one. I don't want him to retire with regrets »
Estephan also indicated that the vast background of Lemieux, who has lived in the boxing world since the age of nine, combined with the attachment he has for him, could make Lemieux a strong candidate for a position in the within his company.


Reference-ici.radio-canada.ca