After last week's 37-13 victory, the task will be more difficult this time before the boisterous fans at Mosaic Stadium in Saskatchewan.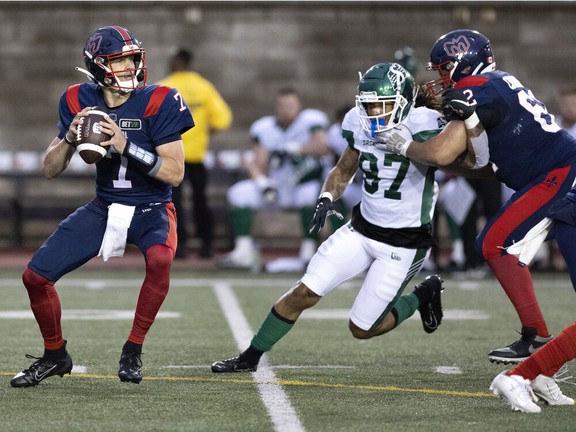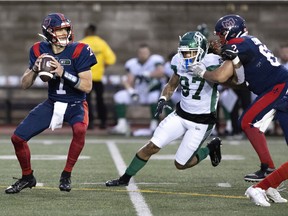 article content
REGINA — As much as all athletes enjoy playing at home in front of their supportive fans, there's something about going on the road that sparks competitive juices in Trevor Harris.
article content
"I don't know what it is, but ever since I've been in college I love playing on the road," the Alouettes' veteran quarterback said Friday. "It feels like something different is going on. I've just always enjoyed throwing a pitch and hearing a collective gasp from the crowd. That excites you.
"I don't know if it has anything to do with proving people wrong growing up. I have always enjoyed it. I can't point it out, it's not that I don't like playing at home."
Harris will get his wish on Saturday night (7 pm, TSN1, TSN3, RDS, TSN Radio-690) as the Als look for their second straight victory in just over a week against the Saskatchewan Roughriders before what appears to be a boisterous crowd at Mosaic Stadium on Canada Day weekend.
article content
The Riders' venue, along with IG Field in Winnipeg, attracts the loudest and most boisterous fans in the CFL.
Montreal won its first game of the regular season 37-13 over the Riders on June 23 at Molson Stadium, but with an asterisk. Saskatchewan was playing its second road game in five days and traveled cross country after just one full day of practice.
Defeating the Riders this time will likely prove more difficult. Saskatchewan has historically been a strong home team and went 5-2 last season.
"We know their fans are loud, they get excited and they get excited," Harris said. "It's up to us to go out and execute even better than last week. Offensively, we have to be able to finish the drives … and score the touchdowns."
article content
The Als' 37 points last week were misleading, considering Harris, in his first start of the season after Vernon Adams Jr. was replaced the week before, in Toronto, generated only one offensive touchdown. David Côté kicked five field goals, while Chandler Worthy returned kickoff to score and safety Marc-Antoine Dequoy returned an interception for another major.
"Every rep that I have, every day that I have brings a little more comfort and opportunity," said Harris, who managed the game well, completing 16 of 22 passes for 262 yards and avoiding turnovers. "Feeling the depths of routes with receivers, the angles they like to come out at. I'm excited to go out there and try to execute."
The Als will be without injured veteran center Sean Jamieson, to be replaced by David Brown, but will welcome the return of wide receiver Jake Wieneke, who has been hampered by a hamstring injury and has yet to produce. Wieneke, who led all receivers with 11 touchdowns last season, didn't get dressed last week and couldn't catch a pass against Toronto.
article content
Defensively, linebackers Chris Ackie and Adarius Pickett will sit out due to injuries. Meanwhile, defensive tackle Almondo Sewell is a healthy scratch, as he became a father this week. Sewell had two of the Als' eight quarterback sacks last week, and his absence will no doubt be felt. Michael Wakefield should be given additional playing time, while Canadian Vincent Desjardins makes his Montreal debut. Sewell's departure created an unimported opening to be filled by fast end Antonio Simmons, who comes off the practice roster.
"It's always going to affect you when you lose a guy like that," head coach Khari Jones said of Sewell. "I think we'll be fine. We do a lot of things on defense, scheme-wise, to put pressure on the quarterback. Fortunately, he doesn't necessarily depend on just one person. He makes the difference, there is no doubt about that. And he made the difference in the last game.
article content
"It's going to be tough, there's no doubt about it. They are playing at home and they are injured from the last game, I am sure. They want to show that they are also a superior team. It will be a battle, but I think we are ready."
While Jones denied it will affect his team, the Als were late getting to Regina after the bus transporting them to the Mirabel airport for their charter flight was late. Jones decided to cancel scheduled tour training.
"We've had some hiccups during my time here," Jones said. "The boys respond well. They don't care about it. I don't worry about it. It's just part of the business we're in. Some things don't work at all. Don't get too caught up in it. Just keep going."
Inside the CFL: Undersized DB Najee Murray plays big in Alouettes secondary

Alouettes top catcher Eugene Lewis has his sights set on the CFL jackpot

Alouettes hopes David Brown will keep the fort downtown