It all happened on appearances. Dressed in a sports jacket for Alexander Lukashenko, in jeans for Vladimir Putin, the two leaders affected, Monday, February 22, in Sochi, on the shores of the Black Sea, the relaxed air of two old acquaintances taking pleasure in meeting . As if the challenge and repression of the opposition, in their two respective countries, did not concern them at all. Six months after the last meeting between the Russian president and his Belarusian counterpart, in mid-September 2020, in the same city, no more suits and ties, nor even flags behind them. A small table, two armchairs and the bare decor of a chalet this time were enough.
"Serious negotiations in ordinary clothes means that we are close, that our two countries and our peoples are very close", saw fit to explain Alexander Lukashenko. "Culture, language, religion, common history and based not only on the relatively recent heroic past of the Great Patriotic War, but also deeply rooted in centuries, all this unites us", added Vladimir Putin. This introduction passed, the Russian president then invited his host to join the Krasnaya Polyana resort by snowmobile, to hit a ski slope, then to share a one-to-one meal, without any entourage.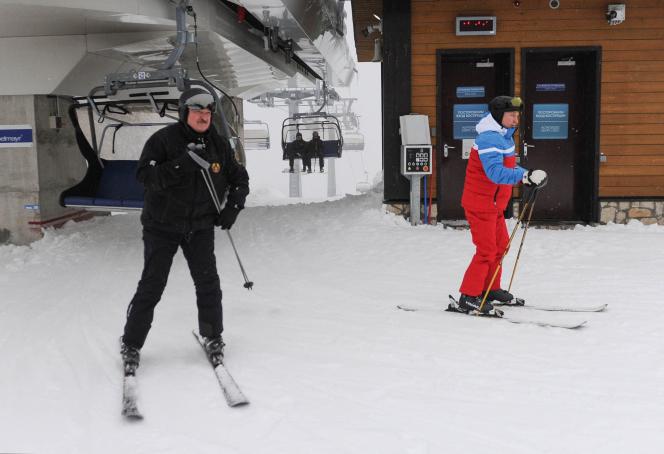 Deliberate indifference
While in Brussels, European foreign ministers were discussing new sanctions – limited against four senior Russian officials -, in Sochi, and before the submission, on Thursday, of a new report by the High Commissioner for Human Rights. UN man, Michelle Bachelet, on the situation in Belarus, the Russian and Belarusian leaders have thus opposed a deliberate indifference. In power for more than twenty years, the two men, faced with vast similar protest movements, have chosen to stage their authoritarian agreement.
In Belarus, the major demonstrations, which followed the fraudulent re-election in August of Alexander Lukashenko, to the detriment of the opponent Svetlana Tsikhanovskaya, have disappeared, but at the cost of fierce repression. Monday, in Minsk, it is a 16-year-old teenager, Nikita Zalatarou, epileptic according to his family, who was sentenced to five years in an "educational" penal colony for participating in "Mass riots", thus joining hundreds of Belarusians thrown in prison for the same reasons. In Russia, since the return in January of the opponent Alexeï Navalny, treated in Germany after an attempted poisoning, then arrested and himself sentenced to three and a half years in prison, the same repressive chain in the wake of massive demonstrations has been implemented.
You have 58.3% of this article to read. The rest is for subscribers only.
www.lemonde.fr
The Canadian News
Canada's largets news curation site with over 20+ agency partners