Unexpected news in the rock world
Blink-182 bassist and vocalist Mark Hoppus confesses he suffers from stage 4 cancer
"My blood tries to kill me," the musician told his fans
When no one expected it, Mark Hoppus, bassist and vocalist of Blink-182, confesses that he suffers from stage 4 cancer in a live broadcast through the Twitch platform and which they were responsible for resuming different pages of shows.
"My classification is diffuse large B-cell lymphoma stage 4-A, which means that as far as I understand it has entered four different parts of my body. I don't know how exactly they determine the four parts, but it has entered enough parts of my body to be in phase 4, which I think is the highest that goes. So, I'm in phase 4-A ", shared the musician.
Blink-182 bassist and vocalist hopes chemotherapy will have an impact
In this same broadcast, the Blink-182 member said that he was scheduled to see the doctor the next day to see if the chemotherapy was having any impact, hoping that they would tell him that it works and that he will never have to think about cancer again for the rest. of their life.
"We are defeating this cancer. It's just a matter of time, "said Mark Hoppus, who just a few days ago used his Twitter account to share with his followers that he was preparing for a test that could 'determine if I live or die.'
Mark Hoppus appreciates the displays of support
In this same message on his official account of Twitter, the bassist and vocalist of Blink-182 wanted to thank all the people who have sent him encouragement and positive thoughts: "I read all your responses and it means a lot to me. Thanks".
"I'm going to get through this with chemotherapy or bone marrow transplants, but either way, I'm determined to kick the ass .. of cancer right into the… Love to all of you. Come on, "Mark Hoppus wrote on his social media.
"I have cancer": Bassist and vocalist of Blink-182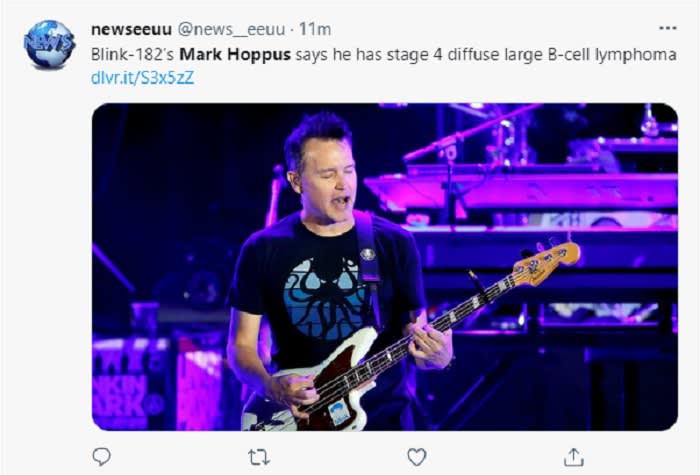 Just a few weeks ago, Mark Hoppus, leader of the Blink-182 group, revealed through his social networks that he was diagnosed with cancer: "For the last three months I have been receiving chemotherapy for cancer. I have cancer. It sucks and I'm scared, and at the same time I'm blessed with amazing doctors, family and friends who will help me get through this. "
"I still have months of treatment ahead of me, but I'm trying to stay hopeful and optimistic. I can't wait to be cancer free and see you all at a concert in the near future. I love you all, "wrote the musician.
"A cancer treatment, please"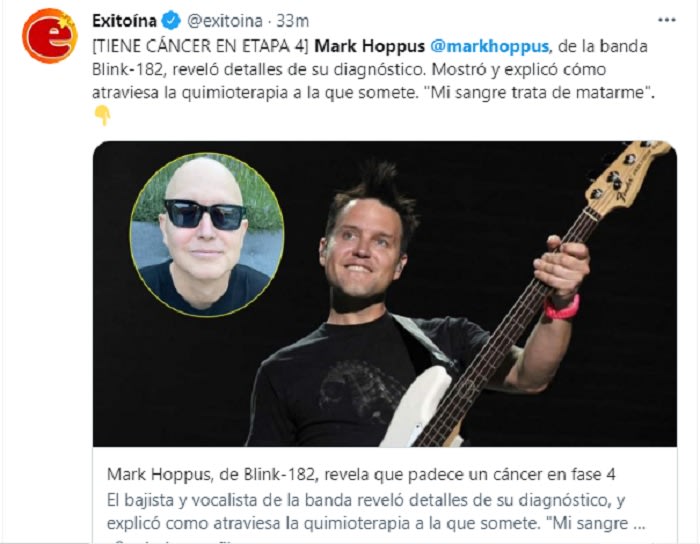 The 49-year-old bassist and vocalist's post came hours after he posted and deleted a photo of himself sitting with an intravenous needle, apparently in a doctor's office, causing all sorts of reactions.
"Yes, hello. A cancer treatment, please ", he had written next to the image, which was disseminated on networks by his fans. Since he shared his statement, several of his followers, as well as other stars, have wished the interpreter a speedy recovery.
They express their support for Mark Hoppus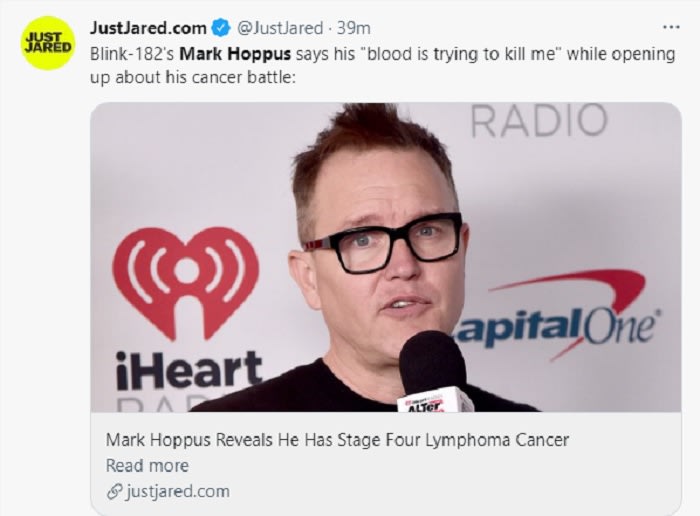 "You are on our minds, Mark. Your attitude will be magnified by so many people, "said actor and film director BJ Novak on Twitter, while Aaron Pauley of Mice & Men's said," I send you love and encouragement, "upon learning of Mark Hoppus' condition.
For his part, Travis Barker, Hoppus's bandmate on Blink-182, also shared a photo of the two through a story on his Instagram account, in which he wrote: "I love you, @markhoppus", and added a heart emoji (With information from Agencia Reforma).
"I'll take it as a win," says Blink-182 bassist.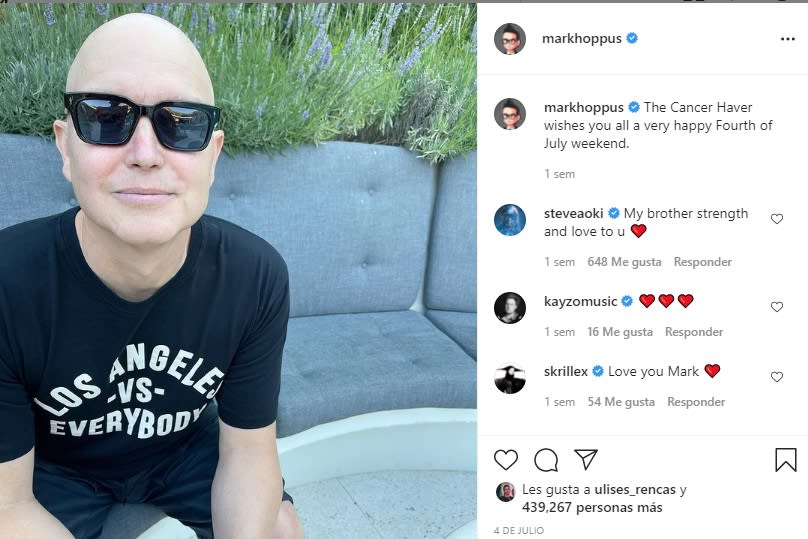 In his live broadcast on Twitch, the Blink-182 bassist and vocalist confessed that he felt much better than the day before: "Yesterday I had a terrible time, it was hell. Today I woke up feeling better, and went for a walk, had a decent breakfast, and didn't feel like I was going to throw up. So I will take it as a victory. "
And about his chemotherapy process, he shared the following: "" It's going well, I hope so. However, I would say that this round of chemotherapy has done me better than the last. The only thing is that this round I have had more nausea. On good days I go for a walk ".
Mark Hoppus says he can't go anywhere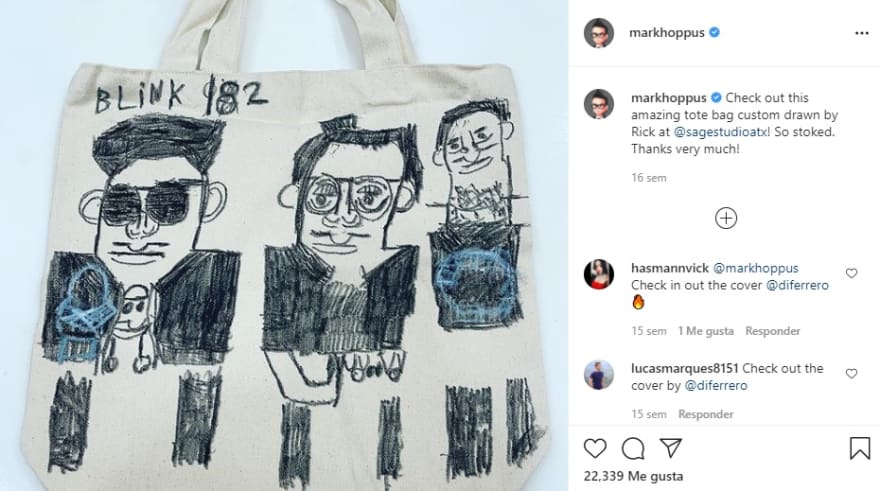 The Blink-182 bassist and vocalist said that in this round of chemotherapy he was not totally stuck on the couch, dejected, but if he was watching movies, he walked, cleaned the house and went out with his dogs: "I did not feel like an electrified zombie , poisoned, leaning against an electric fence, as I was in the last couple of rounds… ".
"I can't go anywhere right now. I wanted to go see the Dodgers, hang out with friends, and go to a restaurant, but I can't. My leukocyte count is too low for me to get out, so I'm stuck trying to get better. Okay, I'll take it. "
Blink-182, pioneers of pop punk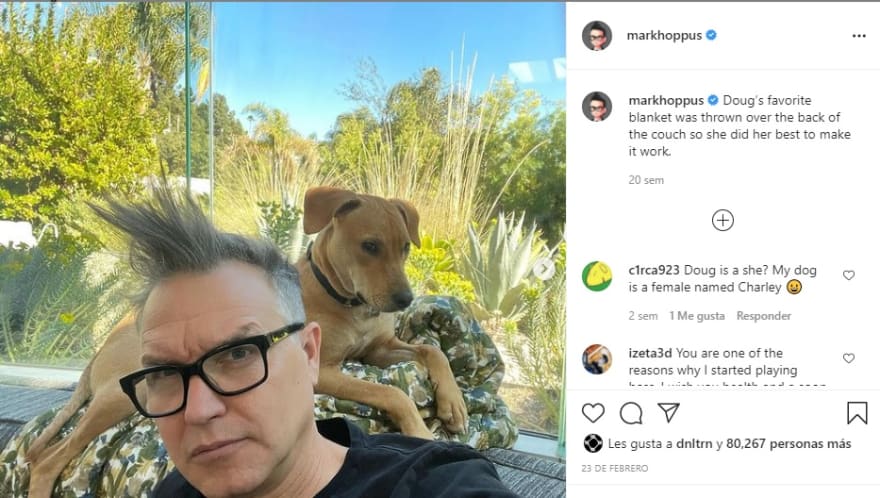 Formed on August 2, 1992 by Tom DeLonge, Mark Hoppus, and Scott Raynor in Poway, California, Blink-182 is a band considered a pioneer of pop punk, contributing to its massive international success in the late 1990s and early 2000s. .
The then band called Blink had to add the number -182 to their name because an Irish techno band already had the same name and threatened legal action. The 182 was chosen by Mark Hoppus because he was on the phone and it was the first thing that occurred to him.
They share their influences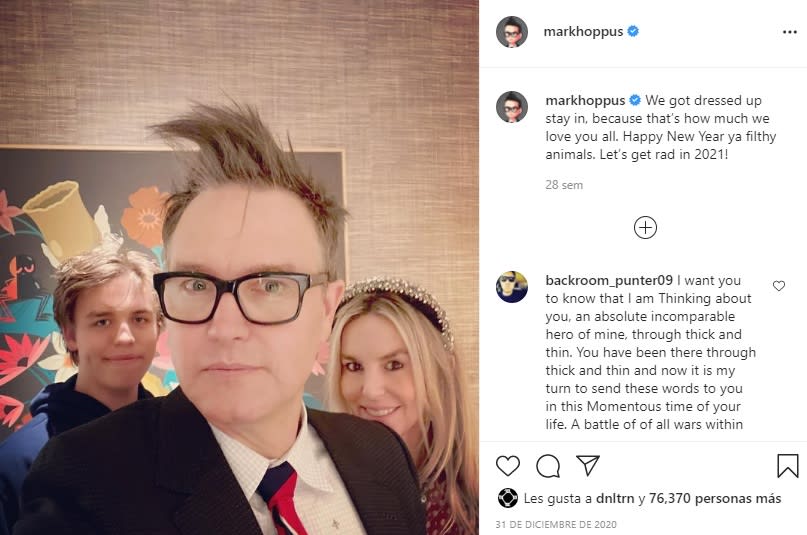 Blink-182 is known for its satirical and eschatological humor, and the release of its first album in 1995, Cheshire Cat, coincided with the success of the Californian punk rock revival and the release of classic West Coast punk rock records that same year. .
The influences of the band, according to Mark Hoppus himself, who recently confessed that he is in stage 4 of cancer, and DeLonge were the musical groups NOFX, The Cure, Dinosaur Jr., The Descendents and Screeching Wease.
With great success worldwide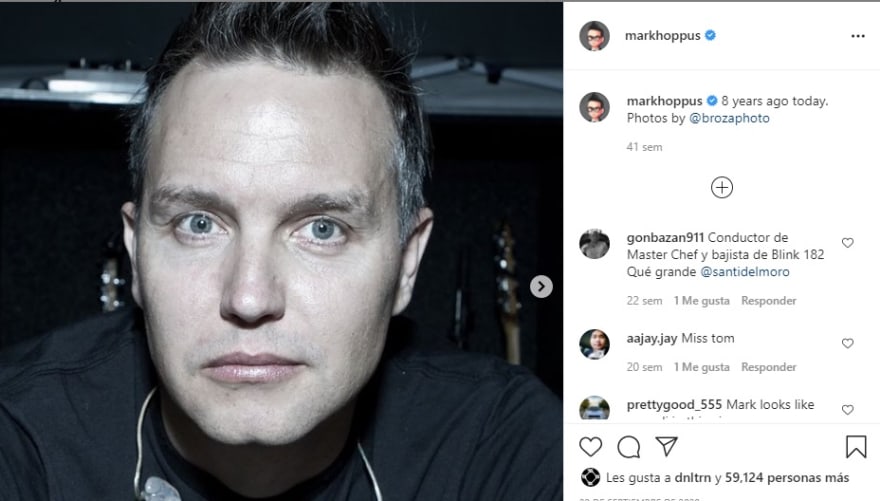 Blink-182 has sold 40 million records worldwide and 13 million in the United States alone. On September 20, 2019 they release their latest studio album, Nine. In early 2021, Travis Barker revealed in an Instagram comment that a new album would be coming out later this year.
Mark Hoppus, in his live broadcast on the Twitch platform, said that he is forced to finish his next three rounds of chemotherapy just to be sure. "We are defeating this cancer. It is only a matter of time ", he concluded.


mundohispanico.com
The Canadian News
Canada's largets news curation site with over 20+ agency partners