Latino business owners struggling to recover from the pandemic or reopen can access aid programs with government-approved relief package funds, said Isabel Guzmán, administrator of the Federal Small Business Agency (SBA, for its acronym in English).
In an exclusive interview with El Tiempo Latino, the administrator highlighted that equity is one of the greatest challenges of the economic recovery, but noted that the Joe Biden administration is committed to it. From the SBA they have supported vulnerable people to overcome financial problems.
"We want to build resilience with capital and investment. SBA.gov is a great resource for the tools your business needs to survive this economic recovery and for the future, "said Guzmán.
The SBA has opened the Community Navigators pilot program to help underserved small businesses receive the resources provided by the agency, which represents more than 30 million small businesses in the United States.
Access to available programs was identified by the Biden administration as an important issue, the official explained. During the pandemic they have observed how businesses face barriers to take advantage of the reliefs.
To ensure that the Community Navigators pilot program reaches communities across the country in the coming months, the SBA is offering grant funding. Partners from the SBA, states, tribes, local government units, and other non-profit organizations can apply.
"The aforementioned Community Navigator pilot program is key to ensuring we have trusted allies on the ground. With the SBA program we are reviewing all our financing, all the reliefs, the loans, the investments and the technical assistance, to make sure that all businesses can access that support to help them prosper ", he highlighted.
In Washington DC alone, 375 small businesses had disappeared as of December 2020, according to a figure reported by National Public Radio. The pandemic also left thousands of residents unemployed with a greater emphasis on African American and Latino communities.
Administrator Guzmán maintains that there is a growth in the number of Latino businesses and these are doubling in the general population. Four months after the approval of the American Rescue Plan, the official affirms that there are still millions of dollars available in aid.
Resource availability
"The SBA is helping with financial relief. We still have millions of dollars available to support recovering businesses. In particular, the loan for businesses affected by COVID-19 is available. It is a great tool for the recovery of your business because it is low cost with long-term and deferred payments, "said Guzmán.
For example, grant amounts for the Community Navigator pilot program will be approved between $ 1 million and $ 5 million, up to a total of $ 100 million, over a two-year performance period, according to a press release released by the SBA on 1 July. Applications close this Friday, July 23.
This program is expected to impact people with disabilities and / or minority, immigrant, rural, and other underserved communities across the country.
Additionally, there is a financing program for low-income businesses that were highly affected by COVID-19. All information about the resources is available on the web portal www.sba.gov.
Key aid programs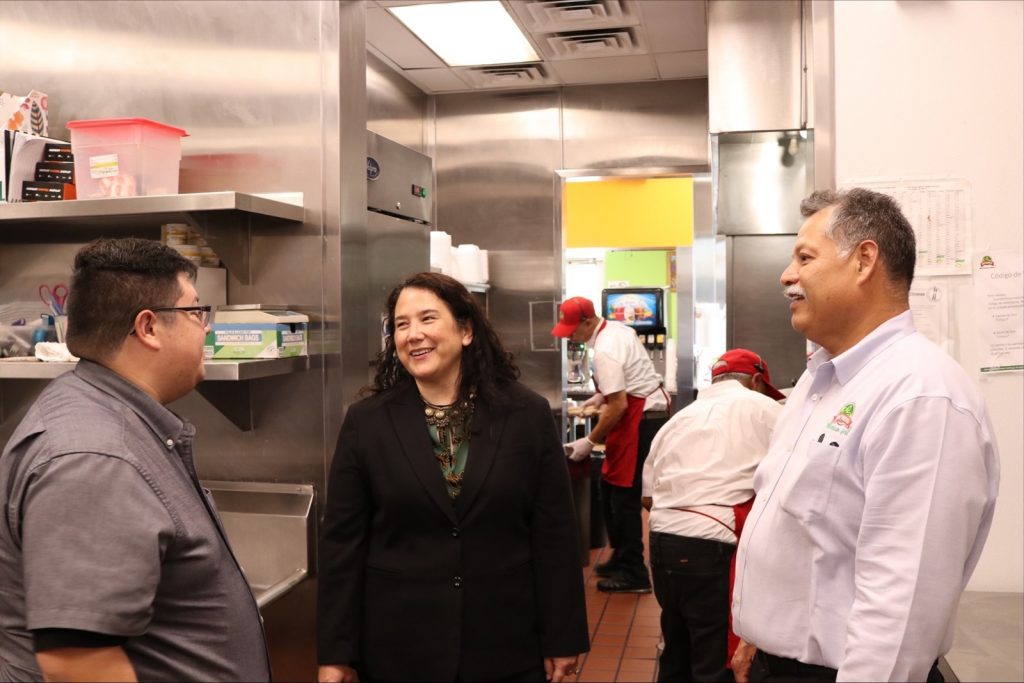 There are two SBA programs, supported by funds from the $ 1.9 billion American Rescue Plan, that are no longer available but have been key to small business recovery: the Payroll Protection Program (PPP) and the Restaurant Revitalization Fund (RRF).
The PPP was a loan that provided funds to more than 8.5 million small businesses and nonprofits to keep their workforce employed during the COVID-19 pandemic. In a June 1 statement, the SBA reported that it distributed more than $ 798 billion in relief under this program.
In 2021, 96% of PPP loans went to small businesses with fewer than 20 employees; and the amounts averaged $ 42 thousand. This was one of the first relief programs implemented during the pandemic.
The SBA specified in a separate note, dated July 2, that the RFF benefited more than 101 thousand restaurants and other food and beverage companies. In total, the agency distributed $ 28.6 billion in aid to these facilities, of which $ 18 billion were grants for prioritized underserved populations.
It was known that $ 7.5 billion went to women's businesses, $ 6.7 billion to socially owned and economically disadvantaged businesses; $ 2.8 billion to organizations representing multiple underserved populations, and $ 1 billion to veteran companies.
The average of the RFF grants awarded was $ 283 thousand. The aid went to payments related to payroll and rent for small businesses.
"The RFF program was something very necessary for our small businesses, many Latino companies as well. Food and beverage businesses were severely affected by the pandemic. We saw how their income decreased, their costs increased and it was very difficult for them to support themselves, "Guzmán told El Tiempo Latino.
Long term promise
Guzmán explained that the vision of President Biden's Build Back Better agenda is to reshape opportunities for small businesses to achieve the American dream and build wealth, a milestone that is especially important for Latino entrepreneurs.
"The Build Back Better agenda allows us to make key investments in key areas of our economy such as manufacturing, lower health insurance premiums for small businesses, which we know limits their ability to compete for the workforce, among other challenges," he said. .
Also on the table is the proposal to offer help with capital in key investments; and connecting small businesses to the market and long-term recovery, with equity of opportunity. For this, he considered essential the integration of public-private alliances.
Profile
Isabel Guzmán was sworn in as the 27th administrator of the SBA last Wednesday, March 17, 2021, before Vice President Kamala Harris, after receiving 81 votes in favor and 17 against her nomination in the United States Senate.
He was born in 1971 in Burbank, California. Her father owned a small business, which allowed her to learn about the subject and how they serve communities and boost economies, hence her connection with the agency she leads.
Prior to her confirmation as an SBA administrator, she served as director of the Office of the Small Business Advocate in the state of California, a position she has held since April 2019.
With information from an interview conducted by Rafael Ulloa


eltiempolatino.com