WordPress database error: [Can't find FULLTEXT index matching the column list]
SELECT wp_posts.*, MATCH (wp_posts.post_title,wp_posts.post_content) AGAINST ('After JLo and Alex Rodríguez break up, alleged lover breaks silence After breakup JLo and Alex Rodríguez, alleged lover breaks silence Despite fact joint statement they affirm they ended up \'good terms\', a few months ago a young blonde pointed out third contention Madison LeCroy, reality star Southern Charm, woman whom former player allegedly had affair After breakup JLo and Alex Rodríguez, alleged lover breaks silence. Just yesterday famous couple announced a news some fans a sad surprise, while others were already waiting : they&hellip;') as score FROM wp_posts WHERE 1=1 AND ( wp_posts.post_date <= '2022-01-16 11:09:25' ) AND wp_posts.ID NOT IN (427643) AND wp_posts.post_type IN ('post', 'page') AND ((wp_posts.post_status = 'publish' OR wp_posts.post_status = 'inherit')) AND MATCH (wp_posts.post_title,wp_posts.post_content) AGAINST ('After JLo and Alex Rodríguez break up, alleged lover breaks silence After breakup JLo and Alex Rodríguez, alleged lover breaks silence Despite fact joint statement they affirm they ended up \'good terms\', a few months ago a young blonde pointed out third contention Madison LeCroy, reality star Southern Charm, woman whom former player allegedly had affair After breakup JLo and Alex Rodríguez, alleged lover breaks silence. Just yesterday famous couple announced a news some fans a sad surprise, while others were already waiting : they&hellip;') ORDER BY score DESC LIMIT 0, 6
After the breakup of JLo and Alex Rodríguez, alleged lover breaks the silence
Despite the fact that in the joint statement they affirm that they ended up on 'good terms', a few months ago a young blonde was pointed out as the third in contention
Madison LeCroy, reality star Southern Charm, is the woman with whom the former player allegedly had an affair
After the breakup of JLo and Alex Rodríguez, alleged lover breaks the silence. Just yesterday the famous couple announced a news that for some fans was a sad surprise, while others were already waiting for it: they definitively ended their relationship.
After weeks of mystery and rumors about a breakup, the singer and the businessman announced their separation with an official statement that was broadcast on April 15 on 'The Today Show'.
After the breakup of JLo and Alex Rodríguez, alleged lover breaks the silence
Despite the fact that in the joint statement they affirm that they ended up on 'good terms' and that they are 'better as friends', a few months ago a young blonde was singled out as the third in contention.
Is about Madison LeCroy, reality star Southern Charm, with which the former player allegedly had an affair. From that moment, the situation began to get complicated in the JLo-ARod relationship.
How did the rumor come about?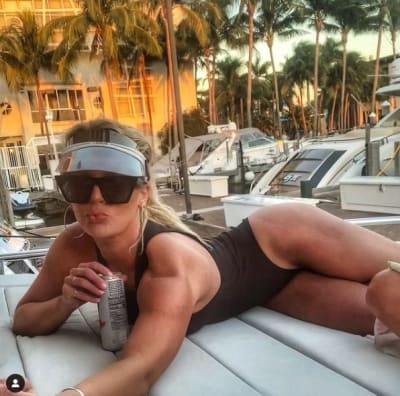 A few months ago, a rumor spread that Alex Rodríguez had been unfaithful to Jennifer López with Madison LeCroy and that she was the cause of the couple's problems. When asked about those comments, she only said: "You caught me off guard," as collected Tell me what you know.
At the time, the rumor picked up after LeCroy commented on an episode of the show that he had been meeting a famous baseball player on FaceTime and all eyes were on the Bronx Diva's boyfriend.
What did the third discord say?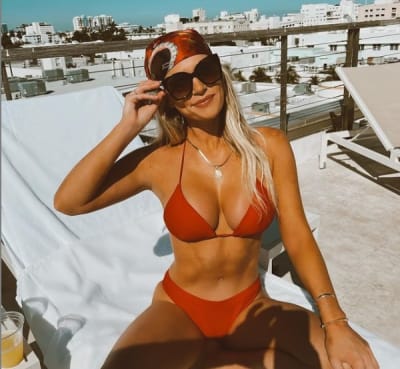 Following the couple's separation, LeCroy had a brief comment. The slender blonde declared sharply to Page Six: "I wish you the best", a phrase in which he concentrates his opinion on the breakup of the famous.
The reality star had already told this medium that he had had contact with Alex, but not the one he accused. "He contacted me, and yes, we sent a direct message, but other than that, there was nothing … I have never found or touched him."
Was there deception?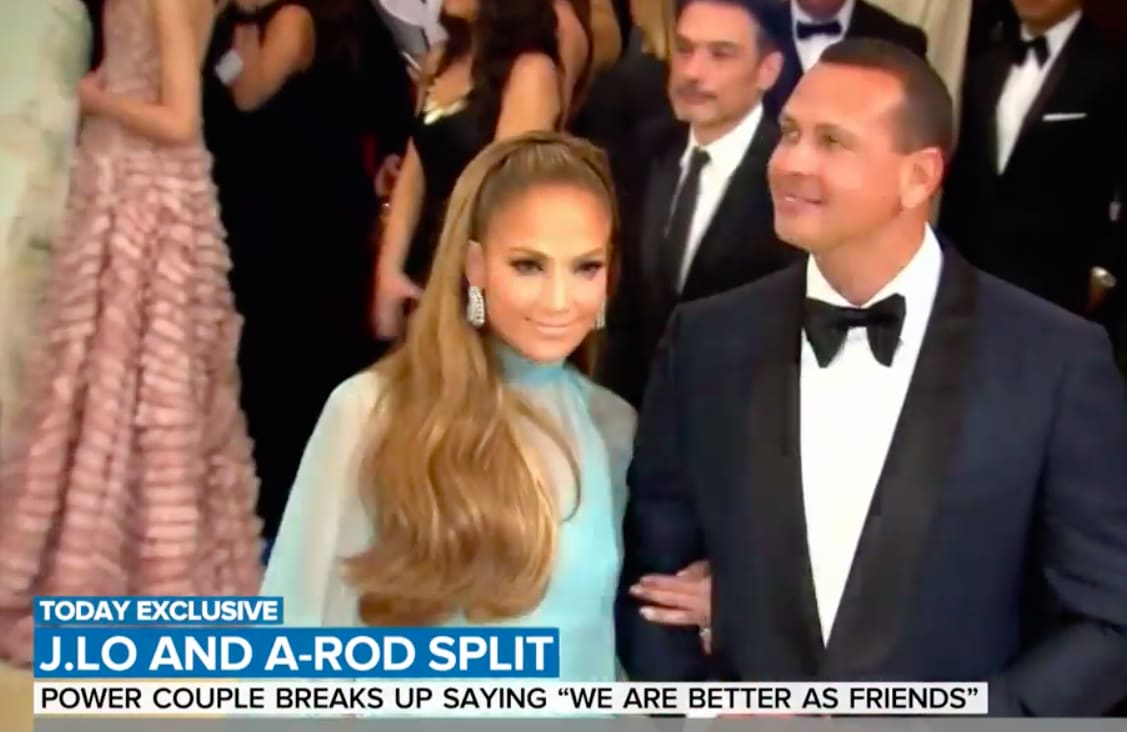 If there was deception, it was not with LeCroy, according to what she herself confirmed to Page Six. "He has never physically cheated on his fiancée with me," he said about the alleged affair they had had a few months ago.
She also added that she and Alex Rodríguez "had never been physical… they had never had any kind of anything. They only know each other ". Although he did specify that, until now, they had only "spoken on the phone."
JLo and Alex Rodríguez announce their separation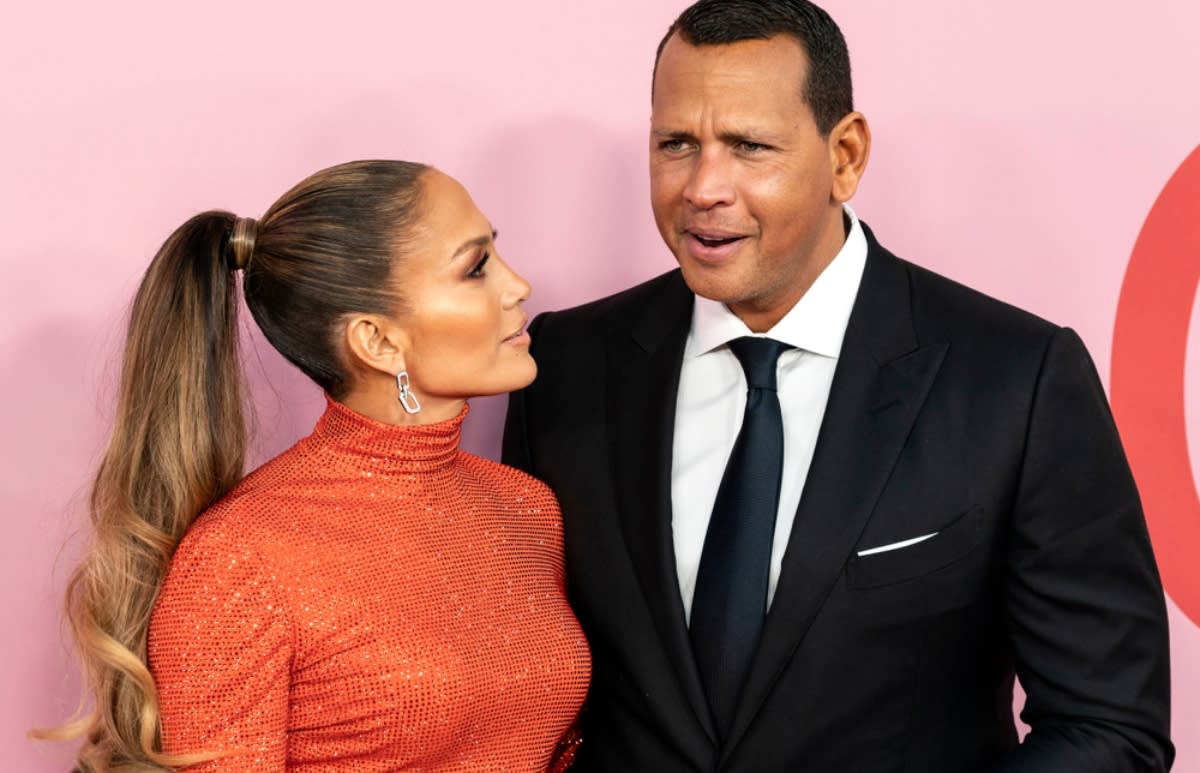 After months of rumors that Álex Rodríguez was unfaithful to Jennifer López with the reality show star Madison LeCroy, who at all times denied the accusations, it was said that the couple was going through a severe crisis during the pandemic and with everything and wedding plans .
The relationship between JLo and Álex Rodríguez lasted four and a half years and the plans to marry were totally suspended by the singer at the beginning of 2021 under the pretext that she could not carry out her commitment in the middle of a health emergency. However, sources assured that the relationship was already 'fractured'
JLo's separation impacts everyone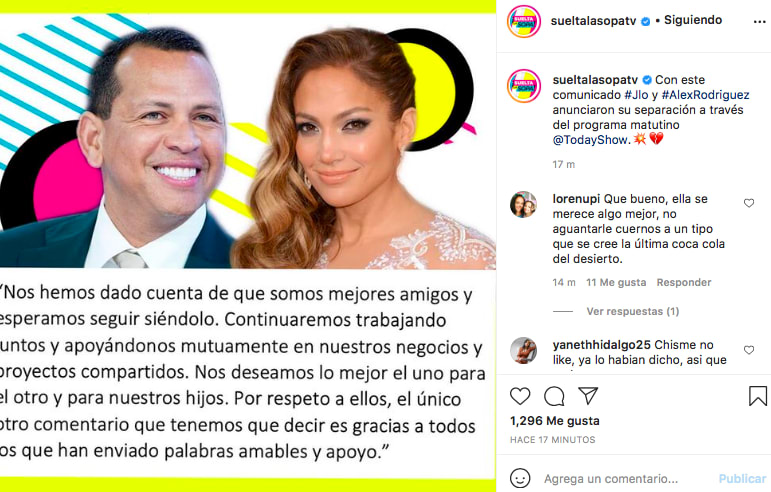 This would be the fifth time that JLo cancels an engagement, previously it happened with Casper Smart, Ben Affleck and other celebrities, who also gave her an engagement ring; A few weeks ago when a 'separation' had been announced, it was denied by the famous team itself.
"We wish the best for each other and for our children. Regarding them, the only comment we have to make is to say thanks to all those who have sent kind and supportive words ", reads part of the statement from JLo and Álex Rodríguez announcing their separation on The Today Show.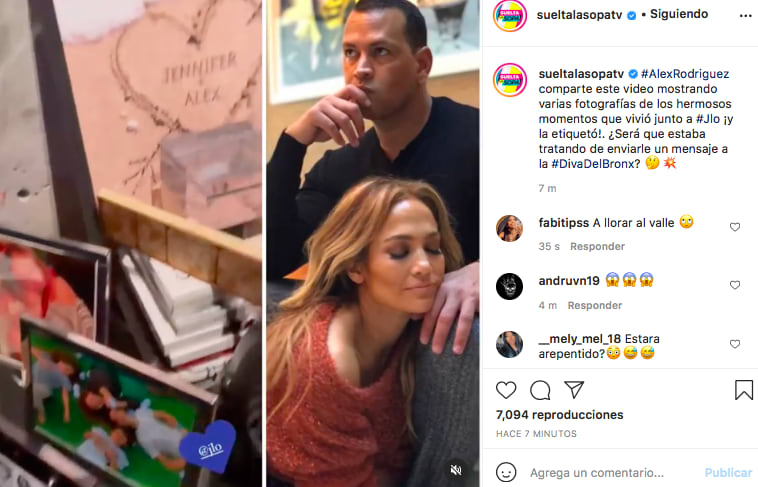 On the Instagram account of 'Suelta la Sopa', a video was shared in which Álex Rodríguez allegedly tried to send a message to JLo remembering loving moments with his children who are very attached to the ex-baseball player, just remember the images of Emme, singer's daughter, crying a few weeks ago.
"#AlexRodriguez Share this video showing several photos of the beautiful moments he lived with #JLo and tagged it !. Could it be that he was trying to send a message to #DivaDelBronx? ", Was the description given by the 'Suelta la Sopa' program to the images.
Was Álex Rodríguez trying to reconcile himself with JLo before issuing the statement?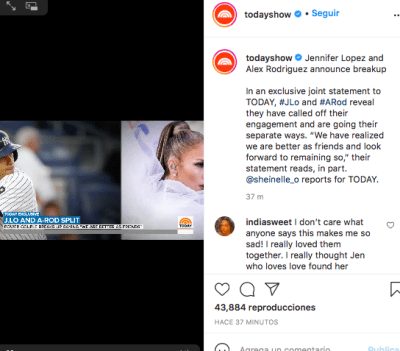 In the video published by Álex Rodríguez, you can see frames and portraits with photographs of special moments that the ex-baseball player shared with Jennifer López and her children, with whom he became very close. However, all that was not enough to stop the statement issued to 'The Today Show'.
Even a month ago when news of their separation was released, which was later denied, the athlete's efforts not to separate from JLo were evident when he even traveled to the Dominican Republic where the singer and actress was filming a movie.
Neither the efforts of Álex Rodríguez to get closer to JLo served
To the video uploaded by Álex Rodríguez, reposted by the account of 'Suelta la Sopa', people reacted: "To cry to the valley", "Will he be sorry?", "What hurts him is that he lost his gold coin", "After they act badly, they start to value", "What is the use of the memories more when he put the horns himself, I hope that Jennifer will sell the ring and give it to foundations".
"Hahaha it seems manipulative", "After they act badly they start to value", "Men love women but that's how they cheat on her and later she laments, not all women forgive infidelities", "What is the use of memories more when he put the horns on, hopefully Jennifer will sell the ring and give it to foundations ", people commented.
What will happen to the companies that both of them had together?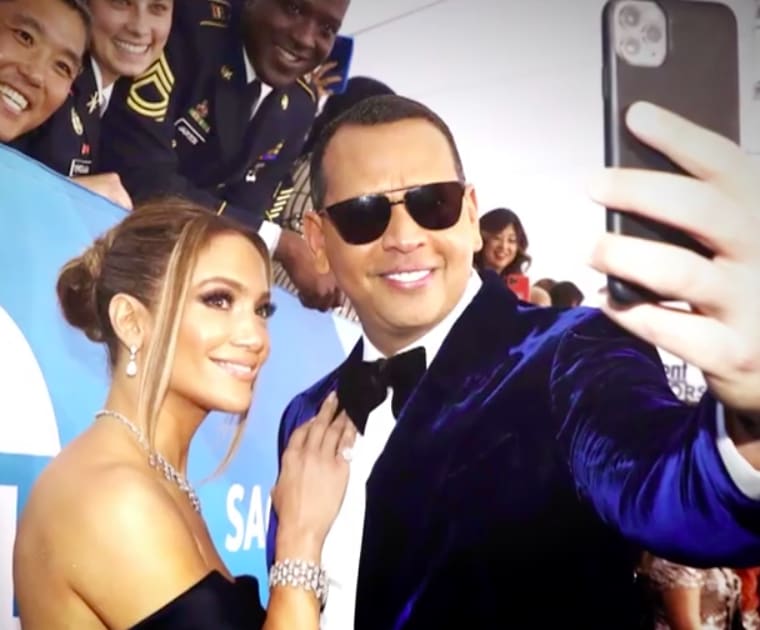 The four years that they were together, JLo and Álex Rodríguez formed an emporium of cosmetics, clothing and other accessories companies, and they even wanted to buy a powerful baseball team but this action never materialized, so now Today Show shows they will have to face each other to talk business:
"We are going to continue working together to support each other and maintain our businesses and projects, we wish each of us the best," said the statement to the program. HERE YOU CAN SEE THE VIDEO OF JLO'S SEPARATION CONFIRMATION. After JLo and Alex Rodríguez break up, alleged lover breaks the silence.


mundohispanico.com
The Canadian News
Canada's largets news curation site with over 20+ agency partners