"I probably didn't have a good idea the day I decided to bring Antonio Naranjo and Máximo Pradera together in front of the microphone."
Julia Otero confessed it in the microphones of her program, Julia on the Wave (JELO). It was 2014 and the presenter thus began her explanation about the expulsion of her two collaborators: Antonio Naranjo and Máximo Pradera. Both fired in a sudden way. The reasons, personal, did not transcend on the air. Thus ended a section ('With a pair') in which both, with antagonistic positions, were engaged in heated debates.
The personal relationship between the two journalists ended in court. It has lasted until 2019, with a lot of legal ups and downs. Because Naranjo accused him of mistreatment on Twitter. Pradera reacted by denouncing him for insults. The judge ended up condemning him for aggression, although the Supreme Court ended up agreeing with him and annulling that sentence.
Be that as it may, that was the first time (that is known) in which Pradera 'messed it up' with the presenter. The last one was this week. The journalist has been fired, this time by the newspaper Público, for an opinion column in which he referred to Julia Otero's illness. In the piece he ended up wishing Macarena Olona, ​​José María Aznar or Donald Trump a cancer. The digital has issued a note in which, as they did in Onda Cero at the time, they unchecked their editorial lines from the attitudes of Pradera.
The provocateur
It has been in this area, in the provocation, in which Máximo Pradera has stood out the most in recent times. Because his promising television career (he became the one chosen to dispute the throne of the nights with Javier Sardá and his Martian Chronicles) did not live up to expectations. His last regular participation has been in a La 2 talent show about classical music.
In the networks, on the other hand, his name is a trend from time to time for some outrage. Perhaps the most remembered was the one he wrote on Twitter after the Notre Dame Cathedral fire. "La Almudena may have been burned, Notre Dame goes and burns. Destiny is an asshole, "he wrote on April 15, 2019, sparking a barrage of criticism.
Pradera ended up deleting the tweet, but he feels comfortable in the terrain of provocation and continued from row to row. Only a month later he again received an avalanche of criticism for having made fun of the appearance of one of the talk shows on the program The Sixth Night, when wondering if "Can you go to a debate on TV with 2 napkin rings hanging from your ears?" More aggressive was in 2015 against the newspaper ABC, which he directly accused of being "a doormat for Nazis".
The Popular Party (about which he wrote a book denouncing his management in Madrid) has always been one of his main objectives. Now Isabel Díaz Ayuso, who says she cries with crocodile tears and puts on the cheapest mascara, so that it runs. Another of his victims was Cristina Cifuentes. When he suffered the motorcycle accident, Pradera tweeted: "The life of Cristina Cifuentes is not in danger. I wish many Madrilenians could say the same about yours. "
⚫️ Seven years ago, after suffering a very serious motorcycle accident in which I almost lost my life, I did not answer you. I see that today you go back to your old ways: Maximo Pradera, you are miserable. @maxpradera pic.twitter.com/t06XIlfDeN

– Cristina Cifuentes😷 (@ccifuentes) February 25, 2021
Another with whom he has a notable enmity is Hermann Tertsch; The conflict between the two is also prosecuted, after the latter accused Pradera on Twitter of wanting to kill him with a hitman. Pradera came to take a photo at the door of Terstch's home doing the Nazi salute.
Even in the 2015 air tragedy, in which a Lufthansa plane crashed in the Alps, Pradera had to stand out: "Politicians who crash entire countries against the mountain of austerity, with dozens of harvests of victims" and "The co-pilot was not just a depressive. He was an obsessive neurotic. I love it but it is who the Germans have allowed to pilot Germany "were his tweets on social networks. He himself recognizes his fondness for controversy. In an interview with the religious magazine Vida Nueva, he confessed: "I am a provocateur, but not a brawler."
Go Spain
Máximo, although it may not seem like it, comes from an ultra-conservative family. He is the grandson of the one who coined the phrase 'Go Spain'. From Rafael Sánchez Mazas, one of the founders of the Falange. And great-grandson of Víctor Pradera, one of the Carlists who founded the National Bloc together with José Calvo Sotelo. That Prairie was assassinated by the Republicans in '36.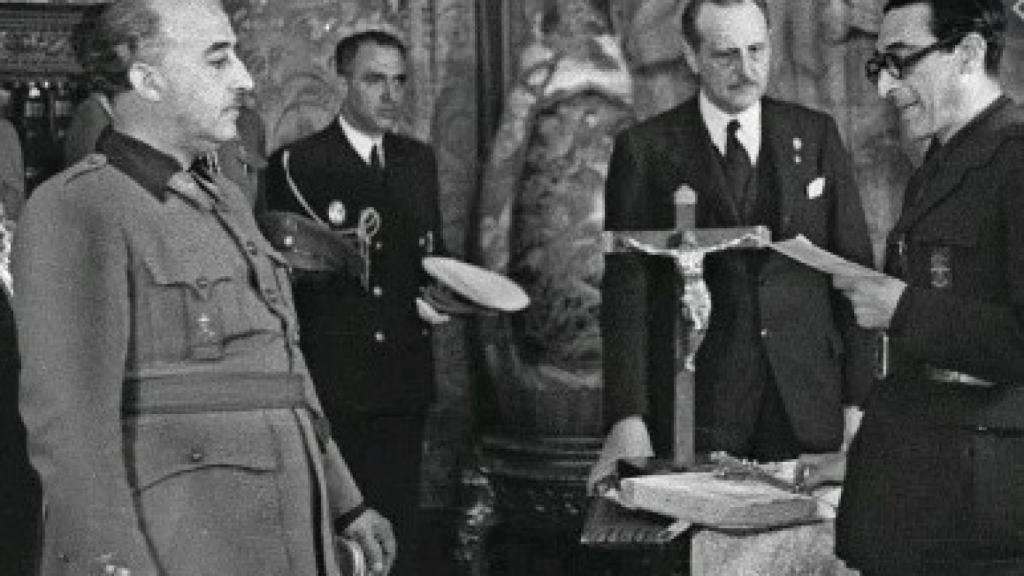 Máximo's father was the one who turned that course. Javier Pradera is a historian of Spanish journalism. He actively fought the Franco regime in hiding. He was 10 years affiliated with the Communist Party and several times imprisoned for illegal propaganda. He was one of the founders of the newspaper The country and his opinion chief for a decade. He was the author of the 23-F editorial contrary to the coup that the newspaper published that day. There he was publishing until the day of his death, November 20, 2011.
Ideologically, Máximo has always been more to the left of his father. Professionally, closer to show business than journalism. Its ecosystem was always television. Specifically the public, at least in its beginnings. Between 1988 and 1994 it was pivoting between Spanish Television and Telemadrid. It was in 1995, with his jump to Canal +, when he rose to stardom. Together with Fernando Schwartz, he presented a new space for interviews: Lo + More. He became the star of free-to-air programming on the first encrypted channel in Spain.
Illustrious guests, such as the Nobel laureate José Saramago or the writer Salman Rushdie, passed through Lo + Plus. Going out in Lo + Plus was the closest thing to Broncano taking you to La Resistencia today: something mainstream, but supposedly alternative. That new format worked; Pradera and his team took Ondas to the most innovative program. He pulled out a book titled Lo Max Plus, whose cover read: "66.6 questions about the most chachi program on TV and its unpresentable presenter."
Tv star
It seemed that a star had been born. That Prairie with its acid and corrosive humor was aiming for higher heights. And he was Antena 3's bet in 2001 to dispute the nights with the colossus: Martian Chronicles. The Sardá program had been leading the Spanish late night since 1997. Nobody coughed that strip to Telecinco. Max Pradera came to be the antidote.
The program was called Damn the hour and it premiered on September 17, 2001. The format, a mix between that Lo + More that elevated him, a variety show, many interviews and a touch of humor that seemed not to permeate from day one. Its premiere should have aroused all the interest, but that night, Sardá doubled in audience. Antena 3 kept it on the grid for a couple of weeks, canceling it on the tenth program and replacing it with Diary of a war. A 'round business' for the chain, which ended up denounced and having to pay for that cancellation.
From there, Máximo's television career in the doldrums. He has been participating in some spaces sporadically, but did not return to present major programs. He tried it as a creator in 2005, with a program of heart that El Terrat produced for Four. It was also canceled due to low audience.
The co-pilot was not just a depressive. He was an obsessive neurotic.

But the worst thing is who the Germans have allowed to pilot Germany.

– Max Pradera (@maxpradera) March 27, 2015
His career ranged from theater, music, books (some named after him and others under the pseudonym Joseph Gelinek), radio, and incendiary columns. The same ones that have run out, at least in Public. His journalistic background is much less prominent and relevant than that of his father, but he has made provocation his niche. Today, sometimes synonymous with success. Or at least visibility.
In the fight he has done well … at least until now, which has bundled the final: "Cancer is nothing more than that: a mutation," he considered, wondering if "these mutations could not be distributed more wisely? Why do we have Trump, or Aznar, or to the harpy of Macarena Olona, but to get something in the draw? (…) Well, nothing, male, the Otero with cancer and they are healthy as fawns. Nor is it essential that they go to meet with the Creator today, but it would be nice if they had to grapple with the treatment, which is almost always tricky on the nose. "
Beyond the fact that that column had the intention of praising the presenter, it is ethically questionable to use those terms when Julia Otero is going to face that 'dodgy nose' treatment in the coming days. Although she already forgave him. In 2014, he fired Pradera and Naranjo from his program after their confrontation. But Máximo returned and gave him a section of musical curiosities, in which he continues to participate on a weekly basis. Now it will be Julia who decides if she wants to put up with Pradera's 'fights' again.


Reference-www.elespanol.com