Piem, the cartoonist with the eternal budding beard and thin glasses, who worked in the press and became famous on television, died Thursday, November 12, the day of his 97e anniversary.
His real name Pierre de Barrigue de Montvallon, Piem was born in Saint-Etienne, November 12, 1923 in an old family of the Catholic nobility. He is the third of a sibling of five. The family settled in Paris in 1928, the father was director of an agency at Société Générale, then director of the Maison de la Chimie.
After his schooling, from 1940 to 1944, the young Pierre studied at the National School of Fine Arts, then at the Paul-Colin School in Paris. There he learned the rigorous and concise art of the poster. During this period, he participated in youth movements, including the Christian Student Youth (JEC) and broadcast Christian witness. Engaged in January 1945, he ended the war as "Decorator corporal", he specifies in an autobiography Piem sits at the table (ed. Jean-Cyrille Godefroy, 1994), having notably decorated the officers' mess of the 2e DB stationed in Trier, Germany.
Funny and tender stroke
In 1947, he married Elisabeth Lefebvre, daughter of industrialists from Roubaix, with whom he had four daughters and three sons. Two of his children, Maria-Frédérique and Vincent, died tragically in the early 1990s.
From 1947, he draws for Christian testimony, Le Figaro (until 1981 when he resigned disagreeing with the new owner, Robert Hersant). He also collaborated, from 1972 to 1986, to Unity, the weekly newspaper of the Socialist Party, with a chronicle "Dipapacéquoi". The cross or The Point also ensure its services. Its funny and tender line, fine and rounded, seduces a large audience.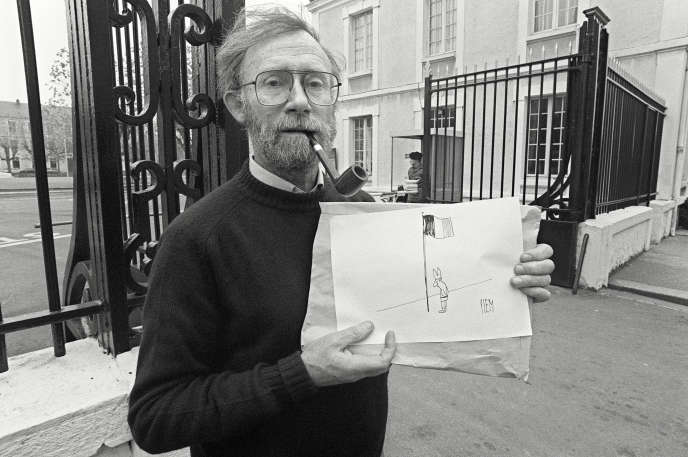 As pointed out, about the Figaro, journalist Arnaud Roy, in another book devoted to Piem (The funniest drawings of Piem, Seek Midi, 2017), "He worked for a long time for the liberal daily even though he has more of a left-wing sensitivity. The whole human paradox is there. "
He's also an eclectic personality. He appeared in the 1960s as a comedian in cabarets, notably for four years at La Tête de l'art in Paris, alongside Juliette Gréco and Fernand Raynaud.
Pillar of the "Little Rapporteur"
His talent led him to television, where he appeared for the first time in 1965 in "Dim, Dam, Dom", an RTF program devoted to women, then in 1969 in the program "Un trait pour tout" of the ORTF. He really made himself known to the general public by participating in the show " The Little Rapporteur " (1975-1976), presented by Jacques Martin. During those two years, standing in front of a carton where he quickly sketches, he comments on the news in "La Petite Semaine de Piem". He then took part in "La Lorgnette" in 1977, an almost exact copy of the "Petit Rapporteur", then in "La Lorgnette 2". In the 1970s, he also created the character of Turlupine, which appeared in strips in various dailies.
Besides television and journalism, he regularly publishes albums, including the famous series Fans of… Which, from 1984 to 1988, gently mocked fans of tennis, football, skiing… (éd. Du Cherche Midi).
Read also
Once upon a time there was a "little protractor"
he retired in October 2004 to his house in La Noue, Notre-Dame-d'Oé, near Tours, where he was elected municipal councilor. In his retirement, he continues to draw and write every day. Philosopher, one of his mottos is: "Keep Piem! "
He was honored on several occasions, notably in 2006, when he was appointed Commander of the Order of Arts and Letters. Among his many passions, there is also amateur cinema. He has shot about fifteen short films in his district in Paris or in La Noue, obtaining awards, thus revealing another facet of his talent.
Piem in a few dates
November 12, 1923 Born in Saint-Etienne (Loire)
1947-1981 Collaboration with Le Figaro
1975-1976 "The Little Rapporteur"
2006 Commander of the Order of Arts and Letters
2020 Dead on her day 97e anniversary in Notre-Dame-d'Oé (Indre-et-Loire).

www.lemonde.fr