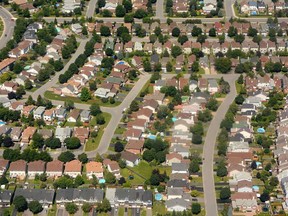 article content
Climate-conscious City Council allows city to keep growing
article content
Re: suburban communities raising climate concerns, June 28
Regarding the June 27 and 28 front page articles on the topic of new suburban communities: When will the city council and administrators realize that the disconnect between tax dollars collected and demand for infrastructure is directly related to the construction of new communities on the outskirts of Calgary?
Don't you see the irony in addressing the "climate emergency" by continuing to approve new suburbs and suburbs that require the construction of more roads and infrastructure? The further away from the core, the greater the need for new infrastructure, services, and ongoing maintenance costs. These costs never seem to be paid in full by developers or buyers. Instead, taxes against Beltline businesses and so-called downtown residential landlords skyrocket to unsustainable levels (and the definitions of "Beltline" and "downtown" continue to expand).
article content
Endless urban sprawl also cuts off the land needed to provide food for city dwellers. It's time for planners, developers and the council to focus on creative ways to meet housing needs within the city's existing footprint. As expansion continues, the costs of building and maintaining infrastructure services will continue to spiral out of control.
Arrogance at Enmax
Charles Ruigrok, Interim President and CEO of Enmax, needs a wake-up call. How ruthless can a man be who brags about reducing the number of "limiters" placed on clients when his predecessor earned $3.8 million in compensation for less than 17 months of work? Is it because customers have probably paid back the obscene amount charged by Enmax in the first place?
article content
I'm not surprised Mayor Joyti Gondek hasn't commented, but by keeping quiet, she supports the process. However, she correctly states, "We're really not doing it right."
Thankful for the eyes in the sky
Re: Ground Police Helicopters Unless Really Needed, Letters, Jul 2
I say keep on guys, keep working the sky! As a resident of West Hillhurst, I find the letter writer's complaint offensive. Those bipedal criminals on foot or in stolen cars don't care about their impact on our tax dollars.
When you hear the police helicopter, maybe you should stay inside with your doors closed, be thankful that the criminal you're chasing doesn't find your back door, banging and yelling to be let in because the police are after you. How we experience it.
article content
Joyce Castonguay, Calgary
Study shows few people understand the need for an underpass
Re: Now is the time to chart a sustainable path forward; Comment; Be wise, but also bold, in the revival of downtown, Opinion, June 24
I live on the south side of the CPR tracks. My house is less than a mile from the 11th Street railroad crossing. I always consider using this crossing when going downtown, whether walking, biking, or driving. I use it often.
I reviewed the Functional Planning Study. A graph showed that less than one percent of survey respondents thought access to emergency services was a key priority. Who were the people conducting the study talking to?
I think taking the 11th Street crossing permanently out of service for motor vehicle traffic would be a huge mistake. It would be inconvenient for me, but it could change the life of someone who needs the assistance of the emergency services. Is EMS response time no longer an issue?
article content
Glen Hammerlindl, Calgary
Electric vehicles are great but they lack charging stations
I am on the shortlist for a new plug-in electric vehicle. However, trying to charge it seems like mission impossible since I live in an old apartment. There are a total of only six fast chargers in all of Calgary, and there are no public Tier 2 chargers in north-central Calgary, where I live.
The federal plan for 60 percent electric vehicle sales by 2030 is a no-clothes plan if you can't charge. Calgary has declared a climate emergency, so where is Enmax's plan to support and facilitate local charging? A round trip to the mountains is playing Russian roulette in winter (where loading speeds are drastically reduced).
Politicians continue to talk the talk and fail miserably at the EV walk.
article content
Barry Bortnick Calgary
America obsessed with only one form of right to life
Tragically, the US Supreme Court is so concerned about the right to life of the unborn fetus, yet no branch of the US government is taking meaningful action to protect the right to life of infants. schoolchildren killed by people with guns.
Michael Hayduk, Calgary
Federal ministers should heed advice
Re: G7 allies may look to Canada as energy leaders, Opinion, June 30
When I started reading the article about the G7 leaders with a reference to Canada being a leader in energy and how Canada could help the world with 'clean' energy and help with the transition from Russian oil, I thought Ottawa is finally supporting our industry. . Prime Minister Trudeau, Minister Wilkinson and Minister Guilbeault will champion our energy industry on the world stage. The article was very positive.
article content
Then I realized that the Ottawa leaders were not talking, even though they have been meeting with the G7 countries for the last few weeks. Maybe Ottawa will see the article, improve their understanding and become 'world energy champion'.
Brian McConaghy, Calgary
Increased funding for post-secondary education would help create a skilled workforce
Alberta business leaders say a lack of skilled workers is holding them back. Increased funding for NAIT, SAIT and other Alberta post-secondary institutions would help businesses by increasing the quality and quantity of skilled workers. It would help young Albertans start their careers and help Alberta's long-term unemployed start new careers.
article content
Instead, the UCP cut spending on post-secondary education by 20 percent. The PCU was not forced to make these cuts because the treasury was empty. These cuts did not balance the budget; the spike in oil prices due to Putin's invasion of Ukraine did just that.
None of the UCP leadership candidates admit that these cuts hurt Alberta businesses and workers. Instead of reversing these damaging cuts, they blame Ottawa for Alberta's poor economic growth.
Any provincial budget that claims to support Albertans must increase funding for post-secondary education, not only to return to pre-cut levels, but also to cover high rates of inflation.
David Bombardieri, Calgary
Oil windfalls should be invested in education and health
article content
Alberta is experiencing a huge economic windfall due to rising oil prices. Lucky for us, but will the average citizen see any benefit from it?
A headline in the Herald read, "Teacher Exit Threatens Class Size," so one would think that finally putting money into education might be at the top of the UCP's list. It would also make sense to reinvest in health care and green energy. History tells me that's not going to happen.
I guess I can continue to dream of a reasonable and people-centered provincial government.
'Weekend warriors' irritate cyclists
I ride a bike a lot during the summer. I'm impressed by how courteous most cyclists are during the week, ringing their bells or saying "pass on the left" while obeying the 20kph speed limit.
However, I avoid riding the busier roads on the weekends due to the influx of weekend warriors. These are cyclists on racing bikes, a subset of whom ignore the speed limit and do not indicate in any way what is happening, which scares pedestrians and other cyclists. They also don't slow down when small children or dogs are present, neither of whom know what "staying on the right side" means.
All I have to say to these riders is "grow up."
Richard Walker, Calgary