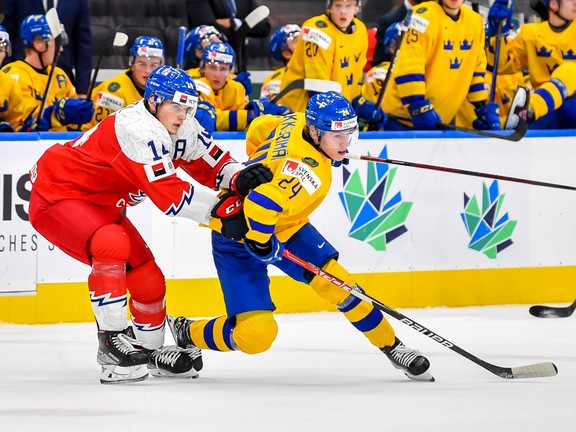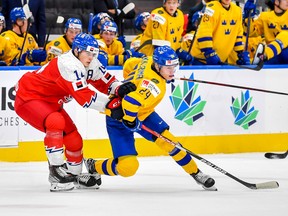 Article content
It's a summer world junior championship edition of the prospects tracker, where we tally up the efforts of the Vancouver Canucks' draft picks playing in the tournament:
Article content
---
Jonathan Lekkermaki
Maybe the expectations were too high. Maybe his game would have been better served in a top-six role.
Maybe, as the youngest player on his team and one of the youngest in the tournament, Jonathan Lekkerimaki just needs more time to develop.
The question before this summer iteration of the IIHF World Junior Championship tournament was how many goals the Canucks' talented first-round pick of the 2022 NHL Entry Draft was going to score. By the final day, when Sweden topped Czechia 3-1 on Saturday to take home the bronze medal, Lekkerimaki had none to his name.
Is it a disappointment for Canucks fans to see their top prospect not produce as expected? Sure, but before some start calling the recently-turned 18-year-old a bust, remember that just two months ago, Lekkerimaki was leading Sweden to a gold medal in his own age group — at the U18 version of the tournament — where the 5-foot-11, 172-pound right-shot winger blew away the competition with five goals and 10 assists in six games to lead the tournament in scoring.
Article content
Lekkerimaki didn't play poorly in Edmonton these past couple of weeks. He just didn't stand out. In a third-line role and on the half-wall on the second power play unit, the Huddinge product played in more of a supporting role, using his speed and puck-handling ability to notch three assists in seven games, while going a minus-1 overall.
Article content
And for a player who scouts said had average speed to go with his lethal shot, Lekkerimaki surprised everyone when he clocked in at 39.65 kilometres an hour, earning the distinction as the fastest skater of the tournament.
Article content
On the other hand, there were times where Lekkerimaki played with his head down, limiting his options, and others where he would get rubbed out along the boards too easily.
And his shot — said to be the best of the 2022 draft class — just wasn't working for him all tournament.
Article content
Lekkerimaki almost scored against Finland in a 1-0 semifinal loss on Friday, using his body to fend off a defender early in the game before getting stopped in tight on a short-side wrist shot that he tried to lift over the goaltender's shoulder.
Article content
Before the tournament started, it was clear that Swedish head coach Tomas Monten was going for the gusto in his sixth and final attempt at gold as Sweden's U20 bench boss. Sweden hadn't won a WJC title since 2012 and the pressure was on for Monten, who thought his team had a real chance to win after starting 2-0 at the WJC in December before it was postponed due to COVID.
Sweden lost a few players from that team, but gained Lekkerimaki and Minnesota Wild 2022 first-round pick Liam Ohgren, who turned 18 in January.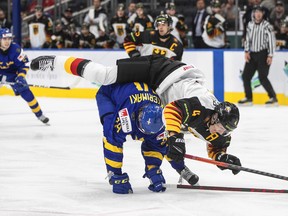 During the first game against Switzerland, Monten moved Lekkerimaki from the second line to the third, where he'd play alongside Ohgren, who had one assist all tournament and averaged 11:54 in ice time in seven games.
Article content
It wasn't until the bronze medal match when Monten took the reins off his young guns and gave them more playing time.
Article content
Few could blame Monten for leaning on his more experienced players, but the strings he pulled didn't work for a Swedish team that underwhelmed in the offensive zone.
Lekkerimaki will get the chance to improve his WJC standing at the next two tournaments — where he will be judged by a jury of his true peers — while improving his overall game at Djurgårdens IF of the Swedish Hockey League this coming season.
Lekkerimaki scored seven goals and had two assists in 26 games at Djurgårdens IF last season as a 17-year-old.
---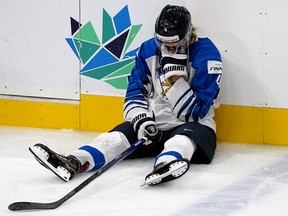 Joni Jurmo
He went to battle against the best and came out of it a better player.
Joni Jurmo looked down in the dumps as Canada celebrated a thrilling 3-2 overtime win in the championship game on Saturday night, but the big Finnish defenceman with the elite feet should be holding his head up high after a whirlwind tournament in which he repositioned himself as a legit NHL prospect worth watching going forward.
Article content
Going into the tournament, we knew the Canucks' 2020 third-rounder can skate. What pundits were watching these past two weeks was Jurmo's ability to make plays with the puck and his positioning in his own end. The strapping 20-year-old with the golden mane not only passed the eye test, but became an analytical darling in the process.
For all the ink spilled about the D-core that surrounded the Canucks prospect, it was Jurmo who led the way in controlled exits out of the defensive zone under pressure.
Article content
And it wasn't just his ability to carry the puck safely out of his own zone. The 6-foot-4, 198-pound left-shot D-man often looked dangerous on the rush and in the offensive zone, setting up teammates with the right pass at the right time.
Article content
Jurmo had some great moments at this tournament. He also had some teachable ones. Lining up against the likes of Connor Bedard, all it takes is a few extra inches of separation to make you pay — although few can fire the puck like the sensational 17-year-old North Vancouver product.
Article content
And for a player who likes to play with the puck on his stick, there were also a handful of turnovers, something Jurmo will continue to clean up next season at Mikkelin Jukurit of the top-flight Finnish Liiga.
Before Saturday's championship final, Jurmo told Finnish media outlet jatkoaika.com that he was pleased with his play so far.
"The tournament has gone surprisingly well. I came here really open-minded and I was ready to play any role that the coaching gave me. It has been a really positive tournament for my part," he said, through a translation.
"Sometimes you could play more simply. However, I like to play with the puck."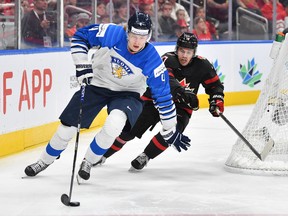 Jurmo lined up on the third pairing but got his fair share of playing time, notching an assist and an even rating in seven games played. He also didn't take a penalty all tournament long.
Article content
The big, fast D-man will now look to build off a solid second season he had last campaign, where he had two goals, eight assists and a plus-10 rating in 50 games with Jukurit.
---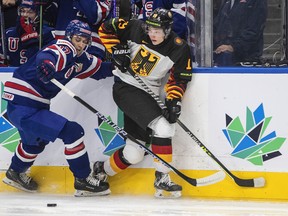 Jacob Truscott
Team USA may have unexpectedly crashed out of the tournament early, but defenceman Jacob Truscott found himself on solid footing along the way.
The Canucks' 2020 fifth-rounder played on the second pairing and played to his strengths: positioning himself well in his own zone and making crisp breakout passes. He also almost scored a goal, ringing a wrist shot off the crossbar against the Swiss early in the tournament.
Article content
In the end, the 6-foot-1, 179-pound left-shot defender finished the tournament with no points and a plus-3 rating in five games.
Truscott, 20, will play next season at the University of Michigan, his third at the school. He had two goals, 15 assists and a gaudy plus-28 rating in 40 games last campaign.
If anything, he's vaulted himself up the Canucks prospects depth chart with a good showing at summer camp last month and now a notable world juniors appearance.
---
Elsewhere: So you came here to see goals? Here's one out of Swedish exhibition action, where Canucks prospect Linus Karlsson fed Nils Hoglander with a sweet saucer pass, where the third-year Canuck put the puck between his legs to score a beauty.