A member of Canada's only other World Cup-qualifying team sees the parallels between his squad and the one playing in Qatar this week.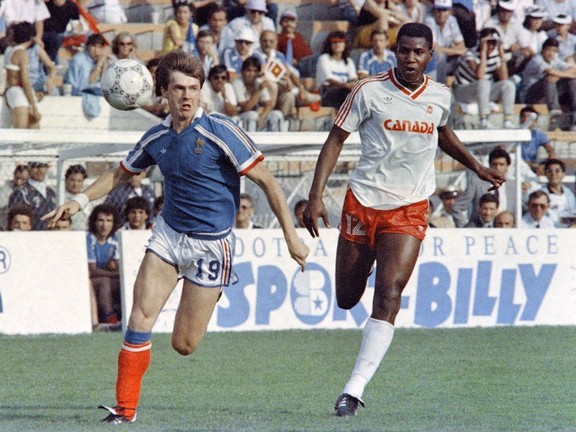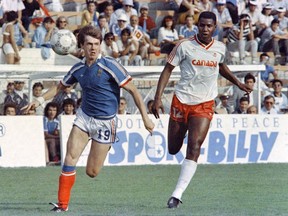 Reviews and recommendations are unbiased and products are independently selected. Postmedia may earn an affiliate commission from purchases made through links on this page.
Article content
Like four million other people in Canada on Wednesday, Randy Samuel tuned in to watch Canada take on Belgium in their World Cup opener.
Article content
That Les Rouges had made it to Qatar through a winding, shifting, uphill qualification process was a surprise to anyone who hadn't been paying attention to the team's evolution. But for Samuel, a veteran of the hallowed 1986 Cup team, the only other Canadian club to make it, there was one more surprise in store as he watched the red-shirted team file onto the pitch at Al-Rayyan Stadium in Qatar.
Article content
"I was surprised with the emotions that I felt. I didn't expect to have emotions like that," Samuel said from his Surrey home this week. "(It was) such a proud moment … It really brings back everything that you've done as a player for the national program. It really brings it full-circle because … I and many other players were pioneers for Canada.
Article content
"It's been a long time for it to happen for the second time."
Another wrinkle was the parallels Samuel, now 58, saw between the teams, starting with similarly statured opponents.
Canada's first foes in 1986 were France, the European champions, led by Michel Platini, the world's best player at the time. In 2022, Belgium are ranked No. 2 globally, were driven in the middle by Kevin De Bruyne — considered one of, if not the, world's pre-eminent midfielders.
But Samuel also saw a national team that played like a club team; a tightly knit core of players united by a culture and common cause. Just like 1986.
The only pro league with teams in Canada, the NASL, had folded in 1984, and few of the players found employment in Europe. So the Canadians toured; the Middle East, Africa, the Caribbean — "all over," said Samuel.
Article content
"(The NASL dying) was kind of a blessing in disguise because the national team became like a club team. We went and toured all over the world … we had like an eight-month prep of being together as a group which really helped us qualify for that '86 World Cup — but it wasn't planned," he said.
"(Today), it's brotherhood. You can see they have that brotherhood that we gained from being together as a group. They have that in that group. That's been a lot of their success.
"It's very, very, it's scary to me; it's almost like the perfect storm for us happened for them. But the difference is … the development philosophy in our country (now) is different. So that's going to hopefully keep producing these kind of perfect storms."
The Trinidad-born Samuel knows a little about development. During his pro career in Europe, including three Dutch sides (PSV, FC Volendam and Fortuna Sittard), coaching youth was part of the players' duties. He brought that back with him to Surrey, where he's run developmental program for players who are just picking up the game, to pros returning in the off-season.
Article content
Canada was the first country to qualify for a Cup without having a domestic league in 1986, but the CPL is now three years old and thriving — including placing alum Joel Waterman on the current WC squad.
Canada making it to Qatar on qualifying merit ahead of their position as a host team in 2026 is the result of a slow tidal change, said Samuel.
"I think that tipping point came in 1998 for our whole country," he said of the team's ill-fated and agonizing run in qualifying for the 1998 Cup in France. "I'm talking about corporations, I'm talking about government. They bought into it. So the funding came. The investment came.
"Go back to 1986 when we qualified, that was non-existent. It was a small, small pocket of people got involved in supporting the team, but it wasn't on a national scale.
Article content
"That's the maturation of what's happened now in our country. When I'm in a training session, now I have kids wearing Alphonso Davies jerseys, where you would never see kids wearing any player from our national team at that time."
Samuel lauded the women's national team for keeping the flame burning while the men's team went through their years of disappointment, and expects the flame to get even higher with the exposure of the current Cup.
"What we have to do now is take their achievement of getting to Qatar, and now in the next four years we will really see if our country is ready to have soccer as a mainstay in our country," he said. "You have all the platforms. The foundation is there … We have the domestic league. You have players established in Europe. And the excitement for kids, if you look at numbers and registration, it's gone way up. Skyrocketing.
"We don't have an excuses now. We had excuses for why we're not developing consistently good players. Now we don't."

reference: theprovince.com