The NBA's hot stove is firing on all cylinders ahead of Thursday's draft, and the Toronto Raptors aren't immune to the heat.
The buzz around a speculative OG Anunoby trade grew louder on Wednesday with Yahoo Sports' Chris Haynes saying the Portland Trail Blazers are looking for Anunoby, with their No. 7 pick in the draft a key asset in making it happen. .
Regardless of whether or not it actually becomes a reality, there are arguments to be made on both sides of the aisle as to whether or not this could make sense for the Raptors. We are going to explore.
The case for making the trade
The reason the Raptors might be looking to make a move like this would be twofold.
For one thing, despite her physical gifts and the production she brings to the table, Anunoby has had a hard time staying healthy. He has never played a full 82-game season and the career record for him in games played came in his rookie year when he dressed in 74 contests. In the last two seasons he has only played 43 and 48 games, respectively.
Although it may not seem like it, durability and availability are real skills in professional sports and Anunoby has not proven himself to be a player who can check that particular box for five seasons in his NBA career.
Second, the other big reason the Raptors would want to make a trade like this is if they were looking to take a step back when it comes to building another championship.
A pair of talented Canadian forwards in Shaedon Sharpe and Bennedict Mathurin are expected to fill in at No. 7. Both would make excellent narratives around the team and have the athletic and physical profiles that could make them true NBA players.
Also, to make the money work for the deal, Josh Hart and Nassir Little have been put forward as candidates who could return to Toronto.
Objectively speaking, Anunoby is a better player right now than whoever is the No. 7 pick and more impactful than Hart or Little.
That said, if Masai Ujiri, Bobby Webster and company have done their assessment of the team as currently built and don't see a good route back up the mountain, then trading an asset like Anunoby for a younger, high-potential piece would make some sense.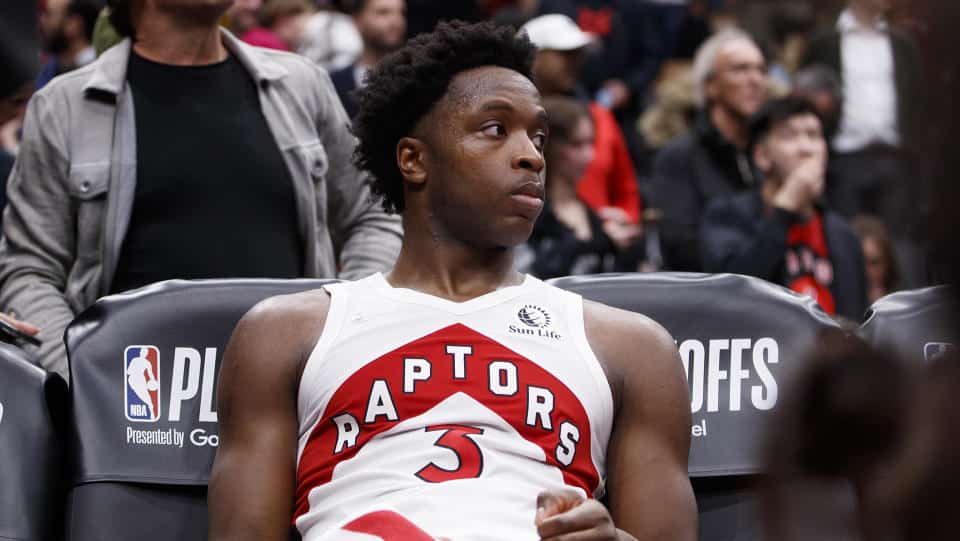 The case of not making the trade
With the devil's advocate out of the way, let's take a look at why it doesn't make much sense for the Raptors to trade Anunoby now.
The biggest reason is this: Anunoby will be 25 in mid-July, just completed his fifth NBA season, and has at least two more seasons with a player option for a third at an average team friendly annual value of $18 million. . Although he was injured again, he averaged a career-high 17.1 points per contest last year as his offensive game seemed to expand once again, suggesting he still has plenty of untapped potential.
So knowing all that, why would the Raptors trade Anunoby just to trust the potential of the No. 7 pick, Canadian prospect or not?
Even if the deal involved, via a sign-and-trade scenario, someone like Jusuf Nurkic, who would help solve Toronto's center woes, or a very promising young player like Anfernee Simons, who would also have ended up in a situation. Sign-and-Trade: Give up high-quality 3 and D strength type with potential to become a shotmaker that Anunoby still wouldn't be worth.
Yes, the injury history is concerning, but that's just a risk the Raptors will have to live with because all signs point to them looking to move on with the team they have now.
Fred VanVleet is a stellar point guard, Pascal Siakam is back to being an All-NBA player and Rookie of the Year Scottie Barnes could be a franchise-changing superstar. And with Anunoby, the Raptors can make another run at things, as he is now ready to step into a big role and help the Raptors win games.
As mentioned above, trading Anunoby would suggest the team is looking to step back, but why would Toronto look to do that with the team's setup right now?
It wouldn't make much sense.
More from Yahoo Sports


Reference-ca.sports.yahoo.com