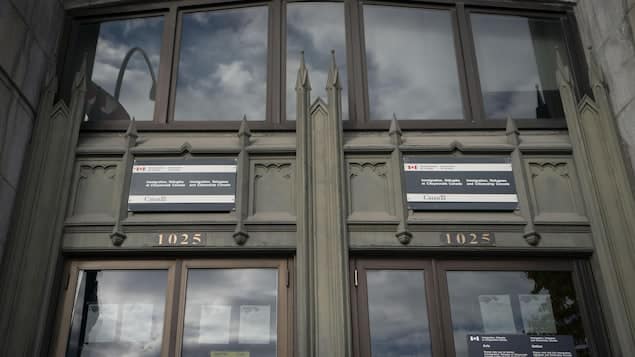 Why do these immigrants who want to obtain their permanent residence in Quebec often have to wait much longer than others settled in other provinces?
For a rare time, Immigration Canada has just revealed some factual explanations as part of a legal process.
Pursued by a group of Quebec lawyers, the federal ministry of Immigration evokes an outdated organization, the pandemic or even security checks to justify this difference in the deadlines.
Currently, a skilled worker who has already been selected by the Quebec government must wait 31 months, on average, to obtain permanent residency. This delay was 6 months in the federal section which serves the other provinces of the country, but it recently climbed to 27 months, according to data available on the Immigration Canada website.
Over 29,000 files pending
In a brief filed in Federal Court on April 19, obtained by Radio-Canada, Immigration, Refugees and Citizenship Canada (IRCC) reveals that it currently has more than 29,000 applications for permanent residence, pending processing, from Quebec skilled workers.
Nearly 10,000 of these files were sent to Ottawa before 2020. Some have even been awaiting a federal decision for more than ten years. These include, explains the ministry, security and crime issues or a failure of a person to cooperate who can delay a case.
Inventory of applications for permanent residence in the Quebec skilled worker category
Between 2009 and 2016: 213
2017: 621
2018: 4411
2019: 5026
2020: 5336
2021: 13,641
Immigration Canada, which contests the request of the Quebec Association of Immigration Lawyers (AQAADI), claims to have already processed a good part of the applications for the years 2018 (84.5%) and 2019 (75, 8%), but admits to having faced difficulties afterwards.
" The Minister notes that, in fact, there was, for a certain period in 2020, a considerable slowdown in the processing of immigration applications, all categories combined. »
The ministry therefore decided toincrease its targets for the next few years in order to correct the situationas has already been mentioned by the Trudeau government.
No measurement

planned before the pandemic
"There is no injustice or bad faith in the actions taken by the Minister", it is noted.
To justify this inventory, IRCC prosecutors speak of a operational impact on the processing of files processed on Canadian soil [qui] was significant. A "significant slowdown" affected all "categories" of immigration.
The main Quebec case processing office, located in Sydney, Nova Scotia, has become inaccessible to its employees at the start of the pandemic, in mid-March 2020, can we read in this memoir.
Given the sudden and unpredictable nature of the pandemic, no measures were in place to fill this void.it is specified.
Unlike the other federal categories, whose records are created electronicallythe demands targeting Quebec workers were at the time on paper.
" Given the information protection issues involved, it was not possible to allow the files to be transported to the homes of the officers. »
From summer 2020 to March 2021, Immigration Canada has implemented an in-house program to digitize files and allow agents to consult documents via a secure computer network.
This measure allowed agents to process cases, but at a level that was not the one prevailing before the start of the pandemic in March 2020.
Immigration Canada, however, waited a year after the start of the pandemic to move up a gear. In March 2021, the ministry decided to entrust a specialized private company with the digitization of files to to increase the number of files that can be processed.
At the beginning of that same year, measurements have also been taken so that immigration officers can have a larger computer screen, then a second screen if needed.
Due to the "restrictions imposed on travelers around the world, IRCC has also "prioritized" the files of Quebec workers "already on Canadian soil", as of "August 2020". Thus, "files submitted in 2021 were processed more quickly than normal. However, in January 2022 and to this day, IRCC resumed its practice of initiating the processing of files according to their order of arrival", argue the prosecutors of Immigration Canada.
All these details come from a testimony – the only one filed to date in the file – of an IRCC supervisor in Sydney, Tracey Moore, which was conducted in English.
Delays

which are not justified

according to AQAADI
These explanations do not convince the AQAADI, which seized the courts in order to quickly settle these thousands of pending cases.
If IRCC sees security considerations come into play with regard to these thousands of files, which remains speculative, then it can and will certainly finally have to focus on these issues, while these requests have been waiting for a response since 2009 for certain files.underlines the lawyer of the AQAADI, Guillaume Cliche-Rivard, in the reply of the association, also filed in the Federal Court.
" No security issue could excuse the failure to render a decision (whether positive or negative) in more than 13 years of treatment. IRCC cannot justify its inaction by the complexity of a file over more than a decade of processing. »
In his view, the ministry remains responsible for its own delays which are not justified.
"The Minister explains the fact that the applications were submitted on paper from Quebec and not in electronic format as for the federal program, but this is a choice made by IRCC. The Minister also submits that the files were processed in Sydney, an office impacted by the pandemic, but once again, this turns out to be an IRCC management decision. »
The Federal Court has not yet ruled on this application for authorization and mandamus.


Reference-ici.radio-canada.ca