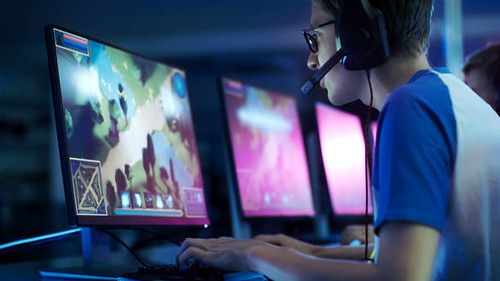 Why Esports Is Coming To Canada (And Why We Should Be Hyped For It)
What do you think of when someone mentions 'video gaming' to you? If you're from a certain generation, the term might conjure up nostalgic images of putting quarters into arcade machines for another game of Pong. Or, if you never got to enjoy that 2-bit piece of history, video games might stir an image of a layabout sinking dozens of hours of their week in their bedroom with a severe lack of DMs in their phone. One thing we bet you probably don't think about is: 'lucrative money-maker'.
And yet, the video game industry and its many arms have grown in recent times to dominate the entertainment space. Estimates put its valuation at $385 billion for 2023, making it bigger than its film and television counterparts put together. In this article, we're going to attempt to explain how gamers are making careers out of gaming, why Canada is set to join this rising wave, and why Canadians should be excited about this growth!
What Is Esports?
For as long as people have been gaming, they have been competing against each other. Gaming is all about the feisty competitive spirit it encourages, with being the best at your chosen titles being the ultimate flex anyone could hope for. And, as games have become more accessible and better quality, events and tournaments centred around them began to sprout up around the world.
More people arrived to watch these events, and the rise of online streaming on platforms such as YouTube and Twitch helped get them in front of more audiences than ever before. Sponsors and organisations, noting their popularity, began improving the tournaments with better facilities, better venues and, crucially for the gamers, better prize pools to be won.
And that is, essentially, a brief overview of the history of Esports and where it finds itself in 2023.
Esports In Canada
Canada has never historically been a major player in the Esports revolution. Whilst gamers have continued to trickle through into prominence on the back of teams and events organised in the United States, it's safe to say the emphasis has remained firmly on real-world sports such as Hockey and Basketball.
Unlike other countries around the globe such as Denmark that have actively invested in innovative Esports programmes designed to produce the next generation of superstars, the Government in Canada seems content to let the industry manage itself.
But, investments by some major players have already begun to open the gates for this to change in the coming years. The most exciting of these has come from Global design firm Populous and OverActive Media, a company that owns four Esports teams and has received investments from the likes of Toronto Maple Leafs star Mitch Marner and The Weeknd.
An Exciting Project
Populous and OverActive's fancy state-of-the-art Esports venue has been in the works for a number of years now, but the significance of Canada receiving its first gaming-centred building still shouldn't be underestimated.
The plans, which are still slated for a late 2025 grand opening, include a 7,000 seater venue connected to a 30-storey hotel located in Toronto's Exhibition grounds. And whilst the building will be used for concerts, hosting talks, award shows and other large-scale events, its primary purpose will be to provide a home for the likes of the Toronto Defiant in the Overwatch League and the Toronto Ultra in the Call of Duty League.
What's more, recent plans have shown this venue in Canada's largest city will include an incredible LED screen that will stretch across its entire south side, viewable to drivers on the Lake Shore Boulevard.
And it's not only Toronto investing in its Esports infrastructure. At St Clair College, a new Esports hub has been opened named the 'Nexus'. It comes with state-of-the-art playing facilities, VR areas, and analysis rooms designed to help the next generation of gamers to thrive.
Untapped Potential
In terms of the all-time Esports earnings charts, Canada currently ranks eighth in the world with $27 million earned from its professional players. Whilst that figure is a longways behind the United States (the dominant leader with $138 million), that number is better than countries such as the United Kingdom, Germany, Spain and Australia.
It's clear that gamers in Canada have a natural affinity for competitive games like CS:GO, League of Legends and Fortnite. If they are given the tools and facilities, Canadian gamers could be bringing even more serious stacks back home with them.
And projects such as OverActive's venue build go a long way in showcasing to the rest of the world that Canada is not only content with nursing such talent but also welcoming it. As games like Counter-Strike, Fifa, Overwatch and Fortnite usher in new eras in their respective franchises, there's never been a better time for Canadian Esports to flex its muscles as one of the world's market leaders.