The Vancouver Whitecaps are going back to the Canadian Championship final for the second straight year, but the win had no joy, after a scary injury to their ascendent young midfielder, Ali Ahmed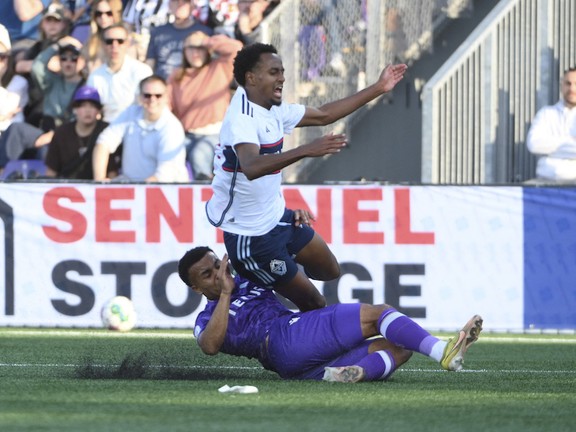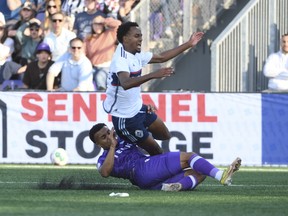 Reviews and recommendations are unbiased and products are independently selected. Postmedia may earn an affiliate commission from purchases made through links on this page.
Article content
With a perfectly executed volley, Ali Ahmed's story had added a fairytale chapter. The Vancouver Whitecaps midfielder, just six months after signing his first-team contract, had put the Major League Soccer team up 2-0 17 minutes into their Canadian Championship semifinal against Pacific FC on Wednesday night.
Article content
His celebration was a simple fist pump, even if the goal warranted so much more. It had energized an entire organization desperate for redemption after crashing out of the competition in the same stadium, against the same team, in 2021.
Article content
Then, his dream story became a nightmare.
Two minutes after scoring, Ahmed was scythed down by Pacific defender Cédric Toussaint in the Tridents box. He crashed down hard on Starlight's artificial turf, his arm bending gruesomely underneath him before his head smashed into, then bounced, off the green.
It was a hard, tackle, verging on brutal, but veteran referee Drew Fischer adjudged it to be legal.
Article content
The 22-year-old Ahmed remained motionless, and most likely unconscious for minutes as the training staff from both teams huddled around him. Seventeen minutes passed, with team officials and players holding blankets up to hide him from view, before he was strapped onto a stretcher and taken to hospital.
"I didn't quite see exactly what happened," said midfielder Julian Gressel. "The scary moment for me was when I saw them go over with the board to pick him up. I saw his chest moving, which was a big thing for me, that I saw him breathing and his eyes were closed, and everyone was waiting for the trainers to come out.
"Your first thought is 'Is he OK? Thankfully he was awake (eventually), he was breathing, he was he was asking what happened and all those types of things, he was moving everything so you know, so at least we knew that as we continued.
Article content
"You just try to refocus, try and get back to doing the things we were doing before, because I thought we were doing pretty well. After 5-10 minutes, we kind of just needed halftime to kind of reset and talk about it as well. We walked about it first thing. It wasn't about tactics, it wasn't about the game. And yeah, it was difficult. Obviously credit for the guys to get through that difficult moments … regroup at halftime and ultimately win the game for him."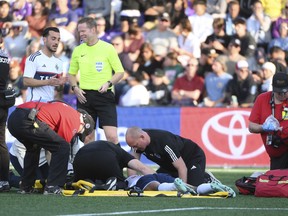 He was conscious and accompanied by a member of the Whitecaps medical staff to Victoria General Hospital, where he was expected to remain overnight, but no immediate updates on his condition were available.
But when the game did eventually resume, the heart had been taken out of it, with all thoughts on Ahmed's condition. When Simon Becher scored his team's third goal, he held up two fingers on each hand for Ahmed's No. 22 — before forming a heart.
Article content
The final score, 3-0, was a hollow victory for Vancouver, even if they earned the right to host Montreal in the Canadian Championship final on June 7.
"They're all worried about him, wanting him to be home with us in Vancouver as soon as possible," an emotional Vanni Sartini said post-game. "And we're happy that we finally when he comes on, we have a final to look forward to."
Article content
Ahmed's path to the pros was a rocky and uncommon one, as he turned down a spot with Toronto FC's academy to try his hand in Europe. The experience was a dismal one, as he racked up the miles traveling Europe as an 18-year-old, alone on a different continent.
He returned home, eventually finding his way to the Whitecaps organization. He impressed at training camp in 2022, but they kept him with the MLS Next Pro team, where he was their standout player, leading the team in assists.
He signed his first-team deal in November, and had been a revelation this year with the Whitecaps, his darting attacks and quicksilver transitions making him a fan favourite while he racked up a goal and an assist in league play.
Article content
The 5-foot-9 Toronto native just got his first call-up to the national team, with John Herdman naming him to the preliminary roster for the Concacaf Nations League Finals. Of the 60 players called to camp, 23 will make the roster for the tournament.
Canada plays Panama on June 15 in Las Vegas at 4 p.m. PT, before facing either the U.S. or Mexico in the in the final or third-place game on June 18.
Ali and his four siblings grew up in the Toronto district of Lawrence Heights — "The Jungle," the locals call it, a neighbourhood fraught with gun violence and drive-bys — after their parents, mom Muna and dad Afendi, emigrated from Ethiopia's Oromo region in the late 1980s.
Soccer was his lifeline.
"Man, this game, this ball, it's taught me so much — and not even just about soccer. It's taught me how to be a good human, how to be a good person," he said. "This small ball, since I was like five, six when I started kicking it, I didn't know it would teach me life. But it taught me life, taught me happiness, and gave me happiness."
Article content
NOTES: U.S. International Julian Gressel had the opening goal for the Whitecaps, his second goal of the competition this year. … Montreal had beaten CPL leaders Forge 2-0 earlier in the day to make the final. … The Whitecaps had 63 per cent possession but were outshot 16-10 by Pacific, with Yohei Takaoka being forced to make several diving saves to preserve the shutout. … After last year's win, Sartini got a tattoo of the Voyageur's Cup on his arm, along with the date. He said he's left some room to add in another date underneath the first. "We go more mature than last year," Sartini said of the final. "We are conscious that we can do something that this club has never did before — winning the Canadian Championship back to back. So let's try to make history."
Article content
The road less travelled for Whitecaps prospect Ali Ahmed

Canadian Championship: Either ghosts or glory await the Vancouver Whitecaps at Starlight Stadium
---
Spring subscription sale: Our in-depth journalism is possible thanks to the support of our subscribers. For a limited time, you can get full online access to the Vancouver Sun and The Province, along with the National Post and 13 other Canadian news sites, for just $40 for one year or $1 a week for 52 weeks. Support our journalism by subscribing today: The Vancouver Sun.

reference: theprovince.com