There was a dramatic rally to victory from two goals down the last time they were in Portland, but there were no late heroics against the Timbers this time — just a solid away performance that kept Vancouver in the playoff mix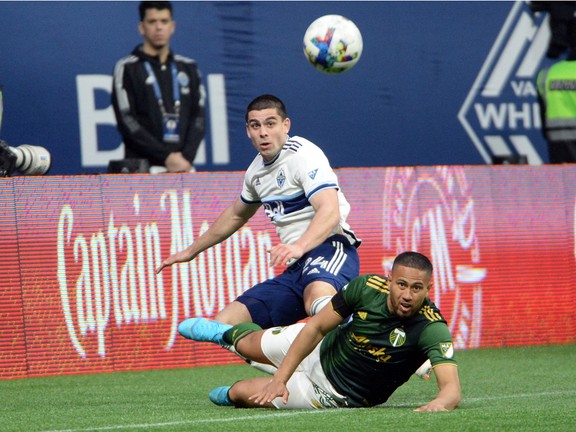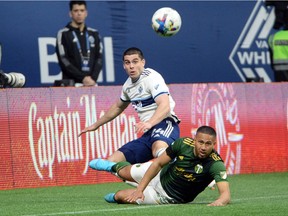 Reviews and recommendations are unbiased and products are independently selected. Postmedia may earn an affiliate commission from purchases made through links on this page.
Article content
In their last visit to Providence Park, an 82nd minute penalty kick gave the Vancouver Whitecaps the win.
Article content
On Sunday night, an 82nd minute penalty kick snatched it away from them.
After holding the lead since Brian White's 32nd-minute header, Felipe Mora's 82nd-minute PK tied up the Cascadia Cup clash, and the game finished in a 1-1 draw.
---
NEXT GAME
Saturday
Chicago Fire vs. Vancouver Whitecaps
7 p.m., B.C. Place. TV: TSN, Radio: AM730
---
The Timbers' (6-6-9) undefeated streak stretched to six games, while Vancouver (7-9-5) posted their second straight road draw.
Here's what we learned …
---
BY THE NUMBERS
64: Possession for Portland in the game. The Whitecaps have yet to win that stat in a game this season.
379: Number of minutes Andres Cubas had gone without surrendering a goal as a starter. Felipe Mora's penalty kick in the 82 minute — the fifth straight game the Timbers have got a penalty kick — didn't come in open play, so that streak will continue, at least.
Article content
7: Number of shots on goal by Vancouver, two more than Portland. The Timbers had a 17-14 overall shots advantage, but the Caps had the better chances.
Article content
BAR NONE
The playoff bar will have to wait another week.
Sunday's draw has the Whitecaps treading water in the Western Conference, sitting 10th overall instead of the seventh place a win would have brought.
But Vancouver has just one loss in their last six games, and now play their next two at home against Eastern Conference opponents — a league match with Chicago and the Canadian Championship title game with Toronto FC.
---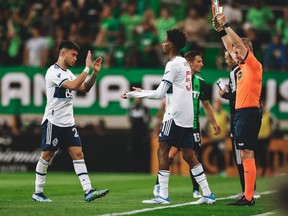 EL POLLO LOCO
It's three straight games with an assist for Ryan Raposo.
The third-year player has come into his own in 2022, tying with Cristian Dájome and Ryan Gauld for the team lead in assists (3) and sitting third in goal involvements.
His pass to White to open the scoring in the 32nd minute was a magnificent piece of skill, with his early cross curling to the far side of the box to a diving White. It put the Whitecaps in the drivers' seat, as Portland held an 0-5-3 record this season when giving up first goal.
Article content
---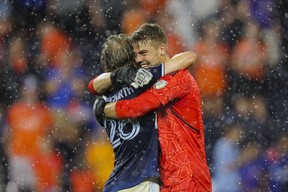 THE MAD BOEHMER
Isaac Boehmer was impressive making his MLS debut in an emergency capacity when stepping in for an injured Cody Cropper against FC Cincinnati on Wednesday. On Saturday, he was better.
The kid from Okanagan Falls made four saves in the game, including a diving fingertip stop on Cristhian Paredes midway through the first half. Portland's Sebastian Blanco tried a couple times to ruffle his feathers, including giving Boehmer a shoulder when the Caps keeper had gathered the ball and was walking up field, but the 20-year-old barely reacted. Centreback Ranko Veselinovic and Blanco did have a long "conversation" behind the play, however.
And seconds into the second half, after Timbers keeper Aljaz Ivacic made two spectacular back-to-back stops on Gauld and White, Boehmer made an outstanding stop on Jaroslaw Niezgoda after Russell Teibert inadvertently headed the ball to him at the back post on a corner.
Article content
In the 77th minute, after Michael Baldisimo was caught ball-watching inside the box, Claudio Bravo came knifing in to hammer a loose ball from 10 yards out that Boehmer pushed over the bar.
Overall, Boehmer showed poise, confidence and command in his box, as the goalkeeping factory run by Youseff Dahha has pumped out another great candidate.
He was also helped out by a defensive unit that blocked six shots, including a point-blank sliding interjection from Jake Nerwinski in the second half.
---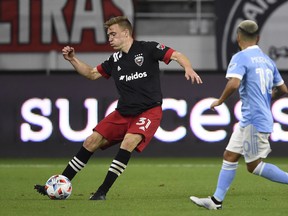 WHOLE WORLD FLIPPED UPSIDE DOWN
The rug was pulled out from under him, but now he's on the magic carpet ride.
Julian Gressel surfaced Sunday morning on the podcast he co-hosts with fellow German and Chicago Fire player Fabian Herbers — the Zee Podcast (@zeesoccerpod) to talk about his shock trade from D.C. United to Vancouver this week.
Article content
Gressel talked about being called into a meeting with Wayne Rooney, GM Lucy Rushton, and sporting director Dave Kasper on Friday morning, where they dropped the bomb: he'd been traded to Vancouver.
He left he meeting to discover it was already all over social media. His teammates were showing him the tweets; friends had already texted his wife. Gressel called his agent, who also didn't know that the paperwork had been signed and sealed the night previously.
"I felt a lot of emotions. I was in shock, to be honest, at first. I was mad at the process, how it all went," he said. "And I just kind of wanted to get out of there. I just felt a little bit embarrassed, as well.
" … You feel a lot of emotions in that sense … you're almost in disbelief that it happens that quickly, and your whole world gets flipped like that."
Article content
The wingback had no idea the Whitecaps were interested; they weren't one of the teams that had reached out to him before. Gressel drove back to the Virginia home he'd recently bought with his wife Casey, with "a million thoughts" running through his head.
There, he talked with his wife and agent, and the feeling of the world collapsing slowly began to ebb away. He understood the business side of the decision, and even that a new coach might not rate him.
But it was the manner of the trade that irked him.
He said he wished they'd come to him and let him know they were shopping him, and he would have been happy to work with them to find a solution. After talking with Axel Schuster, he discovered Vancouver wasn't allowed to talk to him beforehand.
Article content
"I just don't like the way it happened. That's what I have a problem with," he said. "I was completely kept in the dark about all of this. I'm just get told I'm not a DC United player anymore while I'm wearing their training clothes. It's that type of thing, of not seeing it coming."
His talks with Schuster and Vanni Sartini were more than reassuring; they injected some excitement into Gressel, who called their initial discussions "amazing." He was extremely grateful that the Caps had given him time to get his house in order and put no additional pressure on him to join the team quickly.
There's finding daycare for his 20-month old daughter. His wife has a job. Her parents, who lived in nearby Boston, used to help on weekends.
Article content
The plan is for him to fly to Vancouver on Monday, while his wife and baby will meet him in Nashville for the Whitecaps game on July 30, after which they'll fly back to Vancouver together.
HIs first potential game with Vancouver will be the July 23 game, ironically against his co-host's team, the Chicago Fire.
He only knows fellow German Flo Jungwirth by name, and the only Caps player he's been in contact with so far has been Jake Nerwinski — the player taken seventh in the 2017 MLS SuperDraft, one spot ahead of him. Nerwinski reached out to him on instagram and added him to the players' WhatsApp chat.
"I hope I can make an impact right away," he said. "I'm excited to get to know the club and be open to that challenge.
---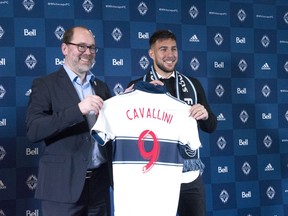 IMPROVE FROM WITHIN
Article content
The acquisition of Gressel, arguably the best wingback in the league, has shown Schuster's willingness to do something previous talent buyers were not: shop within MLS.
Rarely did an impact player come in from within the confines of North America in the Carl Robinson era, and neither in the first Marc Dos Santos years. But Schuster, and his insightful talent recruiter Nikos Overheul, recognize the undervalued upside of domestic talent. The additions of White and Tristan Blackmon have been more impactful than any other non-DP signings since the start of 2021.
"I think our philosophy is first to look in the league and to see if there's an option, because it's easier for the players to adopt and also, as a Canadian Club, you still have a little bit of a disadvantage with international spots," he said.
Article content
"And I think a little bit experience in this league … is actually helping us because we have signed a lot of young internationals to this league that are also growing," he said, listing Pedro Vite, Deiber Caicedo and Caio Alexandre as internationals who benefit from this.
"It helps them also to have a little bit more stability and experience around them. So this is part of the strategy."
The secondary window opened on July 7 and runs until Aug. 4, and Schuster said if there's an opportunity to improve the team in a manner that takes them to the next level, he will.
"The window's still open for a while. So again, if there's the right one, the right fit and the right profile for us, we will act," said Schuster. "And we are able to act. This (Gressel) deal has not eaten all our allocation money.
"I think we are a team that can make the playoffs already. And so everything we want to add on to this team has to be a step forward and not just filling a gap or helping us all in one area if somebody is injured."