Linda Barnard takes a culinary tour to help you decide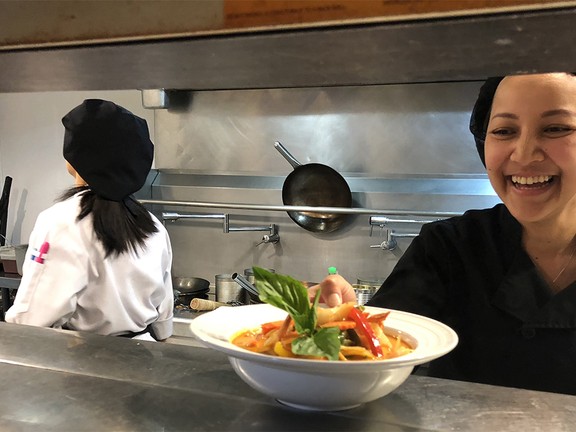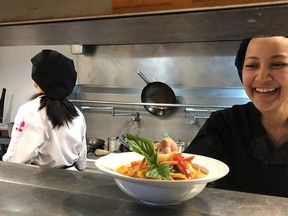 Reviews and recommendations are unbiased and products are independently selected. Postmedia may earn an affiliate commission for purchases made through links on this page.
article content
When Atsawin Sumpantarat moved to Kelowna from Thailand with his family at the age of 17 in 2003, it was impossible to find pad thai that wasn't made with ketchup.
article content
"I was, wow, I would never go to a Thai restaurant here," said Sumpantarat, now 36.
As chef and co-owner of thai terrace in the city's historic center, Sumpantarat makes true Thai dishes, part of a diverse and ever-changing food scene in the Okanagan Valley's largest city.
Whether Kelowna chefs share cuisine inspired by their family's kitchen or build menus with the bounty of local farms and vineyards, authenticity is the focus, Sumpantarat said. It's a big change from a decade ago, she noted.
He and his wife Atchara (Ess) make colorful dishes emblematic of the salty, spicy, sweet and sour balanced flavors characteristic of Thai cuisine. Ess is the only one capable of deftly tying pieces of blanched scallion around the top of the restaurant's popular fried Money Bags appetizer, a wrap filled with aromatic minced chicken, vegetables, fresh herbs and noodles. She handles the difficult task while she watches Thai soap operas, Sumpantarat said, admiration in her voice.
article content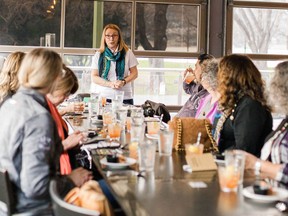 Thai Terrace is one of the restaurants at Nancy Quinton's Okanagan Food Tourswalking tours that are an introduction to the depth of culinary diversity and talent here.
Quinton started the business in 2015 after he moved to Kelowna and couldn't find a food tour. While visitors often come to Kelowna for winery tours and experiences, Quinton wanted to offer people something beyond the vines.
"I thought it was a great way to learn about this city, try new foods, new restaurants," he said. "We're seeing a lot of that big city feel coming to Kelowna with the restaurant scene."
It's partnered with a dozen downtown restaurants, including a snack at five restaurants, on the three-hour tour.
Our tour began at Chef Rod Butters' impressive restaurant. The Okanagan Tablewhich opened in 2019 as a commissary kitchen for the three downtown Kelowna restaurants she owns with wine expert Audrey Surrao.
article content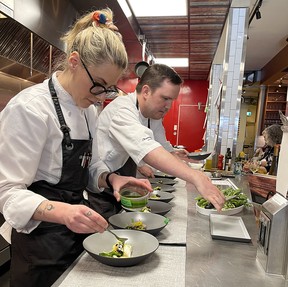 It has expanded into an event space for long table dining, as well as a teaching kitchen, where curious foodies take cooking classes to hone their risotto or rotisserie skills with culinary instructor Kelsey Oudendag.
Butters, who brought fine dining to Tofino as the founding chef of the Wickaninnish Inn's Pointe Restaurant, has been a culinary force in and around Kelowna since moving to the Okanagan more than two decades ago.
He and Surrao opened upscale Fresco Restaurant & Lounge in 2001. They also own RauDZ Regional Table (formerly Fresco), micro bar & bites tapas bar, and Sunny's Modern Diner.
A bijoux supply store just inside the entrance to The Okanagan Table has a stack of Butters' 2017 cookbook The Okanagan Table: The art of cooking at home every day. "I guarantee you it's the smallest store in the world," Butters said. "But with over 160 items, it's the most unique store foodies have ever seen."
article content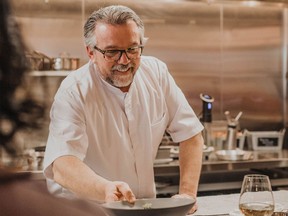 The spacious main room is anchored by a long counter facing the open kitchen. I took a seat and watched Butters and her team prepare milk-poached halibut topped with an edible flower, thinly sliced ​​charred broccoli, and a mousse-like lemon hollandaise sauce. Surrao paired it with Fritzi's Vineyard Riesling from local winery Martin's Lane Wine. Delicious.
El Taquero Tacos and Tequila gave us a taste of the delicious results of Mexico City native Israel "Izzy" Camarillo's goal of bringing authentic Mexican street food to Kelowna.
He and his wife, Marnie Burnett, met in Vancouver, moved to Kelowna and opened the small restaurant in 2015, which serves homemade tortillas, pozole and tortas. The menu features recipes Izzy learned from his mom.
article content
It took some time to encourage locals to think outside the box of roadhouse-style burritos, but not only is El Taquero busy, so is the catering side of the business, Camarillo said.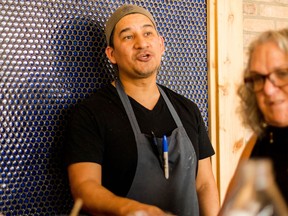 Camarillo made us some spicy and citrusy BC halibut and salmon ceviche tostadas. The off-menu item was a tribute to his earliest memories of arriving in Canada in 2009 and seeing huge displays of smoked salmon for sale at YVR stores.
We drank Honey-Habanero margaritas made with hot pepper-infused honey, smoked mezcal, lime juice, and a splash of limoncello.
The massive two-story brick and beam space, the former British North American Tobacco Company warehouse in the downtown cultural district, was reborn as BNA Brewery and Restaurant in 2015, a craft brewery, tasting room, restaurant, and large kids' play area with an indoor bocce ball court, Airstream tow bar, and 10-pin bowling lanes.
article content
In addition to burgers and fish tacos, The Eatery's menu includes Filipino fried rice with pork belly marinade, beef rendang, cauliflower korma and spicy kung pao street fries.
A plate of sautéed mushrooms on toast with walnut pesto, tarragon cream, and tangy melted taleggio cheese was just the thing to have with a tasting flight of three of BNA's dozen or so house brews.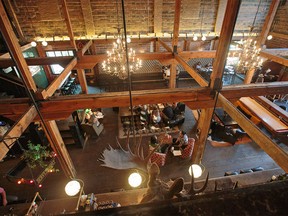 It's not on the food tour, but it's also worth checking out Frankie We Salute You at the multi-restaurant dining destination Landmark District Market at 1717 Harvey St., just steps from the Hyatt Place Hotel.
in the new Block House Restaurant At CedarCreek Estate Winery, a 20-minute drive from downtown East Kelowna, chef Neil Taylor makes wine a key part of the locally sourced cuisine. My lunch included a sweet potato roasted on the open grill in the dining room, with mashed peas, wild chives, and a dash of spicy tartar sauce. And you can't beat the view across the vineyards. A two-course lunch with wine pairings costs $65.
article content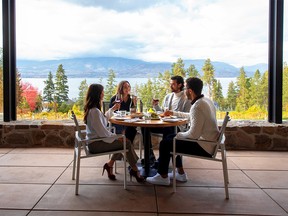 Also don't miss the humble butcher dining room opened in 2020 by Mount Boucherie Estate Winery in West Kelowna as part of the Wine Experience Center expansion. Dine in the main level dining room, lounge or patio, or reserve a private dinner at a long table in the lower level Summit Room. Our four-course Epic Set menu ($155 per person) lived up to its name and included filet with béarnaise sauce, crab and lobster.
Epic.
Linda Barnard was hosted by Tourism Kelowna and Hyatt Place Kelowna, who did not foresee this story.
If you go
The Okanagan Food Tours it's $125 per person, or $95 for non-alcoholic food only.
To stay
Hyatt Place Kelowna, 1915 Enterprise Way, opened in 2020 and has an indoor pool and free self-service breakfast at The Placery lobby restaurant. Guests can use electric bikes for free. There is a free shuttle service to Kelowna International Airport, 12 km away. A third floor terrace bar is planned for the summer.