But by spring wave 6, everyone seemed to be over the whole pandemic thing. Then I remembered why we shouldn't be.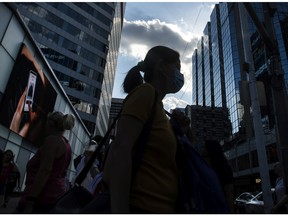 .
The following is written in response to "COVID-19 was not the mild case I expected," posted on August 6:
.
I feel very fortunate that almost two and a half years into the pandemic, COVID has still not knocked on my door.
This is due to a combination of factors: the good fortune of working from home; the ability to pick up our daughter for lunch last school year (like something out of a polished '50s childhood, and an experience I'll be forever grateful I had); and, of course, careful and conscientious following of public health advice, and then some.
In addition to being fully vaccinated and double-boosted, our family wears masks in stores and other indoor public spaces. We socialize outside. We eat takeout. And we have avoided group activities and crowded places.
Where does this lead us? In a strange and liminal space, where we feel a bit trapped, to be honest.
.
Our many friends who have had COVID, some more than once, had different reactions depending on the wave that hit them. In the fall of 2021, people were shocked, upset, and scared. But by the sixth crest of spring, everyone was over the whole thing. It was an inconvenience, no doubt. And there was persistent cough and runny nose. But it was no longer a millstone or a scarlet letter. It was just something that happened, like a weed infestation on the front lawn or a broken appliance. A "I wish I hadn't" situation, but nothing to write home about.
While our extremely careful approach has allowed us to dodge the COVID bullet, it has not come without a significant cost of our own. I'm not complaining, but I was beginning to wonder if there is any freedom in getting the virus and moving on.
.
Whereas once I would have told you that I would like to eat out from time to time, my desire to live outdoors grows in proportion to the duration of the confinement. I'd like my daughter to go back to swimming lessons, but I also want to go on a goddamn trip. I realize that I am very lucky to have the possibility of these options, but not exercising them is starting to feel like a side effect in itself.
Then I read an article by Amber St. Louis in Citizen, which helped me recalibrate my thinking. St. Louis, a healthy, fit, double-boosted 20-something, describes a battle against COVID too often left out of public discourse: When the disease makes a healthy person depressed, makes them very ill, hits them longer . long-term side effects, but does not require hospitalization. In short, she describes that beyond being sick, she was also afraid.
.
We often say that there is nothing more important than our health. Mostly, we say this flippantly, like when we're asked to express something we're grateful for right before "…and you can pass the gravy."
But when I see the state of our emergency rooms, the exhaustion on our health care providers' faces, the exodus of nurses, I realize that playing it safe isn't just about keeping our family healthy. It is also a small nod to public service. It is an act of personal responsibility, to be sure, but it can have a positive ripple effect in an ocean of uncertainty.
For now, at least, that will have to do.
Suzanne Westover is a writer from Ottawa.