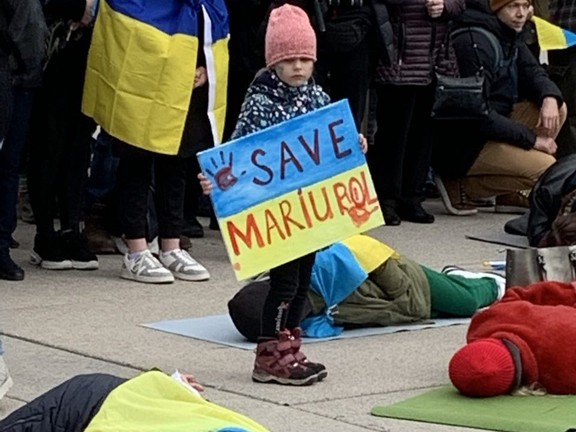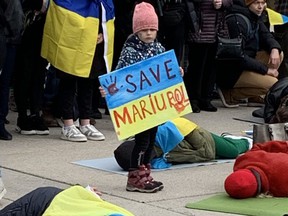 Article content
The blue and yellow sign in the little girl's hands offered a simple message.
Article content
"Save Mariupol."
But the messaging portrayed around her at Nathan Phillips Square Sunday was not as gentle.
Protesters — many draped with Ukrainian flags and with their arms tied behind their backs — were lying face down to mirror images that have surfaced from Russia's invasion of Ukraine.
There were plenty of accusations about atrocities at this event.
"Forty-five days ago, Russian soldiers intruded on to our soil, into our cities, towns, villages and homes," said a protester.
Since then, thousands of civilians and soldiers have died.
One more death is one too many for Marc Shwec, chair of the Stand with Ukraine Committee, who warned the conflict could go on for years and result in thousands of additional deaths.
Article content
"We have to do whatever we can do to save lives," he added.
the toronto sun reached out to the Russian embassy in Ottawa for comment late in the day, but received no response.
Shwec said Canadians wishing to help can provide financial and emotional support to Ukraine.
He also called on Canada and other NATO countries to send weapons to Ukrainian President Volodymyr Zelenskyy's troops.
The time has come to start working on plans to offer sponsorships to Ukrainian refugees fleeing their cities and towns, added Shwec.
While Prime Minister Justin Trudeau has not so far named a number of refugees that Canada can take, Shwec has a number in mind.
"I think we could easily handle 100,000 people," he said. "We have the capacity within our community to do that."
Article content
I have credited the Trudeau and Ford governments for getting the ball rolling.
"Doug Ford's $300-million commitment will really help," said Shwec.
Immigration Minister Sean Fraser's decision to not demand biometrics from children or seniors was appreciated, too.
The key is to "streamline" things to help move these applications along faster than in usual cases. Canada has a lot of experience with this.
In recent times, we have seen conflict drive thousands of Syrian and Afghan refugees to Canada.
On Palm Sunday, Pope calls for Easter truce in Ukraine

Ukraine's Zelenskyy braces for 'hard battle,' UK's Johnson visits
In both of those cases, red tape slowed the process down to almost a standstill. In the case of Ukraine, Shwec said while he understands people must be vetoed for security reasons, there needs to be ways found to expedite the approval process.
When you see a young Toronto girl standing in front of a mock massacre begging for help at City Hall, you can't help but hope this ugly war is over soon.