Article content
Alice Aspinall's innovative approach to teaching high school math at Walkerville Collegiate Institute has earned her a Prime Minister's Award for excellence in teaching Science, Technology, Engineering, and Mathematics (STEM).
Article content
Aspinall received a Certificate of Achievement signed by Prime Minister Justin Trudeau for "making mathematics accessible to more students and for his innovative strategies to help students develop a greater understanding of mathematical concepts," according to a press release. from the federal government announcing the awards to 68 Canadian Educators. "Finding new ways to present information to students is an important part of Alice's teaching style. She is continually learning innovative strategies to help students develop an understanding of math concepts. "
Aspinall has been in Walkerville for the past 12 years.
A colleague described her as that "special teacher" who impacts the students so much "that they have left an impression for a lifetime. It is that teacher who helped you learn something new with such creativity that you will never forget the lesson. It is that teacher who inspired you to step out of your comfort zone and helped you recognize that it is okay to not understand something and to make mistakes. Perhaps it is even that teacher who helped you through a particularly difficult time in your life through immense kindness and empathy. For students who have been lucky enough to have had a math class with Alice Aspinall, she was that teacher. "
Article content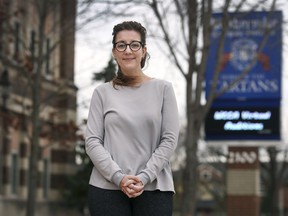 Aspinall strives to break the reputation of a traditional math class as intimidating, daunting, and non-collaborative. She is known for creating an atmosphere in which students feel comfortable asking questions, work together, and accept mistakes as learning opportunities.
The Prime Minister's Awards seek out those educators who engage students in STEM learning and help develop a culture of innovation.
Local teacher wins Prime Minister award Author of article:

General Amherst teacher receives Prime Minister's Award of Excellence
Finding new ways to present information is an important part of Aspinall's teaching style. In that sense, he created a digital library of math tutorials that match the Ontario math curriculum. Some videos have more than 100,000 views and one was featured on TV Ontario as part of their online learning material.
"I started the YouTube channel in 2016 to give my students something to help them update topics when they practice math problems on their own," said Aspinall, who now has more than 80 videos.
Reference-windsorstar.com