Cardboard signs were sometimes used as insulation in homes, and this is how some of them survived.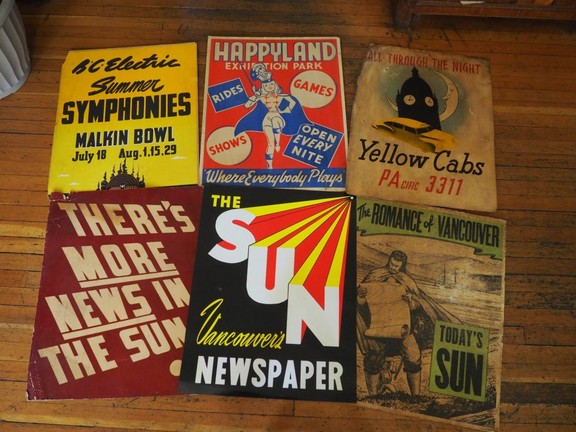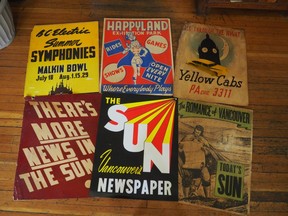 .
Streetcars ran through the streets of Vancouver from 1890 to 1955. But very few traces of them remain outside of museums and private collections.
.
However, from time to time, advertisements for old cardboard streetcars appear in antique stores, on Craigslist, or on eBay. no ads by the streetcar, but the ads that ran in the tram, usually at the front.
The Found and The Freed on Victoria Drive recently picked up several from a collector in Victoria, including a beautiful red, white and blue poster of a majorette in a marching band that draws the masses to Happyland in Exhibition Park, "where everyone plays" .
It appears to be from the late 1940s, as does a striking poster for The Vancouver Sun, "Vancouver's Newspaper."
Executed in red, yellow and white on a black background, the word SUN appears in giant white letters with a trail of yellow and red rays that taper to a point, as if they actually came out of the sun.
.
When the Cromie family owned The Sun in the 1930s, 1940s, and 1950s, the paper always ran streetcar ads like this one. One declares "More News in the Sun," another announces "The Romance of Vancouver," a 1940s local history series written by Alan Morley.
There were probably dozens, even hundreds more, but most were scrapped a few days after they were printed, making them classic examples of what collectors call ephemera.
Surviving streetcar signs tend to appear on the walls, floors, or attics of old houses, where they were sometimes used for insulation.
Some are in poor condition, especially the ones on the floors. But others retain their shine and reproduce well: Imprint Graphics on Broadway recently made a copy of the Sun poster that looks almost as good as the original.
.
Topics vary. There are store announcements, sporting events, and musical performances; there seem to be a lot of old ads for a BC Electric Summer Symphonies series at Malkin Bowl.
The ads that appear most often seem to be from theaters advertising long-forgotten movies, plays, and vaudeville shows. Even theaters are sometimes forgotten.
A large cache of this type of poster appeared on the floorboards of the Blue Cabin, a floating shack that was the longtime residence of legendary Vancouver artist and musician Al Neil and his partner, artist and writer Carole Itter.
In 2017, the cabin was restored and converted into a floating artist residence. During the restoration, several posters from the 1920s were discovered under the floorboards. They are slightly smaller than the typical streetcar advertisement, so they may have been used on sandwich boards outside venues.
.
Among them was a poster for The Unwanted, a "giant British production" that billed itself as "a film as large as life itself" and "a play drenched in the turmoil of nations."
The silent film was made in 1924, but the poster was for the Dominion Theater on Granville Street on July 4, 1927. It has all sorts of water stains on it and has a few holes in it, maybe because someone nailed it to the floor. It is what collectors call "patina".
Lovers of local history will be drawn to the print shop's name: Timms Show Print Service. That would be AH Timms, the brother of Philip Timms, the great early Vancouver photographer.
Another poster in the cache was a national promotion for a British film called The Flag Lieutenant, which opened at the Capitol Theater on June 4, 1927. This type of traveling poster left a space open for local information about the main art, that it was a biplane dropping bombs on a warship.
.
Unfortunately, some of the coolest posters are missing big chunks, like an August 1, 1927 poster for Richards, "America's Greatest Magician." But he's still a winner because he has great color, alluring imagery (a skull and an owl) and he was in the Orpheum Theatre. But not the current one: this would have been an earlier Orpheum that took over the old Vancouver Opera House from 1913 to 1927.
Seventeen of the Blue Cabin posters have been donated to the Vancouver Museum, which has scanned them and posted them on their website. They all appear to be from 1927, but one of the most interesting is undated: a simple sign that reads "Take her to the Pantages."
It is in very poor condition, literally the top of the poster is missing. But for charm, it's priceless.