Atikamekw, a 37-year-old mother of seven, died two years ago at a Joliette hospital after filming herself insulted by female staff.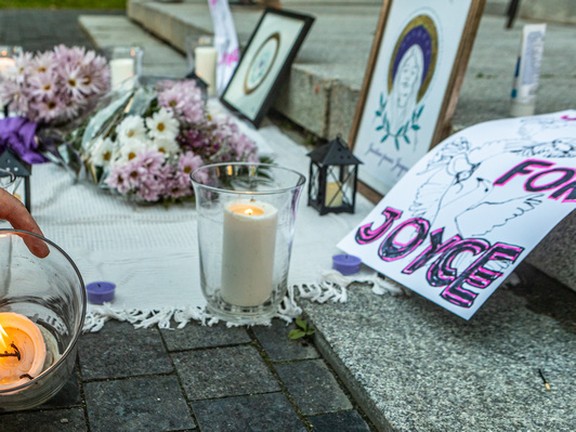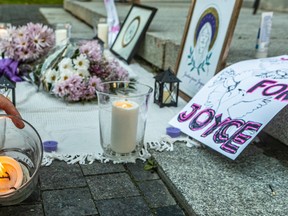 .
Some 75 people gathered Wednesday afternoon in downtown Montreal to remember Joyce Echaquan and denounce what several speakers said is systemic racism in Quebec and Canadian society.
.
Echaquan, a 37-year-old Atikamekw mother of seven, died two years ago Wednesday at a Joliette hospital after filming herself insulted by female staff. The video of her pleading for help, which she broadcast on Facebook Live, sparked widespread outrage across Canada.
.
"Joyce was a mother. She was a little girl. She was a friend, a cousin, a sister, a member of the community who just wanted access to proper health care, something we all have a right to as human beings," Stéphanie Héroux Brazeau, a Montreal health worker originally from the Anishinaabe community of Lac Simon, told the crowd.
"We have the right to have access to a health service that respects us and takes into account who we are," he said. "We're talking about having access to health care without having to put up with racism."
.
Vigil attendees at Place du Canada lit candles and paused twice for a moment of silence in honor of Echaquan, her husband Carol Dubé and their children. At the same time, a larger meeting was held in Manawan, Echaquan's home community.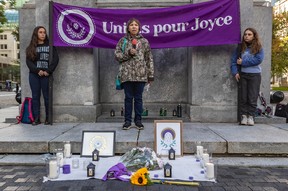 Several speakers at the Montreal event urged Quebec to acknowledge systemic racism and adopt the "Joyce Principle," a document produced by the Manawan Atikamekw Council that formally requests a commitment from the Quebec and Canadian governments to respect and protect indigenous rights to access health care. and social services.
Quebec institutions like the police, fire departments, ambulance companies and the youth protection administration are guilty of systemic racism, said Nakuset, executive director of the city's Native Women's Shelter and co-director of the Resilience Montreal shelter.
.
As a result of racism, First Nations people are "in a position where we're going to have to be pretty close to death before we go to hospital. That's not right," he said. "Something has to change."
Systemic racism exists throughout Canada, and not just in Quebec, emphasized Stanley Vollant, a Montreal-based surgeon, professor and lecturer from the Pessamit Innu community. He encouraged attendees to keep pushing for change with elected officials.
"Together we will be stronger," Vollant said. "Together, we help each other and realize our dreams. The dream is to see a society where everyone is treated equally, regardless of skin color, language, religion or culture."
.
Vollant also took issue with recent comments by Coalition Avenir Québec leader François Legault, who sparked controversy earlier this month when he said the problems at the Joliette hospital that led to Echaquan's death had been "resolved." . Legault added that he had spoken with Echaquan's husband.
After Dubé expressed surprise at Legault's statement, the outgoing prime minister apologized. Dubé also said that despite calls for an official meeting with Legault, it had not taken place.
While some things have improved in recent years, much remains to be done, Vollant said.
"We are starting to see changes," he said. "People come to me asking how they can help First Nations people. I see the opening. But when I hear the prime minister say that everything is fixed, it is not true. We have taken a small step, but the road is still very, very long. I hope that my children will one day see a Quebec where there is no systemic racism."
Systemic racism is 'exactly what happened' to Joyce Echaquan, coroner says

After Echaquan report, Legault repeats that there is no systemic racism in Quebec