Crouched in the basement, Natalie Harris hugged her son and dogs tightly when a suspected tornado ripped through Sun King Crescent in southeast Barrie this afternoon (July 15).Harris is a councilman for Barrie City District 6.
"John (her son's father) called and said 'Go to the basement right now.' We went to the basement and not even a minute later we heard a loud and horrible noise and dust started entering our basement, "Harris said. "It is a two-story house. I was like 'OMG.'
Then Harris climbed the stairs and filmed the devastation on his cell phone.
"Oh my gosh, a tornado just hit our house," he said in the video.
Harris told Simcoe.com: "Our roof is gone and everything is gone. My son's room is gone," he said. "The house of the neighbor next door is two stories; now it is one story."
Harris met with his neighbors. They went to other houses in the area that are "really devastated" to see if anyone was inside.
"We couldn't see anyone who was hurt," he said.
Harris said the Barrie, York, South Simcoe, Peel and OPP police forces have established command centers in the area.
He said they are searching all the houses for people.
"I am not 100% sure that there are people injured yet. We literally made it to the basement. I can't even believe it, "he said.
Area residents are gathering at Saint Gabriel the Archangel Catholic School on Prince William Way. Harris will go to his daughter's house in Innisfil.
"Everyone is at school thinking about what to do. But we are fine, "he said.
Becky Wood was at Canadian Tire on Mapleview Drive West when she says a tornado occurred. Now he is safe at home.
"We were in the store thankfully about to go to the checkout when the sky turned green and the winds picked up … We could literally see the cars flying," he said.
The Canadian Tire garden center and vegetable stand were destroyed, he said.
Kristyn Dougall was upstairs at home working when the storm hit.
"It came on fast, there was thunder and lighting and that notification didn't get to my phone until it happened," he said. "I was sitting there and I started hearing windows break."
Dougall ran to the basement with his dog.
"The house was shaking," he said.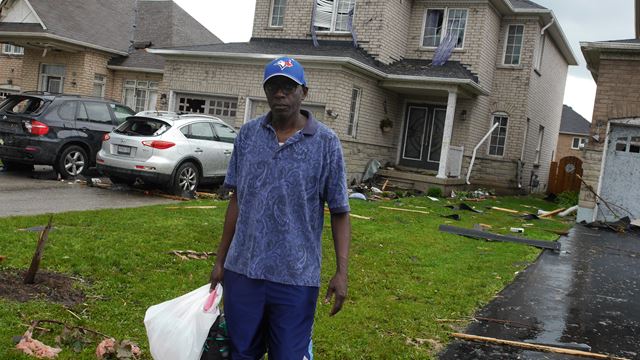 Glenn Murray said he remembers noise more.
"It started as a hiss, like a loud hiss, then out of nowhere I heard like an explosion and then the door opened, glass, windows, everything was flying everywhere. It was terrifying, I tell you."
Suri Virasih said that she would never see anything like this.
"The sound: in the movies, when they say it sounds like a train, it literally sounds like a train."
Pearce Vernon, 12, was sitting on his living room couch when he heard a noise and looked out the window to see debris swirling in the air over his neighbor's backyard.
"Things were just flying in the air," he said, running both hands through his hair. "Everyone is running downstairs. He was jumping around our house. It was a rush, scary, exciting. It was unexpected. When we go out, we see things everywhere. I just hope everyone is okay."
Minutes earlier, the family decided to abort a trip to the mall after hearing that a thunderstorm warning was in effect.
The tornado also appears to have carved a path through part of Innisfil. John Mohammed lives on a rural property along the 20th Sideroad, where more than a dozen trees were uprooted or badly damaged.
Its roof was damaged and the chimney collapsed. But Mohammed, his wife and daughter are safe.
"I've seen a lot in my life," he said while inspecting the property. "When disaster strikes you, what can you do?"
Alison Busnello lives in a condo on the north side of Kempenfelt Bay. After the worst of the storm had passed, he drove to see how a friend who lives down the road from the system was doing.
"I've never seen anything like this," she said, crying as she walked through the rubble on the sidewalk. "Her roof is damaged, but she's alive. I had to make sure she was okay."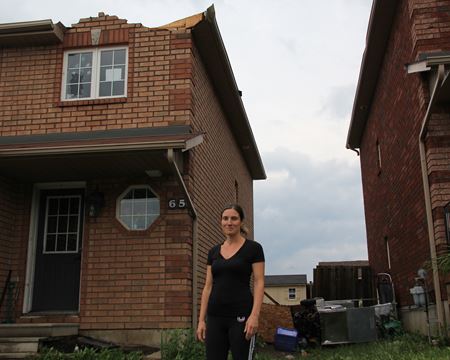 A basketball net passing through the second-story window caught the eye of Julie Bernall Thursday afternoon.
Bernall's home was in the path of the tornado that hit the southern tip of Barrie shortly before 3 p.m.
"I looked out the window and things were moving in circles, the tiles were coming off and spinning," Bernall said, standing in the front lawn of Goodwin Drive, where dozens of black tiles were scattered about.
Bernall and his three sons headed for the basement as the storm picked up.
They initially saw a circular mass of debris in front of the house, but they also heard the force of the wind hitting the rear windows almost simultaneously.
The upper front windows were smashed, half of his roof was blown out, the fence was smashed into pieces, and a large hot dog cart that was next to his house was lifted up and thrown onto the neighbor's property.
"Our 14-foot springboard, I have no idea where it is," he said.
At a home at the corner of Goodwin Drive and Country Lane, Nancy Nguyen said her mother Rose Duong ran to a neighbor's home for help when the tornado struck and the power went out.
"I came home and couldn't believe it," Nguyen said of the targeted destruction of his property.
Two tall maples plucked from the boulevard lay on his lawn as if waiting to be planted. Small pools of water filled the holes where its roots had been. Five feet away, the decorative plants in the front garden were left intact.
Her daughter Vi's trampoline also took off and she has yet to recover, she said.
Sections of Nguyen's fence collapsed and were initially laid out on his lawn and the road, he said.
"Some people were very nice and came to help my mother clean the fence," she said, pointing to the fence boards neatly stacked next to her house.
– with files from Shane MacDonald, Cheryl Browne and Chris Simon.


Reference-www.thestar.com
The Canadian News
Canada's largets news curation site with over 20+ agency partners