The Government of Mexico City will start this Tuesday, December 7, with the application of the reinforcement dose of the Covid-19 vaccine for adults over 60 years of age and over in the mayoralty of Tlalpan.
Eduardo Clark García Dobarganes, general director of Digital Government of the Digital Agency for Public Innovation (ADIP), explained that from December 7 to 12 it is estimated to provide the booster dose to 59,992 older adults with the AstraZeneca vaccine.
"We have the very good news that starting tomorrow (Tuesday) we are going to start with the third dose booster process, we would be starting tomorrow, Tuesday the 7th, and completing this first stage of vaccination for people 60 and over on Sunday the 12th. "Said Clark Garcia.
Vaccination locations and dates
The venues where the booster dose will be applied at the mayor's office Tlalpan son:
Center for Naval Studies in Health Sciences (Censis) Marine
National Preparatory School # 5 (in this venue the vaccination will be from December 8)
In this demarcation the following will be used calendar, according to the initial letter of the first surname:
A: Tuesday, December 7
B and C: Wednesday, December 8
D, E, F, G: Thursday, December 9
H, I, J, K, L, M: Friday, December 10
N, Ñ, O, P, Q, R: Saturday, December 11th
S, T, U, V, W, X, Y, Z: Sunday, December 12
What do you need to receive the booster dose?
Having completed the vaccination schedule more than six months ago.
Official identification that proves you are 60 years of age or older.
Proof of address from the Tlalpan mayor's office (it does not need to be in the name of the person to be vaccinated).
It should be remembered that last Saturday, President Andrés Manuel López Obrador announced that as of this Tuesday, December 7, the application of the reinforcement dose of the vaccine against the SARS-CoV-2 coronavirus would begin for older adults, with the objective of protecting this population during the winter season.
The federal president announced that the Ministry of Health would also present a new vaccination plan to provide the booster doses.
The federal government detailed that at the cut of Sunday, December 5, 139,217 vaccines against Covid-19 were applied, to register a total of 134 million 509,543 doses supplied nationwide since the vaccination plan began on December 24, 2020 .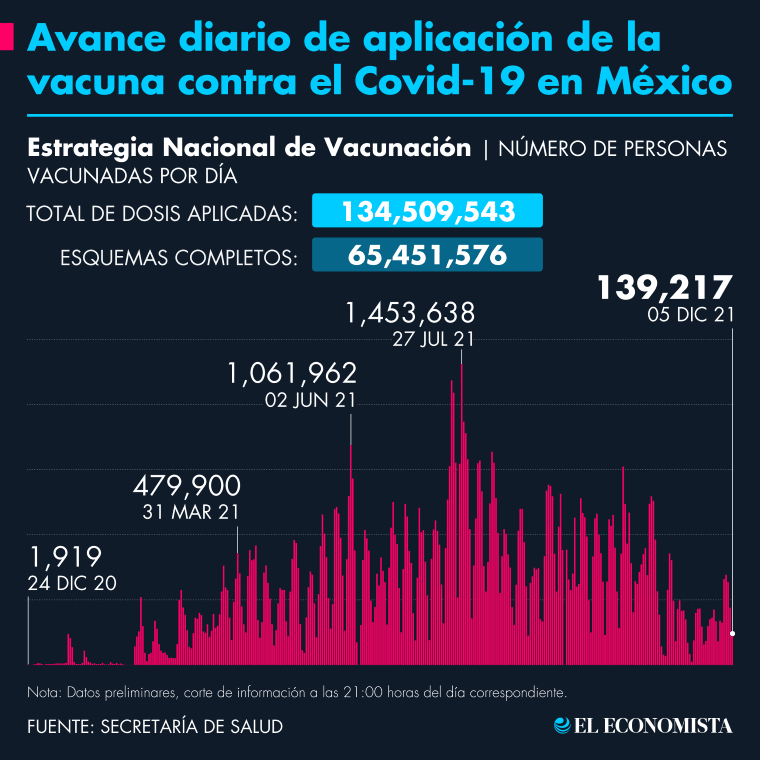 Of the 78 million 381,981 people inoculated against the coronavirus in Mexico, 65 million 451,576, that is, 84%, have a complete scheme of one or two doses depending on the biological applied; while 12 million 930 thousand 405, equivalent to 16%, have half a scheme.
kg


Reference-www.eleconomista.com.mx