Opinion: the presumed favorite will not comment on the issue of the candidacy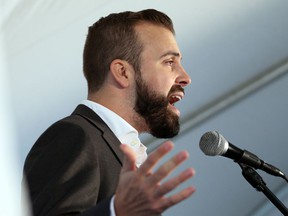 Article content
VICTORIA – BC Liberals pointed to where they don't want to go in their race for leadership on Friday when the party's top brass rejected conservative political commentator Aaron Gunn as a candidate.
Commercial
This ad has not been uploaded yet, but your article continues below.
Article content
"The leadership election organizing committee has refused to approve Aaron Gunn's application to run," said a statement by committee co-chair Roxanne Helme and party chairman Paul Barbeau.
"After a thorough review of Mr. Gunn's statements on social media, both public and private, and after providing Mr. Gunn with an opportunity to respond to the concerns raised by some of those statements, the committee concluded that to approve the candidacy of Mr. Gunn would be inconsistent with the British Columbia Liberal Party's commitment to reconciliation, diversity and acceptance of all British Columbia people. "
The party executive unanimously accepted the committee's recommendation.
Neither Helme nor Barbeau cited any of Gunn's offensive statements about "reconciliation, diversity and acceptance of all the people of British Columbia."
Commercial
This ad has not been uploaded yet, but your article continues below.
Article content
Gunn wasted no time criticizing the party on social media for its arrogance.
"Imagine being so authoritarian and arrogant that you believe that a small group of unelected insiders should decide the future direction of a political party and not its democratic membership."
He told CHEK News reporter Rob Shaw that he is considering next steps.
The decision to reject Gunn is not without risks to the combined political loyalties of the British Columbia Liberal Party.
Some British Columbia liberals fear that Gunn might go with the British Columbia conservatives and take some current liberals with him.
Other liberals were concerned that a Gunn candidacy could lead to an influx of like-minded supporters, perhaps burdening the party with problematic candidates when it came to selecting candidates for the upcoming provincial elections.
Commercial
This ad has not been uploaded yet, but your article continues below.
Article content
Liberals were also concerned that the new Democrats would "arm" a Gunn candidacy.
The NDP's research department has already provoked liberals over Gunn, saying that his mere presence in the leadership race would constitute a tacit acceptance of extreme and bigoted views.
In that sense, the new Democrats did not miss a beat on Friday. "The liberal candidates of BC have not yet condemned Gunn's bigotry," the statement from the NDP communications store read.
One of six official candidates in the leadership race immediately supported the party's decision to reject Gunn's candidacy.
"I am grateful to the party for making this difficult decision after providing a fair press to Mr. Gunn," stated MLA Michael Lee. He had previously convicted Gunn of unspecified "bigoted views."
Commercial
This ad has not been uploaded yet, but your article continues below.
Article content
Rival candidate and MLA Ellis Ross expressed "disappointment" at the rejection.
He argued that the decision should have been left to party members.
"The question is not whether or not I agree with all of Mr. Gunn's views, but whether he should have been allowed to run," Ross said.
"The people of British Columbia have made it clear that to earn their trust again, we must be a great party that includes views and opinions from across the political spectrum. … In that sense, today's decision is a step backwards. "
Unlike Lee and Ross, the presumptive favorite for leadership, Kevin Falcon, avoided taking a position on Gunn's candidacy beforehand.
"It's not up to the leadership candidates to decide who their competitors will be," Falcon told Mike Smyth during an interview on CKNW radio earlier this week.
Commercial
This ad has not been uploaded yet, but your article continues below.
Article content
"That is why we have a leadership organizing committee, because anyone who wants to become the leader of this party has to go through a vetting process. It is very extensive, believe me. Go into your financial past. Go into your credit history. Include things you have said publicly and comments on social media.
"Your job is to examine all candidates like me, as they did Michael Lee and Ellis Ross, and determine if they are appropriate to run for leadership. I'll let them do their job. "
Wasn't he calling the party to block Gunn?
"Not at all," Falcon replied. "I don't talk to the party about blocking or approving anyone. That is your decision.
"I will face anyone else the party approves of," he continued. "But I'm not going to speculate about the people who say they want to run until they become vetted candidates. It just doesn't make sense. I don't know Aaron Gunn at all.
Commercial
This ad has not been uploaded yet, but your article continues below.
Article content
That was Thursday, the day before the Liberals rejected Gunn's candidacy. As a veteran of party affairs, Falcon may have seen it coming.
Falcón has reason to be wary of candidates he doesn't know very well.
In 2017, he endorsed Maxime Bernier for the leadership of the Federal Conservatives even though he didn't actually know him.
"I never met him before he supported him," Falcon told interviewer Brett Mineer on CHNL radio in Kamloops earlier this year.
Now he says he regrets the endorsement – "oh my gosh, I'll do it sometime, sure" – and contends that he only did it because of Bernier's "big ideas" on the economic front and "his outreach to the LGBTQ community."
Once Bernier escaped from the federal conservatives to form his own party, Falcón says: "He was dead to me. I haven't spoken to him since.
"I think the road he's traveled since then is unfortunate," adds Falcon, referring to the controversial stands that earned Bernier the nickname "Mad Max."
Not that disavowal will settle the issue if Falcón wins leadership.
The New Democrats keep Falcon's appointments in a cold room along with a revealing image of him smiling alongside "Mad Max."
Reference-vancouversun.com