[ad_1]

West Chester native Jim Furyk bogeyed his last two holes but still survived miserable weather conditions to shoot a par 71 during Thursday's first round at the US Senior Open at Saucon Valley Country Club.
Paul Goydos hit a two-under 69 to be the only one in the morning group to finish under par.
Mark Hensby birdied No. 15 to finish with a 4-under 67 to tie 68-year-old Jay Haas for the lead. They are one shot ahead of Western Pennsylvania native Rocco Mediate, Steve Stricker, Paul Broadhurst and Tim Petrovic.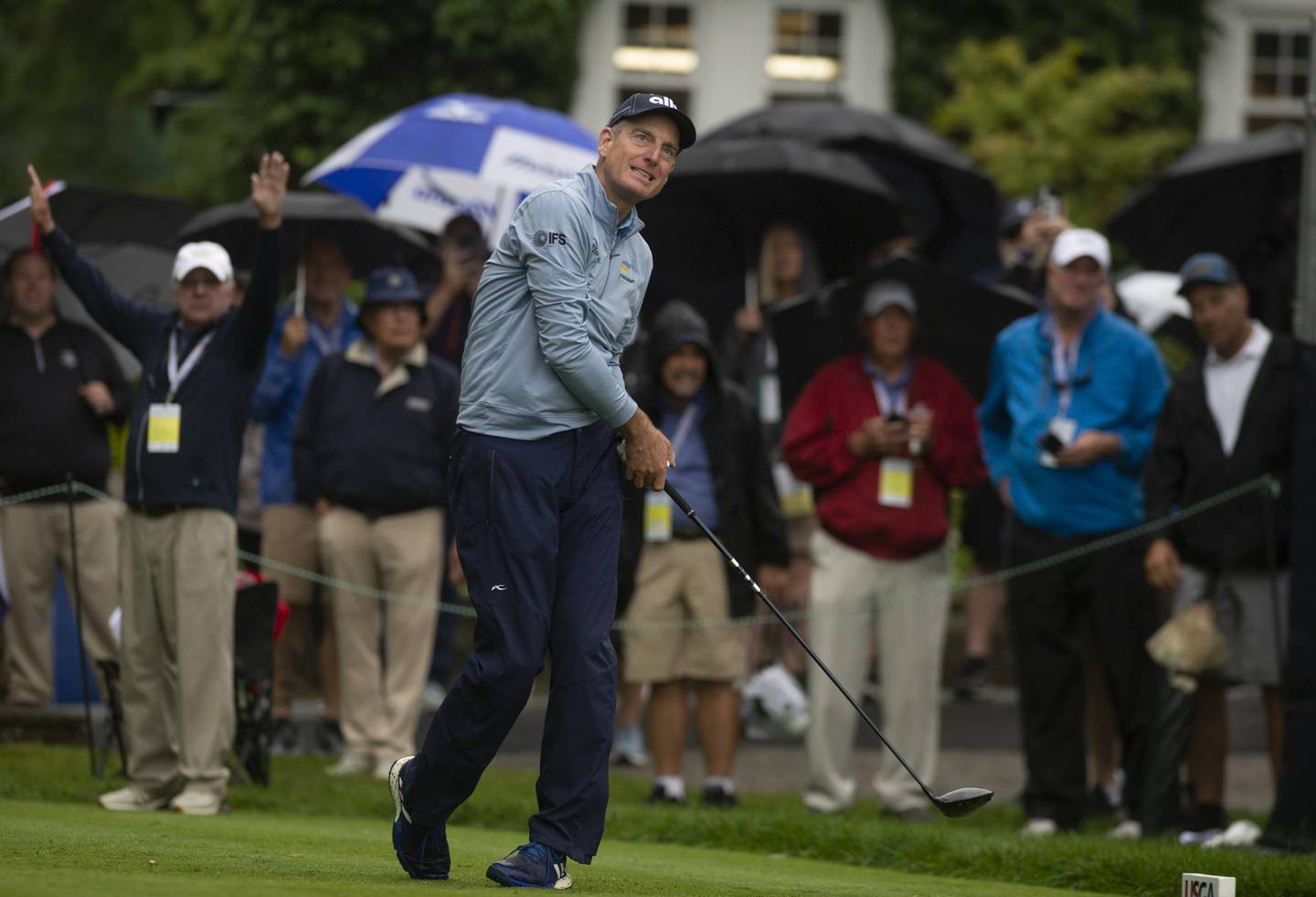 Players with morning tee times endured a steady dose of rain of varying degrees, making the rough more challenging and adding two clubs to every swing.
Furyk had four birdies and four bogeys, including a big 4-iron down the creek at No. 9, his last hole. But the Manheim Township graduate salvaged a bogey to break even.
"The save on the last guy puts a smile on my face, even though it's disappointing to bogey," Furyk said, "but it could have been a lot worse."
Intermittent rain did not prevent the first round from starting at 7 am
Country Club of Scranton leading pro Mike Molino was in the first group of No. 10. He finished plus-13 (84). He rounded the par 3 11th hole and the second par 4, two of the toughest holes on the course in any condition.
Molino parried his last hole, the par 3 ninth, and finished with three double bogeys and seven bogeys.
Tulsa resident Tracy Phillips survived the morning rain with a round of plus-1 72.
"I'm glad to be in," he said. "It was pretty brutal out there in the rain and just trying to gut him. He made some good ups and downs, which helped sustain the round.
"The golf course played extremely long. Totally different from what we play in the practice rounds. The ball is not going anywhere. So it was kind of a gut round, for sure."
Goydos took the lead after back-to-back birdies on No. 13 and 14 and another on No. 1. He birdied from 25 feet on No. 2. He bogeyed the par-4 fifth hole.
Padraig Harrington also had four birdies and four bogeys to go in with a 71. Retief Goosen had three of each in wet conditions for a 71.
The rain stopped by mid-afternoon, but the wet conditions continued to make it difficult for the second wave of players.
Thursday's first round at the Old Course at Saucon Valley Country Club:
Name: Punctuation (until; or punctuation)
1. Mark Hensby: Minus-4 (F)
1. Jay Haas: Minus-4 (F)
3. Rocco Mediate: Minus-3 (F*)
3. Paul Broadhurst: minus-3 (F)
3. Tim Petrovic: Minus-3 (F*)
3. Steve Stricker: minus-3 (18*)
7. Paul Goydos: Minus-2 (F)
7. Rob Labritz: Minus-2 (F*)
9. Glen Day: Minus-1 (F)
9. Thongchai Jaidee: minus-1 (F)
9. Wes Short Jr.: Minus-1 (F)
12. Jim Furyk: even (F*)

sports buzz
Daily
The latest sports news locally and nationally, and what's happening in sports this afternoon and tonight.
12. James Kingston: even (F)
12. Padraig Harrington: Even (F)
12. Retief Goosen: even (F)
12. Alex Cejka: even (F*)
12. Five others tied even
*started at No. 10
Morning Call reporter Tom Housenick can be reached at 610-820-6651 or [email protected]
[ad_2]

Reference-www.mcall.com