The woman spit at, headbutted, bit and tried to kick crew members and other passengers, the FAA alleges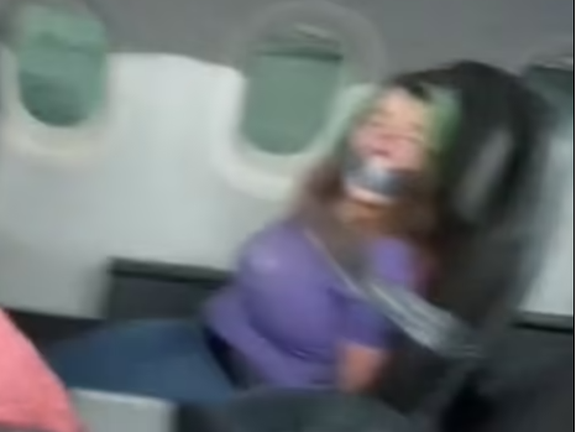 Article content
A fine of US$82,000 has been levied against a woman whose manic behavior on an American Airlines flight last summer led to her being duct-taped to a seat.
Article content
the Federal Aviation Administration (FAA) says the disturbing July 7, 2021 incident on a flight from Dallas-Forth Worth to Charlotte, NC began when the woman tumbled out of her seat into the aisle and allegedly threatened the flight attendant who offered to help.
The unnamed woman then tried to open a cabin door in mid-flight and struck a flight attendant who tried to stop her.
Flex cuffs were used to restrain the woman but they weren't enough as she spit at, headbutted, bit and tried to kick crew members and other passengers.
In a video posted to TikTok, the woman was shown duct-taped to a seat and with duct tape over her mouth.
According to the Daily Mail, other passengers said they knew there was trouble of some kind as crew members dashed up and down the aisles, locking bathroom doors and securing the plane in various ways.
Article content
After landing, the woman was taken into custody and transported to hospital for a psych examination. She was also placed on a permanent no-fly list by American Airlines.
The FAA said Friday in announcing the $81,950 fine that it is the largest ever for unruly behaviour.
In a second case yielding a pricey fine, the FAA said a woman on a Delta flight from Las Vegas to Atlanta allegedly attempted to hug and kiss the passenger next to her, bit another passenger multiple times, and tried to exit the plane mid-flight on July 16.
She too had to be physically restrained by the crew and faces a $77,272 fine.
Incidents of unusual behavior in the air have skyrocketed since COVID.
There were 146 incidents of unusual passengers in 2019 and 183 in 2020 — and more than 1,000 in 2021.
This year, there have already been 309 incidents that merit investigation.